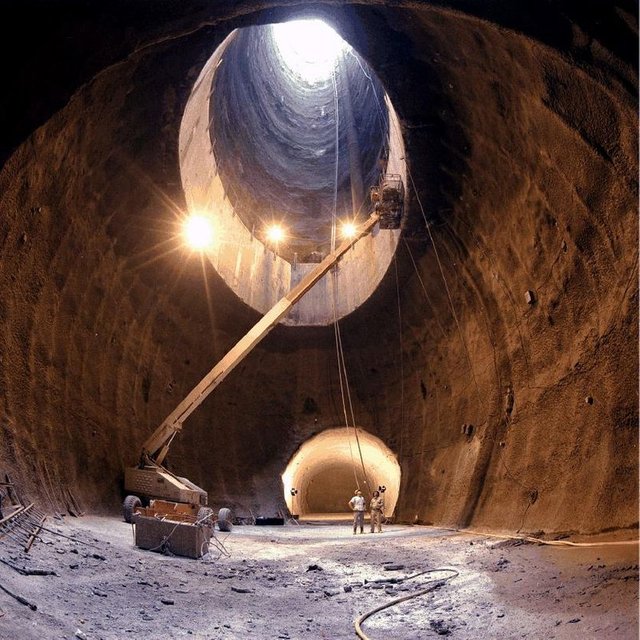 Ain't that an eye catching title?!
The Superconducting Super Collider (SSC) (also nicknamed the Desertron) was a particle accelerator complex under construction in the vicinity of Waxahachie, Texas. Its planned ring circumference was 87.1 kilometers  (54.1 mi) with an energy of 20 TeV per proton and was set to be the world's largest and most energetic. It would have greatly surpassed the current record held by the Large Hadron Collider which has ring  circumference 27 km (17 mi) and energy of 6.5 TeV per proton.  
https://en.wikipedia.org/wiki/Superconducting_Super_Collider  
The SSC's cancellation followed more than a decade of planning and construction. McIntyre, a magnet designer, was among the earliest evangelists for a Texas accelerator, and he helped arrange an early  meeting with then Vice President George H.W. Bush to prod the project along.  
Bush helped put it on the fast track. But internal and external forces began working against the project, said Neal Lane, a Rice physicist who served on the SSC's board of overseers and later as President Bill Clinton's science adviser. 
http://www.chron.com/news/houston-texas/article/Super-Collider-lab-now-gathering-weeds-near-Dallas-1757185.php  
On November 10, 1988, two days after the election of President George H.W. Bush, state District Judge Gene Knize in Waxahachie was handed a note as he presided over his court. According to an L.A. Times report, he "raised his arms and intoned, 'Super Collider, Super Collider, Super Collider.'" The judge called a recess. As the courtroom emptied onto the courthouse steps, a helicopter with a cameraman leaning out the door banked low. Until now, Ellis County was known for farmland and its soaring nine-story sandstone and pink granite courthouse, above which a  Romanesque Revival clock tower rises over dun and red-brick storefronts. 
Now Ellis County and Waxahachie, a town of some 18,000 souls, was known for something entirely different. "The town will never be the same," a county Democratic Party chair told a reporter.  
http://www.dallasobserver.com/news/how-texas-came-within-an-atoms-breadth-of-discovering-the-god-particle-6427305