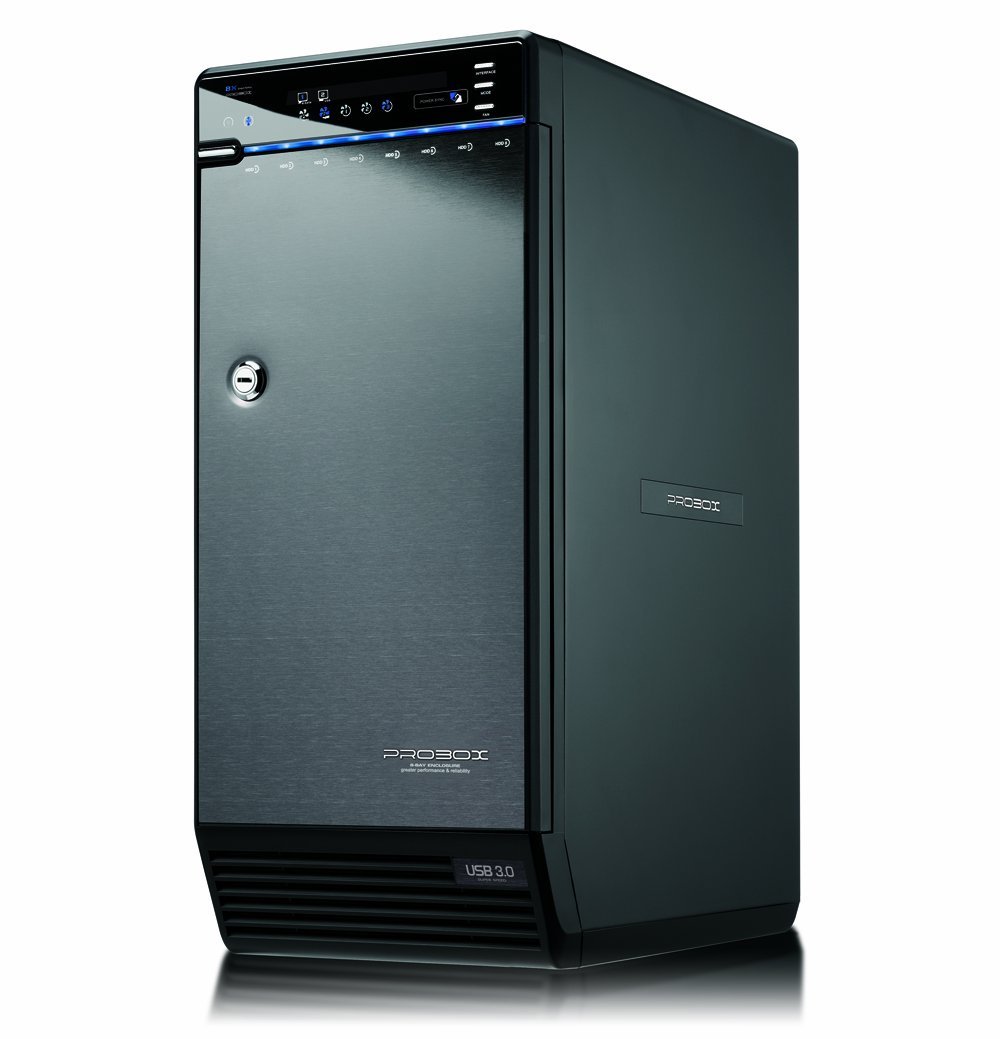 Mediasonic - 8 Bay E-sata/ USB3.0 Hard Drive Enclosure   -  $269.00 on AMZ
Stablebit Drivepool
https://stablebit.com/DrivePool
Below, we see a screen shot of the User Interface (UI) for the DrivePool app (with only 4 drives pooled):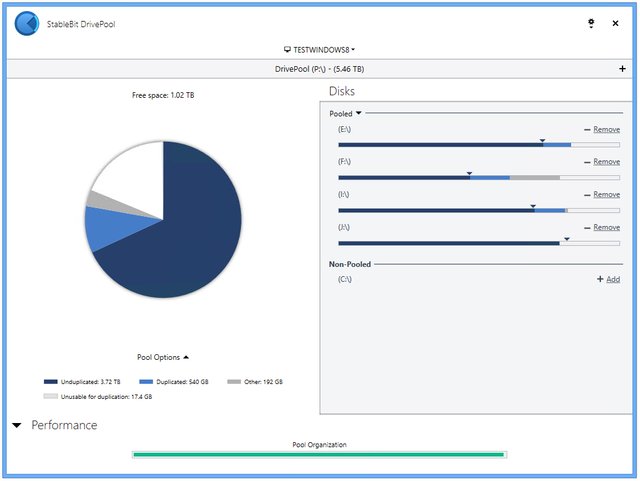 I have been experimenting with Drive Pooling software applications. 
It makes so much sense, yet, most people have never heard of drive pooling!
Consider an average computer user, over 10 years time, probably collects 10 hard drives in this time; if they purchase 1 new hard drive every year.. a backup drive, a new computer with a hard drive, etc.  In my experience, any serious computer user can easily assemble a large collection of drives over time. 

It is not obvious to most computer users, how to organize and arrange such a "stable" of drives collected haphazardly over a long period of time, such that it is easy to access years of data collected over time.. and keep important files where they can be searched for, and reliably backed up as well.

Yet, how to manage 10 hard drives in a 10 year period? 
In my own case, I would end up with 16 hard drives 10 years time. What to do?

After researching this situation; it is most easy to configure these drives as a storage "Drive POOL".  
In other words, 1 large 'C drive' disk array!
My experience: 
I have 16 drives, connected to 1 computer; which I use as a data and entertainment server; they form a "pool" of drives configured to be seen as 1 logical drive, under 1 folder. A 20 terabyte storage array on my desktop computer, that I share on my LAN.
Stablebit Drivepool indexes all the data on every one of these drives, to form a single common file manager. This "Pooled folder" then contains all contents of all 16 drives, and can easily be backed up, and searched, as a single folder.
If you think about it, it makes keeping your data over decades so much easier than it would be otherwise: 
- Taxes go in the tax folder
- Movies in the movies folder
- Music in the music folder. 
Same drive pool folder, across 16 drives, indexed as 1 folder. No matter which drive the movie file lives on, it shows up when I open the movies folder of the drive pool.
When picking out a storage solution, I had several requirements I felt were absolutely important, and greatly reduced my available alternatives:
1) All files currently on the drives I wish to include in the POOL, will not have to be relocated to other drives. They can stay where they are, and be included.
2) All drives do not need to be formatted or prepared to be part of the POOL in any way. They can simply be NTFS drives for Windows, and stay as they are.
3) All files can still be read from the drive, even if it is taken out of the POOL! Files are in no special format, and there is no special striping required, etc.
4) Some kind of backup solution would need to be included, such that it would manage my backups for the pool automatically once configured as I desired.
5) Must scale to accept 16 hard drives, minimum, as that is how many hard drives I had enclosure cabinets for.
6) Must allow for easy search across all drives in the POOL, to find files quickly, with a single search for a single file name.
Keep in mind, drive pooling software is working at the application level. This frees the software to do many things that would be difficult to do if it were built into the operating system itself, or an extension of the operating system. It also allows the OS to simply see the drives as mounted file systems, and the pooling software handles all the combined indexing at the application level, but then mounts that indexed folder, as a shared folder on the operating system. (Confused yet? ;-)
In other words, if you want to turn off the drive pool for any reason and access folders directly in the operating system, you can simply quite the pooling service running in Services, and the pool will be turned off.
I also had features I was willing to give up if necessary:
a) No special performance was required. If i could read files faster by keeping 2 copies (backups) then so be it, but not a requirement.
b) No RAID specification or criteria need be applied to my storage pool solution.
c) Storage could exist on my existing Windows Home Theater PC, and need not be stand-alone, or run on Linux, or run as a stand alone NAS. A simple PC running Windows, sharing files would be a minimum requirement I could deal with.
The software package I eventually found is called Stablebit Drivepool. 
Unfortunately, it runs on MS Windows only.. but for me, that has been a viable trade-off. I am able to read these shared folders on a Mac for example, since the MacOS includes the ability to read NTFS shared folders.
My server setup: 
- Simple desktop computer with slots for 8 drives.
- Extension E-sata cabinet - 8 Bays
- 1 SSD to boot the entire system from
- 1 - 2 Bay USB 3.0 drive bay (for emergency disk recovery)
- 1 - E-Sata card to plug the E-sata cabinet into
- 1 - Sata card with 4 extra slots to extend my 4 Sata slots already on the motherboard
- 1 - 4K capable HDMI out graphics card - since my motherboard does not support 4K video