Some New Adventures: ♪ Movin' on up! ♫ and Save the BASE!
♪ Movin' on up! ♫
---
Things have been pretty busy lately for ol' @veckinon. Earlier in the week, my partner Kim and I bought a new home. It is another mobile home, but a much more spacious and newer mobile than the tiny old '69 New Moon we currently live in. She may have been old and ugly, but that little trailer served us pretty well and helped keep things affordable while Kim was going through grad school. But, now that she is done and has a new job, it is time to move on. And that means time to start packing...
---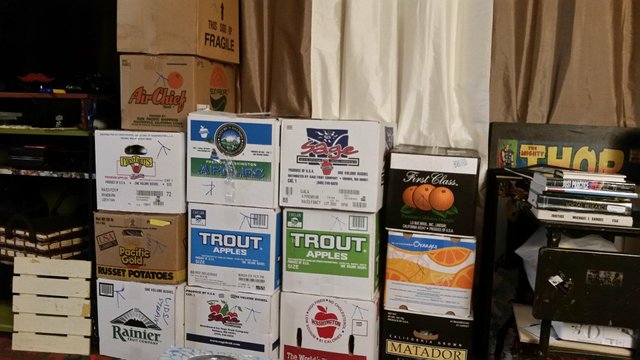 ---
But enough about all of that...
---
New Volunteer Gig at BASE
---
There is an amazing all-abilities/all-ages community center here in my city. It provides a wide range of outstanding free courses and activities for everyone regardless of their level of physical or mental ability. Some of the programming includes stand-up comedy and improv classes, all-abilities yoga, adaptive gaming, art classes, and more. I have followed them on social media for a while and a few weeks ago decided to finally go and check out one of their events. It was amazing. Disability has had an indescribable impact on my life. Of my parents four children, three of them (myself included) ended up with severe mental or physical disabilities. Through all my experiences dealing with disability, I have never seen anything like this. It is quite rare when something that claims to be all-inclusive actually is. I don't even know how to explain the difference that little things can make in someone's life. Things like simply being able to play a video game with a friend for the first time or get up on a stage with your peers and perform. For many people with severe limitations, such activities never happen, but when they do, they really have a positive effect on people's lives.
---
---
Watch This Video!!
---
As amazing as my first BASE experience was it was accompanied by some really disappointing news. At the end of the event, one of the organizers announced that BASE had lost a significant source of funding and was at risk of closing. BASE is a program that was sponsored by a local independent living center called Summit ILC (an indepependent living center is a place set up to help assist people with disabilities that is partially funded through the health department). Due to recent cuts to the health department and to independent living centers, Summit had to drop all of its funding for BASE, leaving the community centers future in limbo.
I couldn't believe it. After seeing something so extraordinary. A service I had never really seen provided for people with disabilities that was really improving peoples confidence, self-esteem, and even their lives. And then just like that hearing that it may no longer exist; it was fucking sad. Terribly fucking sad. I don't even know how to describe how it felt.
But, the organizers and participants at BASE were not to be deterred. They also announced that they would be holding fundraising events and seeking out other funding sources and alliances with other community centers in an effort to survive and to continue to provide their services.
At first I donated what I could and I asked what more I could do. Last week I was asked to join their fundraising team. The effort has raised over 16,000 dollars of a 50,000 dollar goal in the last month, with one more month and a week of fundraising to go. This will keep the center open for a year. Thus far, the fundraising has come from local events and an Indiegogo campaign.
A local art community center is in the process of constructing a new building and has offered to provide space for BASE which would greatly reduce the operating expenses, but that is still quite a ways off and BASE is not sure how to survive in the meantime.
My goal, along with a large group of volunteers primarily made up of people who utilize BASE's services, is to try and personally raise $2,000 dollars for the organization before the fundraising deadline of July 15th. I am also acting as a support person for a group of five volunteers. Many of the volunteers are less able-bodied than I am, so if they need me for errands pertinent to their fundraising, I will also help them to the best of my ability.
I know this is probably a long shot, but if anyone out there has a few bucks burning a hole in your pocket, or maybe you happen to be someone with a few hundred dollars burning a hole in your pocket (a little wishful thinking never hurt anyone, right?) , and you are looking for something great to support, consider making a donation to BASE.
It seems I have heard people comment countless times through my life about how many of the services offered by the government could be provided more effectively through charity. In my experience and the experience of many chronically ill and disabled people, that charity never actually happens, at least not on a meaningful scale and not still tainted by politics. Of course, I would love people to prove me wrong on this and see this service saved.
If you would like to donate to save BASE, just follow this link. It would really mean a lot if you could...
https://www.indiegogo.com/projects/save-the-base-yoga-community#/
Tell them Colin sent you.
---
Thanks for reading, everyone. Stay outta trouble. Don't kill anyone.
@veckinon