Time is just flying by at an alarming rate, It seems like since we went full bore with Palnet, my time is just slipping past me.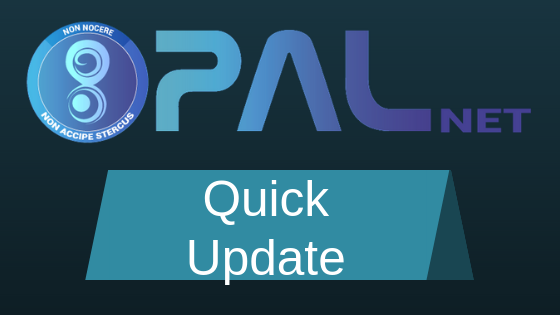 But there have been some great things happening.
We finally have the announcement that decimal precision is happening. https://www.palnet.io/steem-engine/@aggroed/hard-fork-announcement-for-steem-engine-delegation-and-decimal-precision-going-live-on-tuesday-at-8pm
This was due to needing a hard-fork on Steem-engine, which is why it took so long to get into Palnet. But the Devs were working their asses off to get this going and honestly it's a much welcomed change.
This should fix the issues with curation if your account is small. Again, a welcomed good change. I can't tell you how many back-room chatter has gone on about how this may be the most important thing we needed fixed.
We are listening and we're making changes when and where we can.
Other things we have been discussing is how to encourage the best posts possible. We are hand curating many posts with the hope that you guys get the hint that quality (yes subjective) will be rewarded by the stake holders. We have also created the account @nopal4u to remove payouts from some of the moderators so you don't continue to see our posts on trending and possibly remove value from some accounts that are trying to abuse the system. We want real people making real posts to feel like it's worth it. We are still working on an actual frame-work of guidelines.

In personal news, I am up to my assholes in being swamped. I'm moving in a few weeks, my in-laws are in town this weekend which will end up being spent in San Antonio, and I've been training a brand new graduate PTA. While it's been fun to watch his eyes widen from his book learnin' to real life, he also is only into martial arts, so I'm glad THAT conversation is over.
Oh. and in GREAT news.
I AM THE 2019 STANLEY CUP CHAMPIONS!
I've been watching hockey since 1986 when the Blues pulled off the Monday Night Miracle and then proceeded to not win game 7.. Or any other year despite having some great teams. I've been alive for 3 World Series Wins from my Cardinals and 4 other appearances to take it all, but Wednesday night was special for me. @isaria is just a bit tired of hearing me go on and on about it. :)