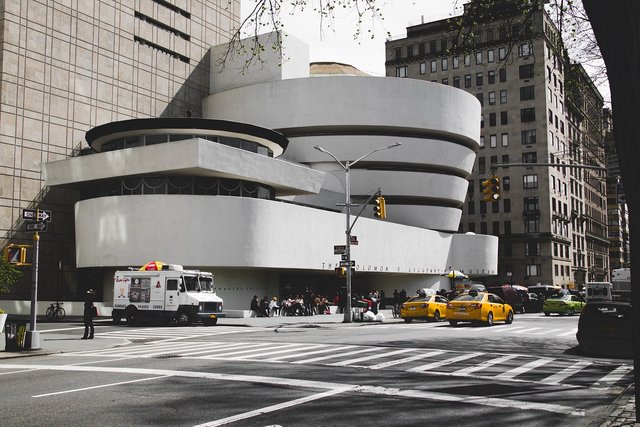 Guggenheim - take a moral responsibility!!!
The Guggenheim is generally considered one of the greatest museums in the world, with some very exciting exhibits.
This time they are completely off their rockers, in the name of "art".
The exhibit they have planned called "Art and China after 1989: Theater of the World" show videos of animal abuse, as well as having a live display of animal abuse.
"Dogs That Cannot Touch Each Other"
is a seven-minute lasting video from a live performance at the Beijing museum in 2003. This "performance" by husband-and-wife "artists" Sun Yuan and Peng Yu shows American pit-bulls strapped to motorized treadmills, gnashing their teeth and exhausting themselves under the restraints.
These treadmills are generally used to train fighting dogs for combat, and generate an extreme amount of stress in the animals.
It is not clear what happened to the dogs after the exhibit in 2003, the "artists" refuse to answer this question.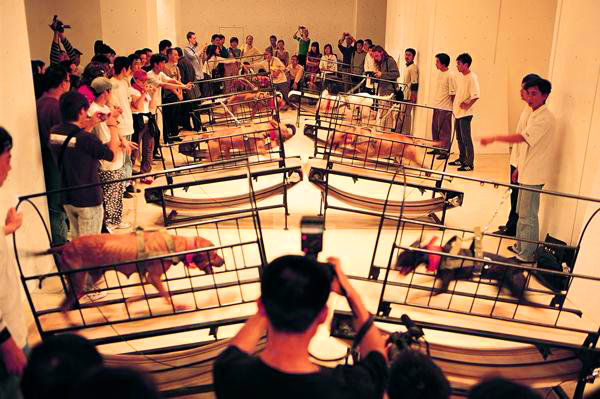 Source
There are more disturbing image on the Internet, I decided not to show them here.
Pigs, tattoos and sex
There will be another disturbing and utterly useless video depicting two pigs having sex in front of a live museum audience at a Bejing museum. Before they were let loose to "perform", their skins were tattooed with random letters.
Theater of the World
This exhibit will show live carnage.
The exhibition title comes from a major installation in the show by Huang Yong Ping. Inside a caged arena shaped like a mythological tortoise, hundreds of live reptiles and insects devour each other over the course of the show. Teeming with life and littered with carcasses, this gritty scene brings the viewer into an immediate encounter with the violent yet matter-of-fact play of powerful forces over weaker ones.
You would expect this one to be finished quickly, with the bigger animals easily killing the smaller ones, but don't worry, they will restock the animals while the exhibit lasts!!!
The museum, responding to the initial outcry on social media over "Dogs That Cannot Touch Each Other," defended the work and the entire exhibit, calling it an "intentionally challenging and provocative artwork that seeks to examine and critique systems of power and control," according to a statement released by the museum Thursday.
I call upon all steemians to go to this site and sign the petition.
https://www.change.org/p/alexandra-munroe-promote-cruelty-free-exhibits-at-the-guggenheim
I don't normally do this, but PLEASE RESTEEM this post and get as much awareness in the community as we can.