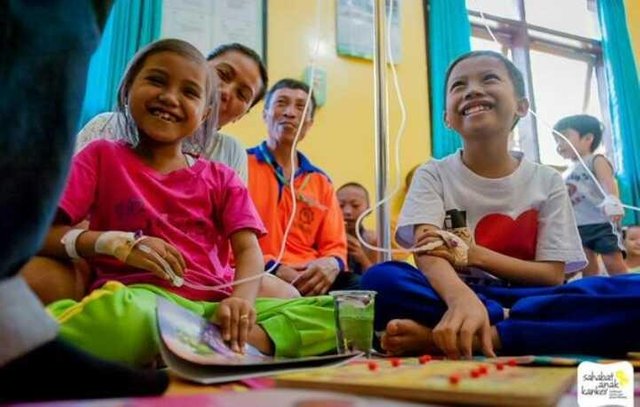 Cancer is one of the leading causes of death worldwide. By 2018, about 8.9 million deaths are caused by cancer. Lung cancer, liver, stomach, colorectal, and breast cancer are the biggest causes of cancer deaths each year. Therefore, we as human beings who are given health care need to be concerned with this, like the community of Sahabat Anak Kanker Malang.
Since August 2015, the community of Sahabat Anak Kanker Malang has been established with the background of the experience of caring for child cancer patients and based on caring, love and empathy in cancer patients and their parents and family. Wanting to open the eyes of people about cancer in children, masyakrat more caring and empathy in child cancer patients is a great goal of the community started this one.
There are various volunteers in this community, namely child cancer survivors, families of childhood cancer patients, and caring and affectionate communities in childhood cancer patients. Sharing and sharing love is the main task of the Sahabat Anak Kanker volunteers in cancer patients. Because the healing of cancer patients themselves is very dependent of his psychic he wants to recover or not, then it takes a volunteer who would share his time to encourage them to heal and continue their life healthy.
Moreover, one of the problems in cancer, children and the elderly who have cancer does not have information menyahuhkan to cure the disease. Through Sahabat Anak Kanker, we will provide access to adequate information about childhood cancer. The information provided comes from competent sources, ie Pediatricians, health practitioners, and other competent sources. We hope that with access to information about child cancer, family of child cancer patients and the public to be more understanding about cancer in children and the best treatment.
---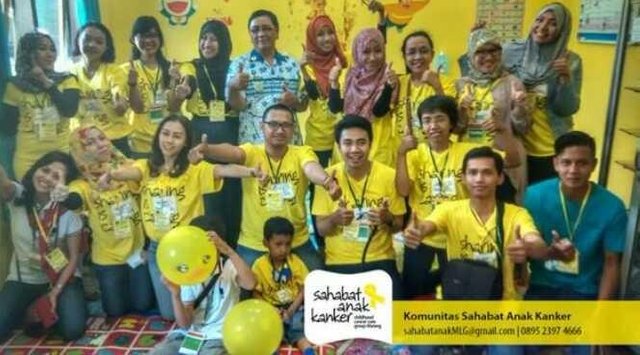 The vision and mission of this glorious community are:
VISION
Assisting government efforts in the development of the field of children's health, especially the prevention of cancer in children in Indonesia.Memotivating child and family cancer patients to never give up, keep trying, and help the development of psychic and education of child cancer patients. Increase public awareness of cancer in children.
MISSION
Share love and care with child cancer patients. Give attention and guidance to the education and psychological development of child cancer patients. Share experiences and knowledge, as well as counseling about childhood cancer with their parents and families through "Family Sharing Group". Disseminate information about cancer in children, early detection and prevention to the wider community. Providing accommodation, education, and transportation for children who are undergoing hospitalization and treatment. Providing shelter facilities for integrated, adequate, and patient pediatric cancer patients child cancer. Establish relationships with institutions or social foundations, hospitals and organizations both at home and abroad
Various activities held by the Community of Friends of Cancer Malang, Friends of the Main which is the activity of Friends of Children Cancer by visiting and playing with cancer patients in the hospital. Family Sharing Group, a means of sharing and counseling about childhood cancer between Sahabat Anak Kanker volunteers with parents and families of child cancer patients. As well as various other activities such as School Sayang, Letter from Sahabat, Taman Baca, One day Playground and Shelter House
Thanks you...