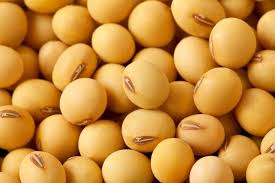 Presidents Trump and Xi Jinping are scheduled to discuss trade during the G-20 meeting in Argentina.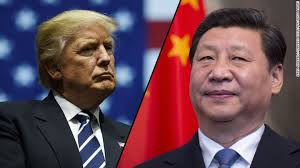 President Trump put tariffs on Chinese goods coming into the United States earlier this year, and the Chinese retaliated. The US is the top producer and exporter of soybeans with China purchasing about 25% of what the US produces U.S. annual soybean crop.
However, China has canceled all shipment of beans from the U.S. causing the prices in the soybean futures market to drop to the lowest price in a decade. China brought in 6.92 million tonnes of soybeans in October, with 94% of that volume coming from Brazil. The US soybean farmers will have their eyes and ears glued to the TV hoping some type of agreement is reached.
But that's not the only bad news for the US soybean farmers. China's imports of soybeans from Brazil are set to drop as an outbreak of African swine fever hit its huge pig herd a couple of months ago and demand for the animal feed ingredient.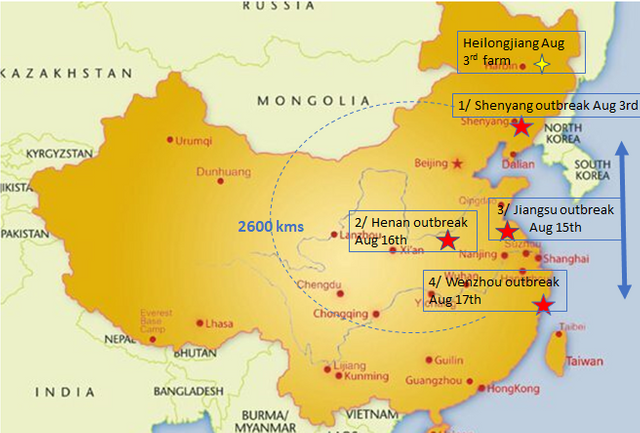 Source
China's December soybean imports are expected to drop 37% to 6 million tonnes from 9.574 million tonnes a year ago.
So where might price head next, lets go to the charts to find out?
On the monthly chart, there is a very nice level at $670.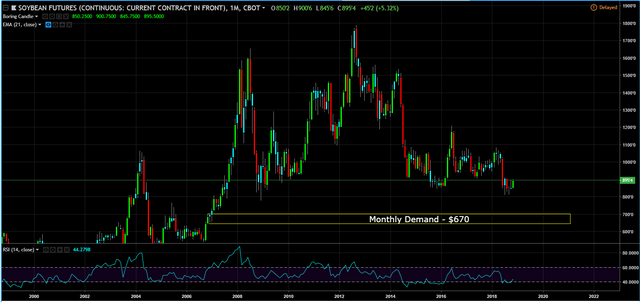 On the weekly chart, price is sandwiched between monthly demand and weekly supply.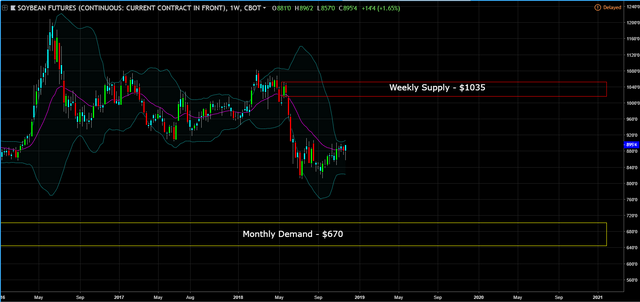 But price is making higher lows and slowly approaching a key level at 9210.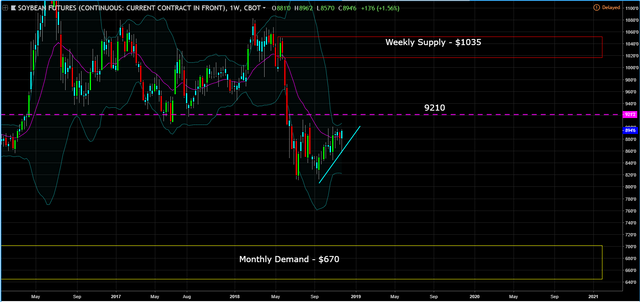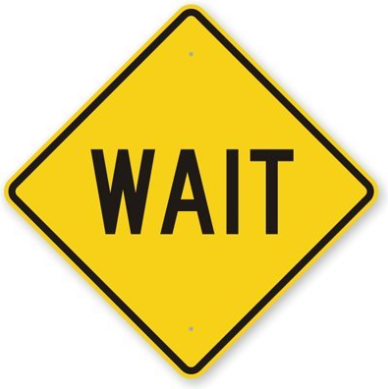 Placing any type of trade before the G-20 meeting would be dangerous to your trading account. Along with the US soybean farmers, my eyes and ears will be glued to the TV to see where price may want to head next. However, if a deal is made and if price breaches the 9210 level, there is nothing stopping price from getting back to the weekly supply level with a first target at the 950, just before the daily supply levels.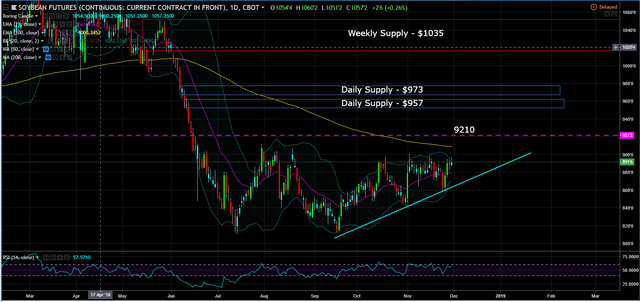 This post is my personal opinion. I'm not a financial advisor, this isn't financial advise. Do your own research before making investment decisions.