---
---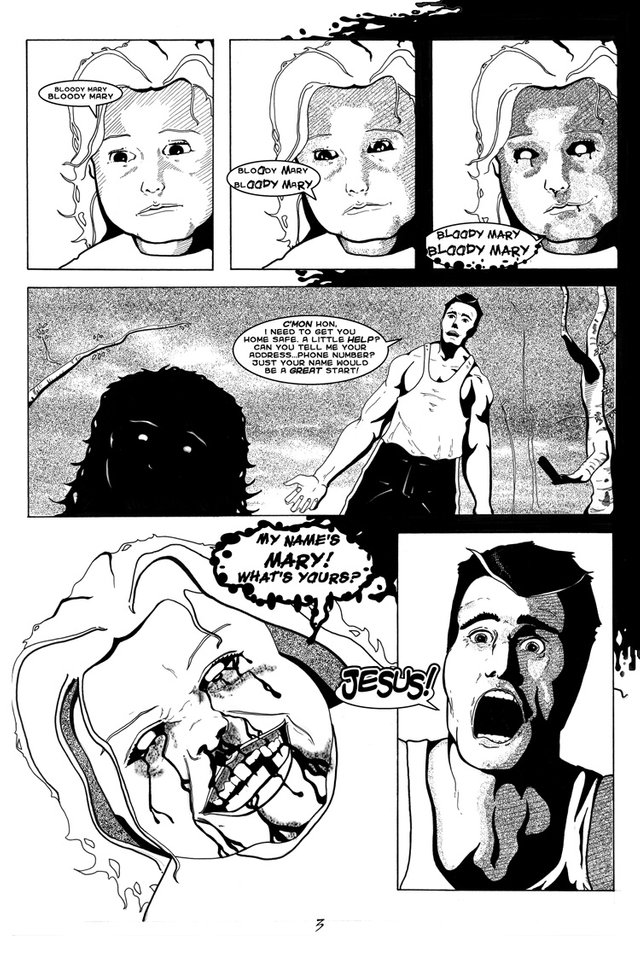 art & writing by Bryan Imhoff
originally published in Seer: Round One
---
Read Seer: "Perceptions" here
Pages 1 2 3 4 5
Read Seer: "Round One" here
Cover: Pages 1 2
---
Seer: Round One takes a sinister turn on page three!
@jrej wins the prize for correctly predicting "I'm pretty sure that little lady is gonna turn out a meany..." in the comments of the last post! What's the prize you ask? Well it's a free pass that entitles the bearer to "the avoidance of one slaughtering at the hands of a bloody demon child." Congrats @jrej , you're safe for a little while... The rest of you... don't go near mirrors for now...
This is the first time this story has been available online in a number of years. If you like what you see, please support Seer and @spottyproduction to ensure the production of future issues!
---
---
Spotty Production is proud to re-release it's earliest tale, Seer. You can read about it's history and plans moving forward in this announcement post. "Round One" is a full length first issue, following on the five page introductory story "Perceptions." With "Round One" Bryan Imhoff took over both writing and artwork on the tale.
---
* Read new installments of Seer by following @spottyproduction
* Browse archives and further Seer content at the official Seer site.
* Follow @bryan-imhoff for more by this creator
* Vote, Follow, and Share to let us know you'd like to see more!