"Read a Damn Book – 020: Madman Volume 1"
Here's another archival book review, this time for one of my favorite books by one of the modern masters of comic art! I love Michael Allred's style, which is a mix of 60's chic and contemporary indie irony, and his storytelling in this collection is also brilliantly entertaining. This review was originally published 5 Apr. 2017 at The Primitive Entertainment Workshop.
"Read a Damn Book – 020: Madman Volume 1"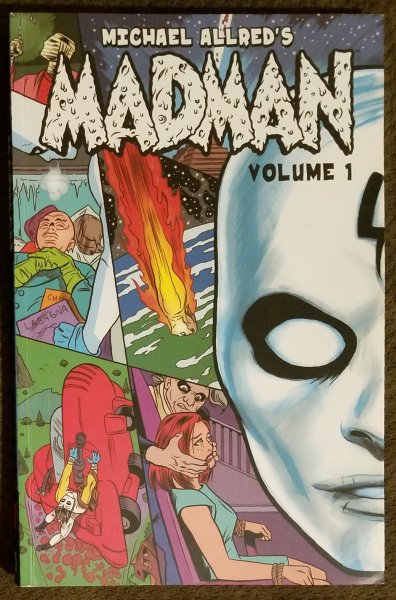 [This is a photograph that I took of the actual book that I read. The image is included for review purposes only!]
Michael Allred – Madman Volume 1 (2010)
As I mentioned in a previous review (see The Atomics: Spaced Out and Grounded…), Michael Allred is one of my favorite comic creators, and this collection PERFECTLY illustrates the reasons why this is true. The first three comics in this book were originally published by Tundra back in the early 1990s, and are presented here in the GLORIOUS black and white of the true indie comic spirit. And I've got to say, these three issues are fantastic—nearly perfect.
The story is psychotic, funny, and gruesome, but cohesive and very satisfying. Our "HERO" (Frank Einstein, aka Madman), is a mentally fragile amnesiac who wears a grotesque mask to cover a scarred face, and he is DISTURBED, barely in touch with reality, and prone to outbursts of extreme violence. There are flashes of the supernatural (a great E.C. Comics / Creepshow scene to look for), moments of perfect humor (Madman's preferred weapons are a yo-yo and a sling-shot, suggesting a childlike, Dennis the Menace or Bart Simpson, quality to his personality), and some wonderfully disturbing flashes of psychotic violence. It's great looking, the thick lines and black and white pallet complimenting the mood of the tale, and well worth the price of admission for this section alone!
But that's not all you get with this package, as this collection also reprints Madman Adventures #1-3. These issues are in color, and still look good (probably BETTER than the previous issues to most modern comics readers), but I prefer the moody quality of the older b&w issues. The individual stories are pretty fun, too. You get your time travel tale, your ancient aliens encounter, and your classic "meet the parents" and take your girlfriend on a date episode (not necessarily in that order), but these stories seem more like separate, one-off, side-liners to me, which don't have that solid, cohesiveness of the first three books. Don't get me wrong, there are still some entertaining moments in the second half of this collection, but overall, the last three stories seem to have lost that desperate/haunted quality that made the first three issues so appealing to me (being the desperate/haunted and depraved individual that I am.)
As a final bonus (in case the above wasn't enough), there are also more than thirty Madman "pin-up" drawings to flip through and enjoy by a virtual Who's-Who of comic illustrators: Frank Frazetta, Jack Kirby, Alex Toth, Barry Windsor-Smith, the Hernandez Brothers (all three!), Dan Brereton, Bill Sienkiewicz, Paul Chadwick, Sergio Aragones, Todd McFarlane, Charles Vess, P. Craig Russell, Jim Lee, Erik Larson, John Byrne…. I could go on, but my fingers are getting tired from all the typing!
Final words: Is it worth the cover price? Absolutely. It's a nice THICK collection (over 200 pages long), and NORMAL folks, who might be turned off by the creepy/icky elements of the first half of the book, (you know who you are,) will probably enjoy the lighter second half, and us sickos can relish the darkness of Madman's early days! (Now if I could just find a collection of Allred's Graphic Musique / Grafik Muzik books, that would make my day complete!!!)
—Richard F. Yates
(Primitive Thoughtician and Supreme Bunny Lord of The P.E.W.)
SUPPORT INDEPENDENT FOLKS WHO ARE JUST MAKING STUFF BECAUSE THEY LOVE IT!!!
https://steemit.com/@richardfyates
https://primitiveentertainment.wordpress.com/read-a-damn-book-list/
https://makersplace.com/store/richardyates/