"Read a Damn Book – 014: Krazy & Ignatz"
The archival project, in which I'm attempting to place all of my Read a Damn Book reviews onto the Steem blockchain, continues to roll along (whenever I have enough time to edit the original posts and make sure they still make sense and are free of as many errors as I can detect.) This review is for a classic newspaper comic, collected into book form by Fantagraphics Books, that a lot of modern readers would probably find very strange and uncomfortable to read. I enjoy weird books, but even I had a bit of trouble reading this book, the first time I gave it a try. However, older and wiser, I returned to the book in March of 2017 and had a wonderful time reading it---despite some issues, which I cover in my review. With that said, here is a look at George Herrimans' critically acclaimed, but mostly forgotten, classic comic! This review was originally posted on 22 Mar. 2017 at The Primitive Entertainment Workshop...
"Read a Damn Book – 014: Krazy & Ignatz"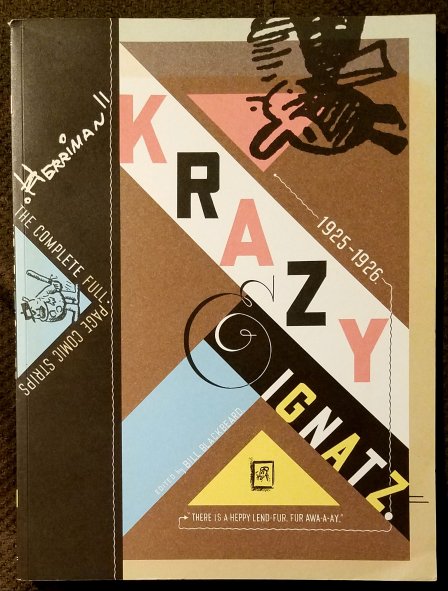 [This is a photograph that I took of the actual book that I read. The image is included for review purposes only!]
George Herriman – Krazy & Ignatz (2002/2004)
For those of you who may not be familiar with Krazy Kat, it was a long running newspaper comic strip created by George Herriman, not liked by many "normal" folk, but adored by William Randolph Hearst (who kept the strip in HIS newspapers for something like four decades, despite constant complaint letters and requests, even from other editors, that he drop the comic.) Apparently, according to the introduction to this collection, the series was loved by the elite artists of the day: Gertrude Stein, Picasso, Hemingway, T.S. Eliot, E.E. Cummings, and that whole crowd. Maybe they just liked an underdog? Anyway, this particular book collects two years (1925-1926) worth of Krazy Kat Sunday comics in one handy and very nicely put together package. A+ for presentation, but Fantagraphics, the publisher, is usually great for quality.
The STORY in Herriman's comic is a different beast than our usual, modern tales. It's somehow wonderfully simple, always LOOKS great, but is also bizarre and a bit creepy at times. Here's the skeletal version of what's going on: Krazy Kat, who is sometimes referred to as "he" and sometimes as "she," loves Ignatz the mouse. Ignatz mouse seems to hate Krazy Kat and spends most of each episode trying to figure out how to crack Krazy Kat in the back of the head with a brick. Krazy, who is clearly a masochist, sees these blatant attacks on his/her person as messages of love from Ignatz. (Whenever a brick "zips" from the mouse's hand and bashes the kat's skull, Krazy sees hearts instead of stars.) A third party in this love affair is Officer Pupp, who clearly loves Krazy Kat and tries to stop Ignatz the mouse from assaulting the feline—and subsequently, many of the strips end with Ignatz being carted off to jail either for bashing the cat in the skull or for attempted brain bashery. And that's it. That's really what this comic is all about! Mouse attacks cat with brick. Cat loves mouse. Dog loves cat and arrests mouse for assaulting cat. Let the mutations on this formula begin!
The first time I read this collection, about 10 or 12 years ago, I was a little put off by the hand-drawn lettering (not always easy to read) and by the fact that Krazy Kat talks in a comical (but sometimes difficult to decipher) dialect. There are also some rather un-P.C. moments of racial stereotyping and offensive name calling. (It was created in the 1920s.) On this read-through, however, I was better prepared for the dialect and found the experience to be extremely enjoyable. Herriman's art is exceptional. His characters are simple and cartoony, but still expressive, and his backgrounds are evocative and dreamlike. The situations are absurd and, if you go along with the joke, can be very fun. The whole FEEL of the series is unearthly, bizarre, and freakish—and that's just what I've been in the mood for lately. Overall, if you want to see where newspaper comics come from, or enjoy surreal situations and humor, or just like seeing someone smashed in the head with a brick, then this might just be the book for you! (Although I feel like I should remind folks that there is some racist content in this book that sensitive people will find offensive, and they would have every right to be offended! Understanding the context helps some, but it's still ugly.)
—Richard F. Yates
(Primitive Thoughtician and Supreme Bunny Lord of The P.E.W.)
SUPPORT INDEPENDENT FOLKS WHO ARE JUST MAKING STUFF BECAUSE THEY LOVE IT!!!
https://steemit.com/@richardfyates
https://primitiveentertainment.wordpress.com/read-a-damn-book-list/
https://makersplace.com/store/richardyates/