With the growing widespread appeal of comic books in mainstream popular culture such as the Saturday matinee at the local cinema, or on your very own home television set, more and more children are starting to inquire, "Mommy and Daddy, where do comic books come from?" Rather than resort to a standard reply of, "When a mommy comic book and a daddy comic book love each other very much..." it is best to have a candid and honest discussion with inquisitive youth about the realities of reproduction. You can show your children where comics are born as they head on their way to reproduction on the printed page!
Just Being Silly... Maybe It's Windex Fumes?
---
Ok, 50's educational video opener aside... I'd been meaning to give a little studio tour of my workroom for a while, and since I just spent the last couple hours doing some long overdue cleaning and tidying, now seems like a perfect time!
I love seeing the workspaces of other artists. One of my favorite magazines, ImagineFX even shows a different artists studio in a dedicated monthly column and I always look forward to seeing them. No one's yet breaking down my door to feature me in a magazine, so I'll just foist my pics on you all unrequested!
Some folks may be proud of their looks and post selfies... I just post studio selfies - 'cause they look a lot better than my physique! This is the studio and "corporate offices" of Spotty Production @spottyproduction which is the name I've given to my creative and publishing ventures. At the moment it is in reality just me, @bryan-imhoff. This is where I work on Appetite for Distraction, Seer, I Thought It Would Be Zombies..., and anything else that crosses my mind. Hope you enjoy!
On With The Tour!
---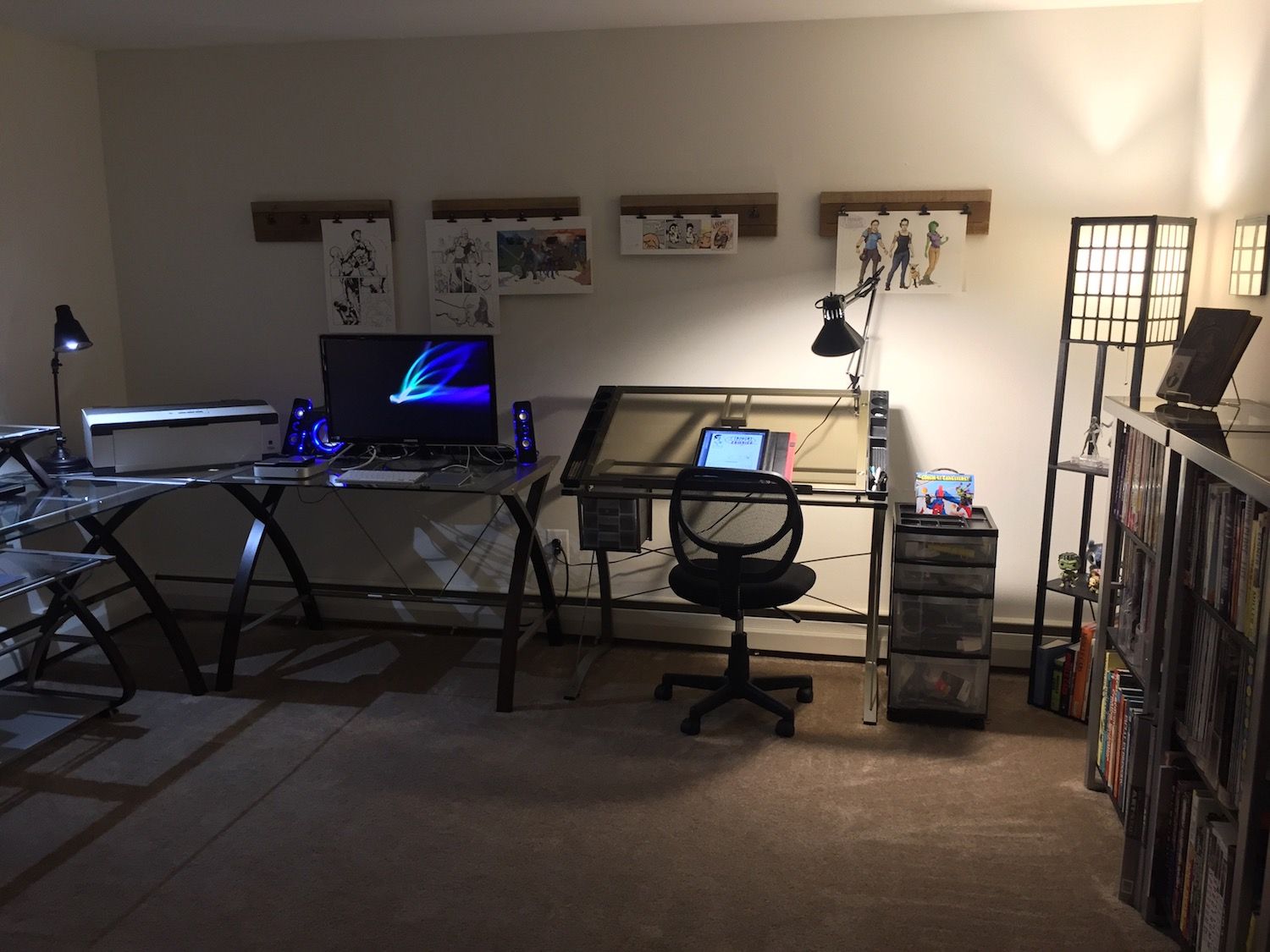 ---
I moved in the middle of the year, picking up more space which allowed me to set up a dedicated studio room. It's my favorite room by far. Living room, dining area, bedroom, all are very spartan in comparison. This is where the magic happens. Not in the bedroom. * sigh *
---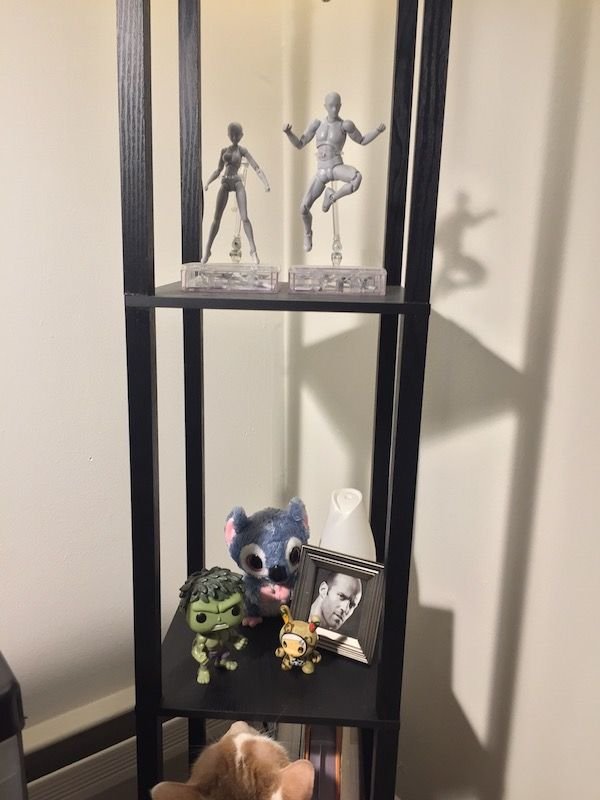 ---
To the right of my drafting table we have some great artist mannequins, trinkets of my obsession with koala bears and Jason Statham, and a curious Baxter.
---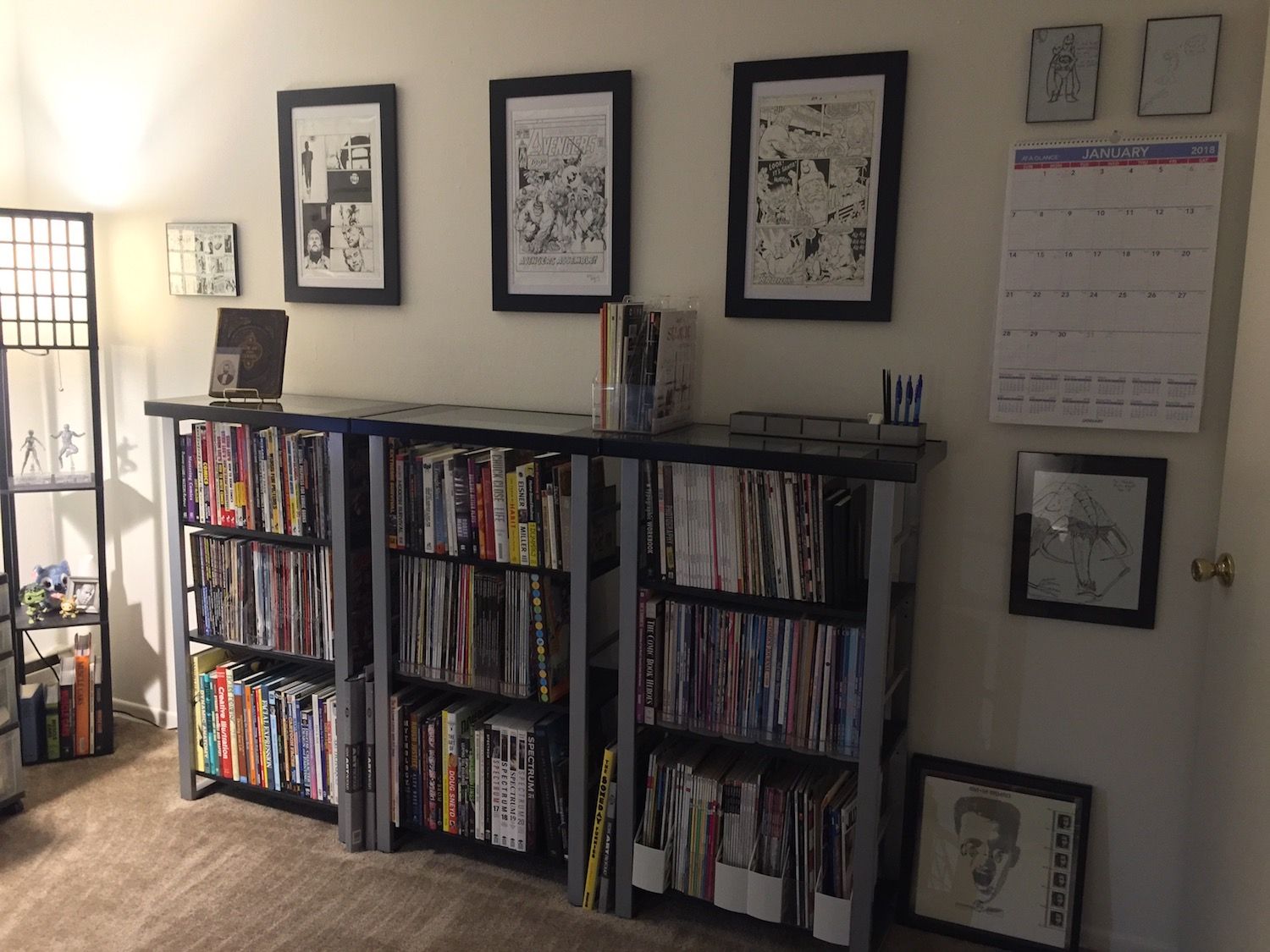 ---
A reminder to please keep all hands and arms inside the vehicle during the tour... As we continue on, you can see over the years I've managed to amass quite a bit of reference material, a wide range of books and magazines on art and the creation of comic books. As time allows, I'd like to start sharing and reviewing some of these resources. Let me know if you'd be interested in that!
---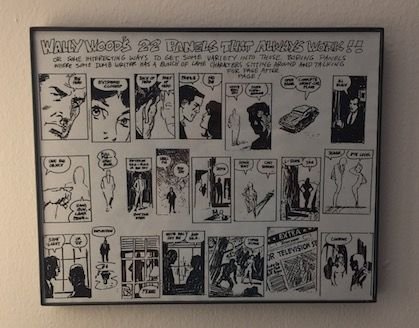 ---
Wally Wood's 22 Panels That Always Work!! hangs a glance away from the drafting table, waiting to serve during those moments of layout panic...
---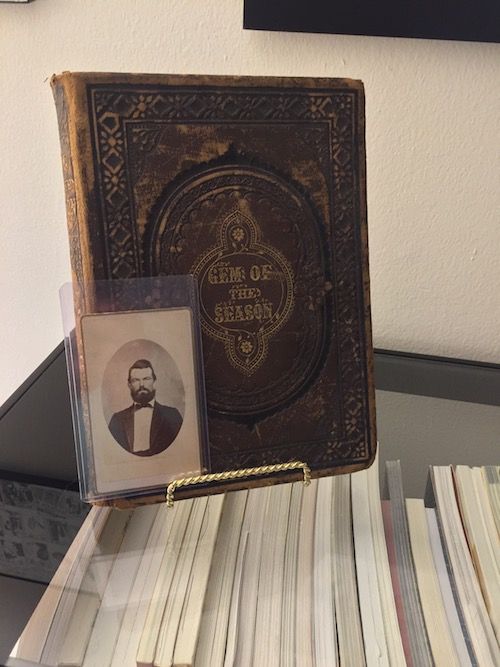 ---
I've been collecting artifacts to help inspire and illustrate my upcoming comic, "I Thought It Would Be Zombies..." The book is from 1859, the year of a massive solar flare known as the Carrington Event which will be integral in my story. The photo is a "Carte de Visite" from around the same time which I used to "cast" one of my characters as well.
---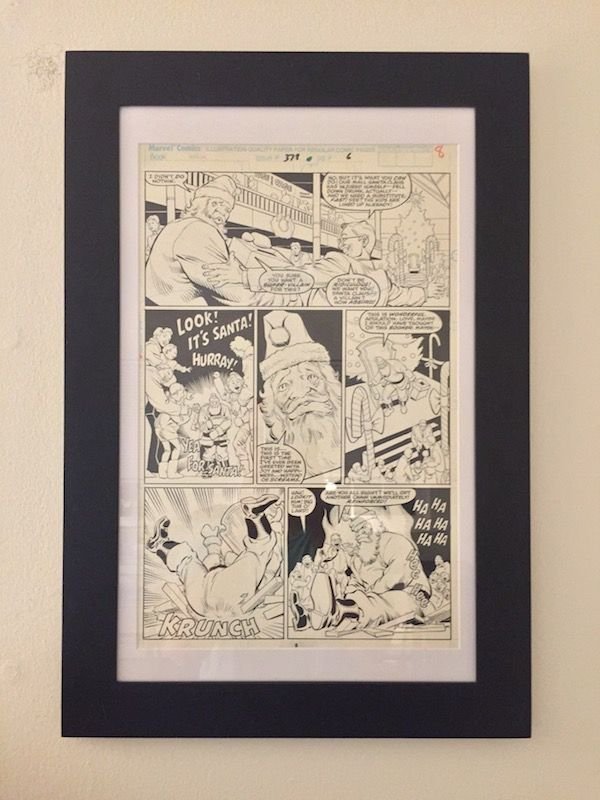 ---
I own a few pieces of original comic art. This is one of my favorites. It comes from Incredible Hulk #378 from 1991, with art by Bill Jaaska and Jeff Albrecht. The supervillain known as the Rhino dressed up as Santa Claus to avoid capture and finds himself sitting in as a mall Santa before winding up in a brawl with the Hulk. It was a delightfully whimsical issue that was a favorite of mine as a kid. I saw a couple pages for sale cheap at a comic convention in the early 2000s and grabbed them both. Seeing the craftsmanship and beauty of original comic pages is always informational and inspirational.
---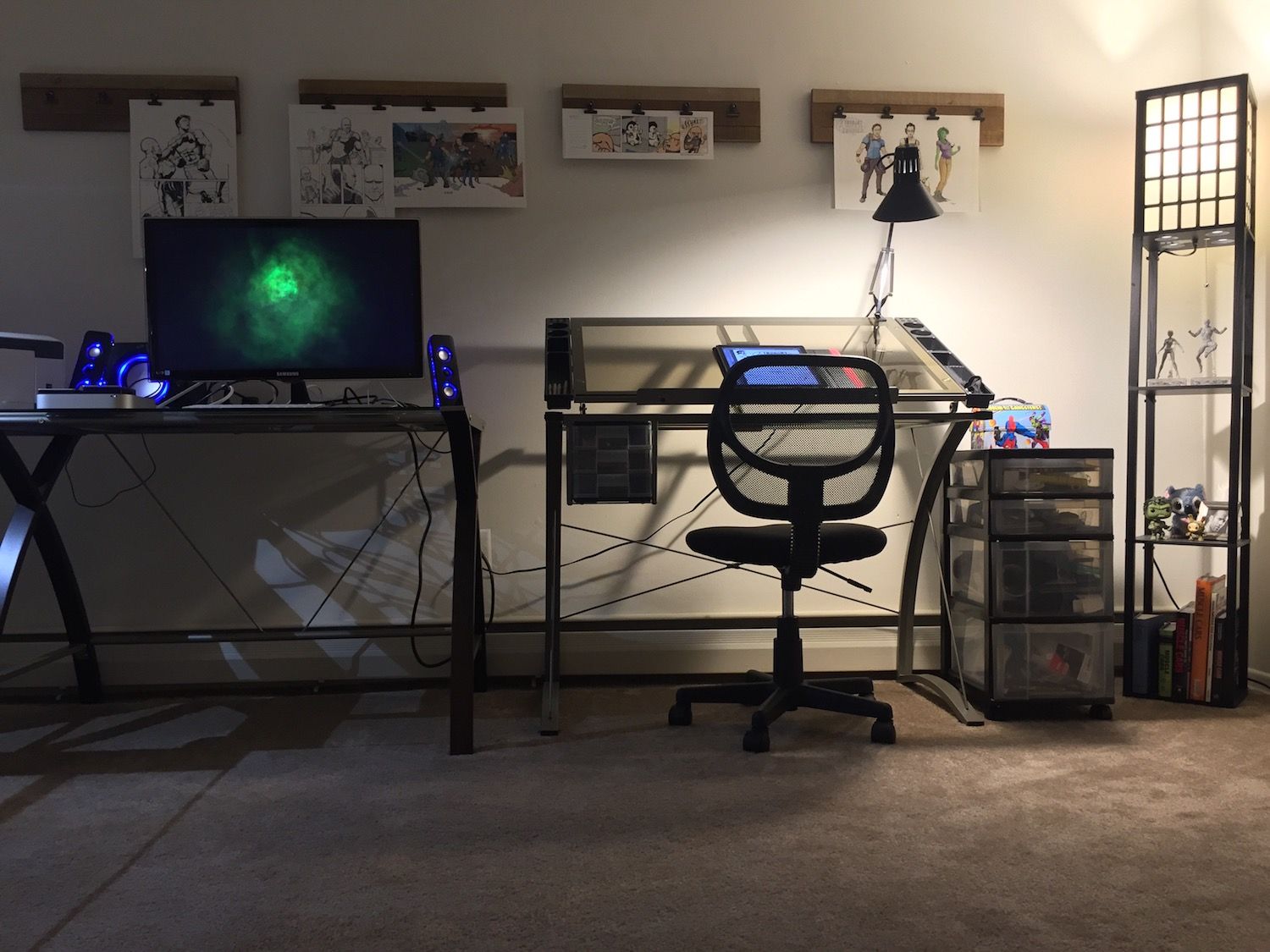 ---
Although I work mainly digitally now, I like to print out some of my works to decorate, keep motivated, and reference back to easily. I have a beastly Epson WorkForce 1100 printer that can handle high quality inkjet prints on large format bristol board. I have spare desk space now that used to be occupied by a Wacom Cintiq which has passed away! Thankfully the iPad Pro has been more than capable of picking up the slack.
---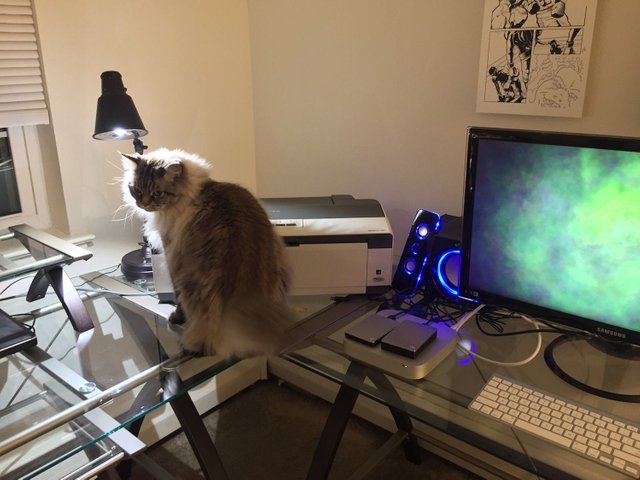 ---
My desktop setup is nothing spectacular, just a Mac Mini and some external hard drives. That thing has been a solid workhorse for about 6 years now! I did recently install an SSD in it which helped rejuvenate it for another year or two. Since I'm mostly working on the iPad now, it's primarily used for serving up music and movies as I work! And of course, Kirby is the star of the show... named after famed creator Jack "King" Kirby, he and his older brother Baxter are never far away. I was tempted to share a photo of their litter box which is in the studio closet (note the air freshener hidden behind the picture of Jason Statham...), but I refrained.
---
Well, that's it for now! I'm so happy you stopped by... even if I did kind of abduct you against your will...
If you're a fan of comics, is there anything you'd love to see or know about their creation? Fellow artists, please share your own workspaces and work habits. As I mentioned, I love seeing that stuff and getting new ideas and inspiration!
As we head toward 2018 be sure to get your own tools shined up and ready for a year of productivity!
-Bryan "the Imp" Imhoff
---
Support the growing comics community here on Steemit! by joining the @steem-comic-con!