Round 2 - Ding Goes the Bell!
---
If you haven't been following along, it's kind of a "Rockyesque" tale. I found my old friend Pencil milling around in the bottom drawer, an area other art tools might call "the docks." Pencil was there, breaking some legs for a loan shark and occasionally fighting a Micron or Prismacolor for a bit of beer money. I looked Pencil straight in the graphite and told him he might have a chance at the title again, going up against that flashy newcomer Stylus. He's been working the heavy bag like a champ ever since.
---
Ok, maybe it's nothing like that.
---
...But I am liking "Pencil."
---
After an encouraging first doodle a couple nights ago, I finally had the day off today and spent several hours filling a fresh sheet of paper.
---
---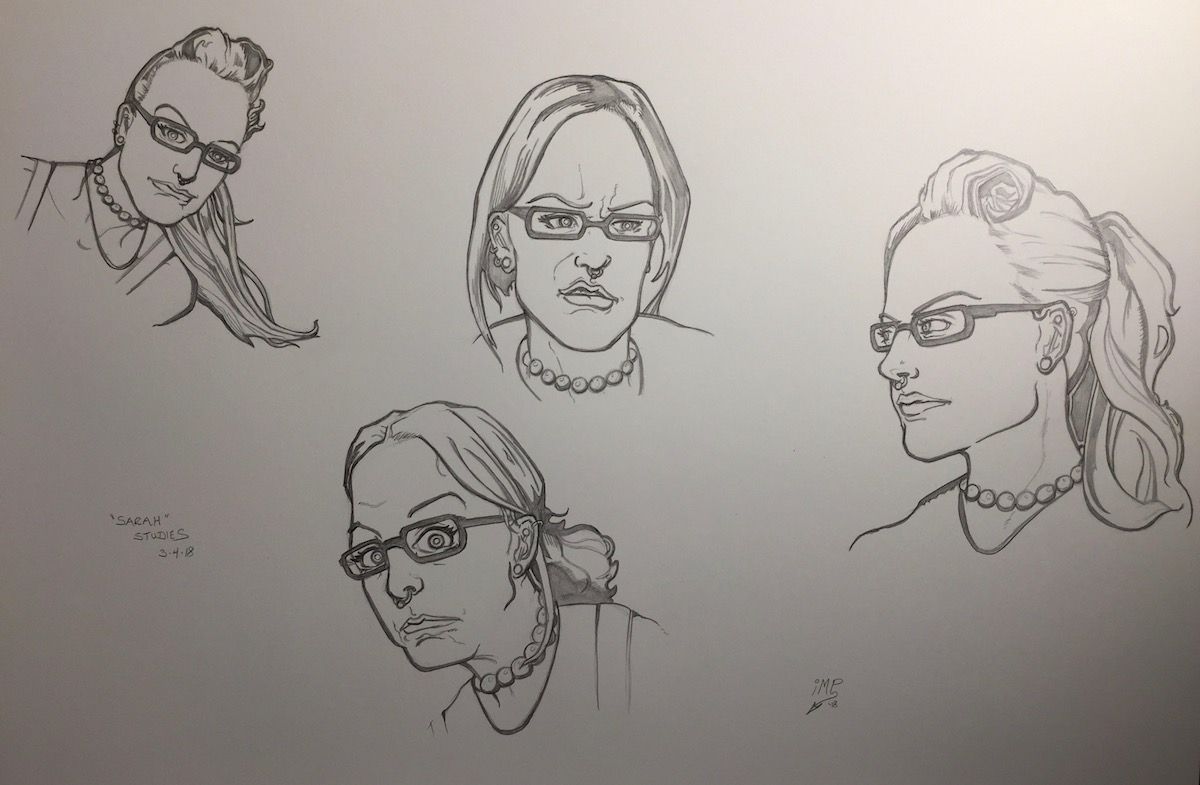 head studies of Sarah from "I Thought It Would Be Zombies..."
mechanical pencil, 2H lead on 2 ply smooth Bristol board; 11" x 17"
Find more of me recently trying to define Sarah's character here and Pencil's first round of battle here.
---
---
I'm not sure what it is, the texture, the scale of the workspace compared to a tablet, the lack of digital tools as a crutch... but I'm very happy with today's sketches. I'm fully rethinking my comic making process from here.
1. I need to incorporate more traditional pencil and possibly ink work into my production.
2. I need to incorporate more photo reference and preparation work into my production.
---
Reference Is Not A Dirty Word!
---
Truthfully, I never thought reference was a dirty word... I've just been too lazy to do it right.
I am not very skilled when it comes to drawing from the imagination or even "cartooning." I've been looking at other artist's work and attempting to learn and emulate. However, when I sit down with a photo reference and start drawing, as I did with these studies, I feel like it's the closest to my natural style. It's formed from years of reading comics and drawing, and clearly I have learned ways to reduce people and objects to the basic linework of the classic comic book style.
I far prefer my results when I have a good reference to draw from. Perhaps that was instilled in me by my high school art teacher Mrs. Lutick. I can still hear the sound of her voice from across the room calling out to different students... "Find a reference!" She'd spot someone from 50 feet away, struggling to draw a tree from memory or imagination with middling to poor results. Unless you're a master and have drawn trees a thousand times, you better be studying and looking at that tree as you work! I never would have pulled off these images of Sarah this well without solid reference.
Many great working artists use reference extensively, often shooting their own, to get the images they want to capture and not risk copying another artist.
---
---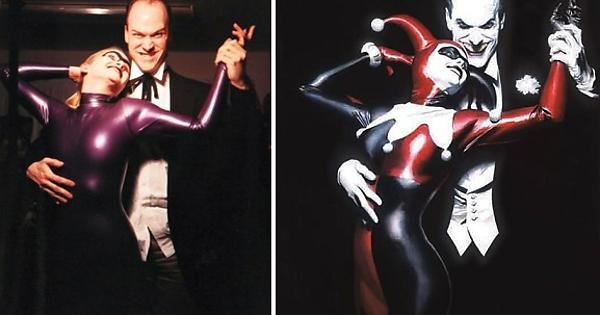 Artist Alex Ross using himself as a model for the Joker and taking a custom reference photo for his work
---
---
Fortunately for me, should I venture down a more photo referenced path... I've actually based the lead characters of my comic "I Thought It Would Be Zombies..." on friends. They've been very supportive and agreed to have characters based on them in the book! Now I'll just have to propose hanging out and shooting some pictures! That extends to background settings and objects too.
For some, drawing from imagination may be best, but it doesn't give me the results I want. I'm just being lazy and short sighted when I know that I'm drawing a scene in the woods for a half dozen pages and don't take a half a day to go to the freakin' woods, wander around, get inspired, and shoot some reference photos of my own. Relying on Google image search or just winging it... (I just heard Mrs. Lutick scream at me from a few hundred miles away) isn't cutting it for what I want to achieve.
---
So is Pencil going to win the fight? No art tool every really wins a fight... Boxing is best when filled with good sportsmanship and camaraderie, as is art! I think Pencil and Stylus will find many ways to work together on this comic project...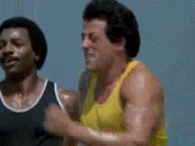 ---
-Bryan "the Imp" Imhoff
---
Support the growing comics community here on Steemit! by joining the @steem-comic-con!