---
A couple weeks ago I posted the first installment of "Looking At Seer", a column to show some behind the scenes material for my comic Seer, and my how the time has flown! It's been a while since I've gone this long without making a post of any kind, so I wanted to take a few moments to rectify that with the next part!
Since my last post I've been busy, having had the opportunity to once again meet up with @kommienezuspadt, and begun work in earnest on my next comic, "I Thought It Would Be Zombies...". That work is given extra motivation by a wager/good nature shaming initiative that I'm taking part in with @kommienezuspadt and @artistchristian. @kommienezuspadt has already posted his first update and I'll be posting my official announcement and "progress report" later this week. Keep an eye out!
---
But I digress... Let's step back in time a bit to a time when Seer: Round One had just been printed and released. In the year prior in which I was working on Seer, I had exhibited at comic conventions in Philadelphia and Baltimore, selling "ashcan" previews and just taking the opportunity to meet some folks. Once Seer was in print, I returned to Philadelphia with copies in hand, better marketing materials, and a couple 11x17" art prints.
---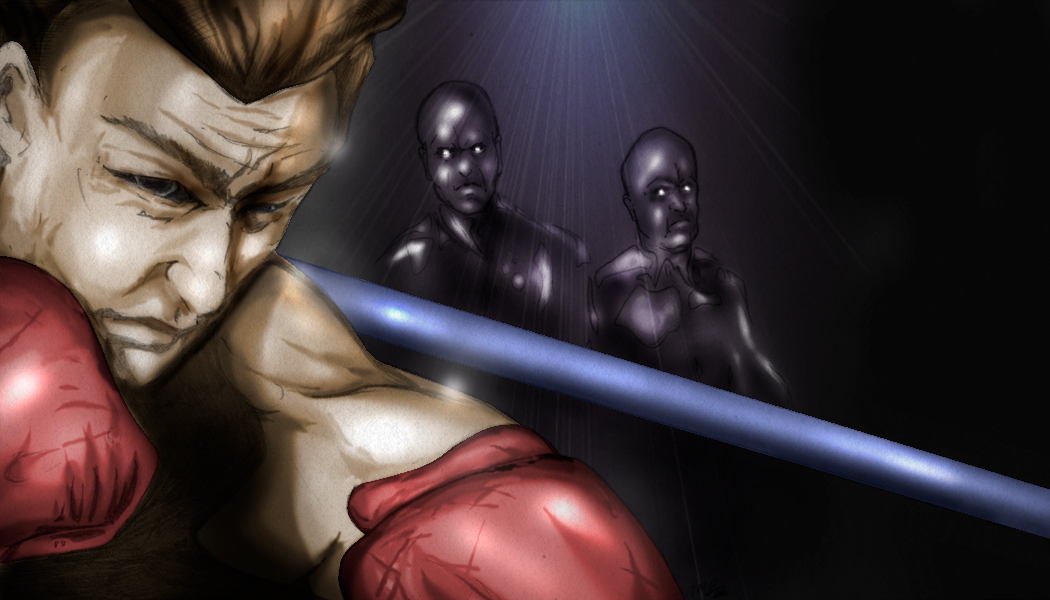 ---
One item I had was a new "Seer"centric business card design. I did the illustration and hired Jason Moser to provide colors.
(text free version as the contact info was out of date and you can just enjoy the art better!)
---
Next up were a couple art prints. One I've shared before, an early promo image of James in his corner which became the back cover of the printed issue. Again, pencils by me and colors by Jason Moser.
---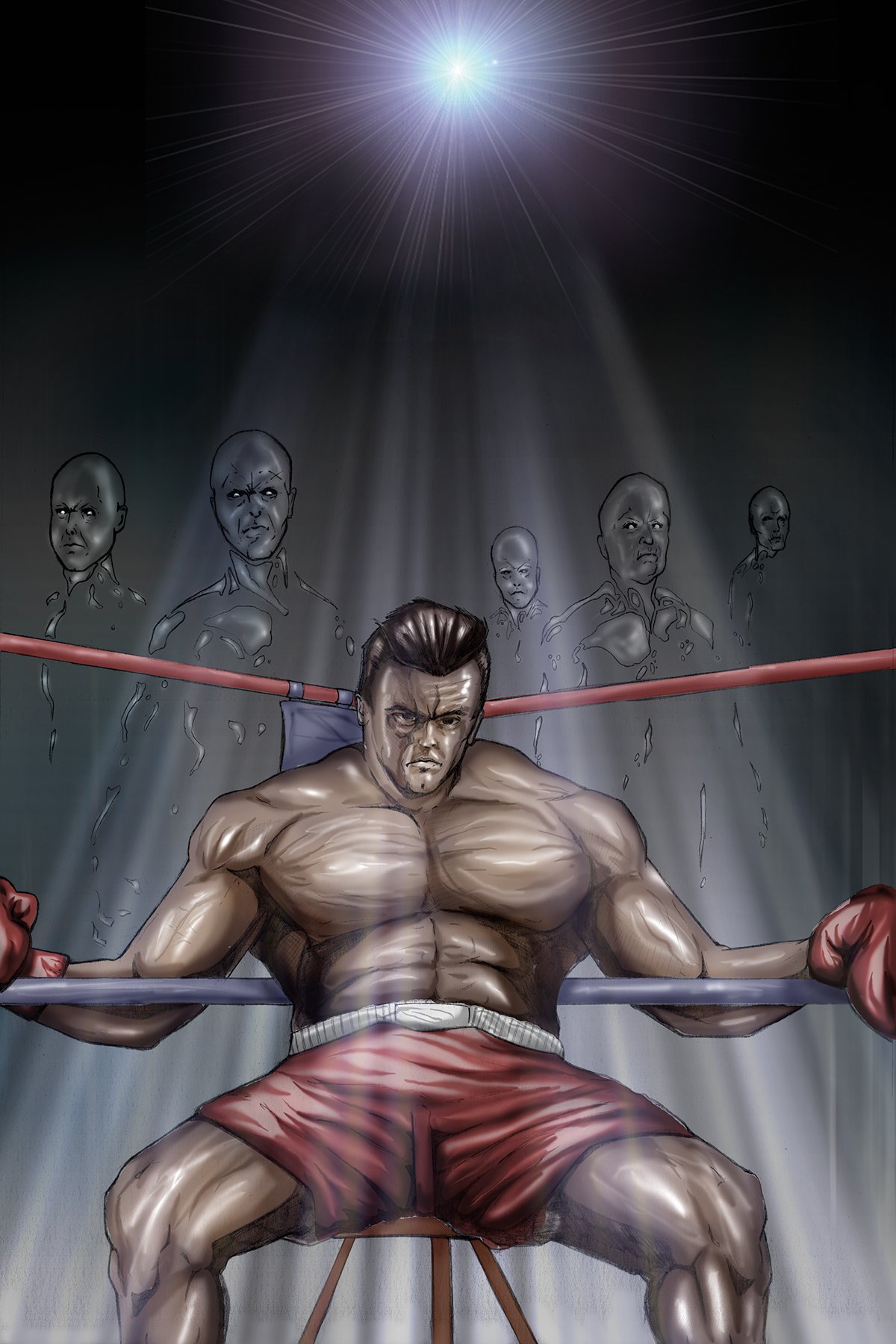 ---
The second print was "Philadelphia Exclusive" (though I didn't sell out so it may become "Steemadelphia Exclusive" at some point!) It featured an image of James and his shadows on the steps of the iconic Philadelphia Museum of Art, made famous by Rocky's triumphant training run. A great tie in to a comic about a boxer.
---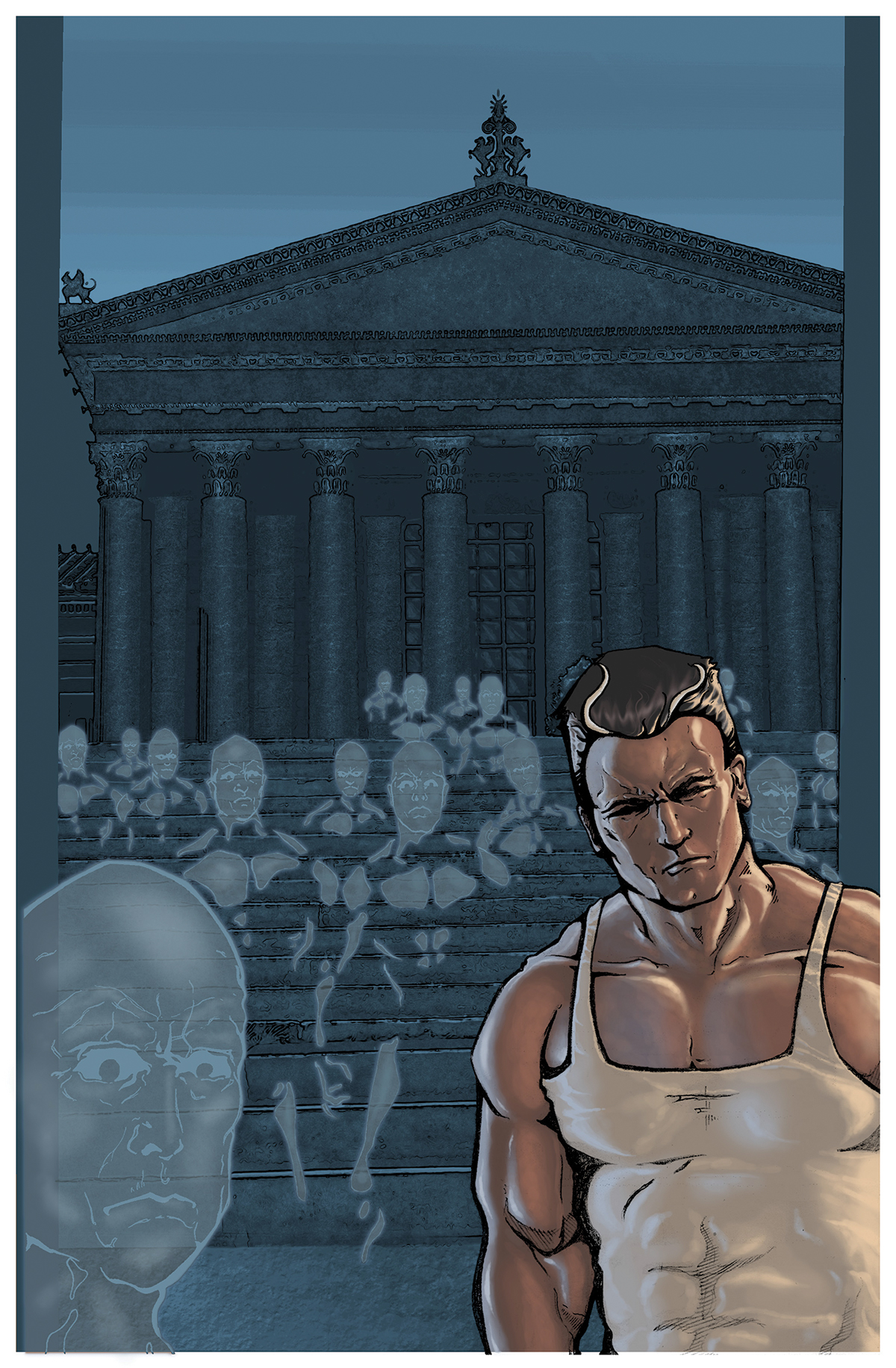 ---
This image featured pencils by me, Bryan Imhoff with colors by Roderic "BLUEPEN" Rodriguez
---
It was a pleasure to work with both of these talented colorists. It's hard to believe it was many years ago! It's my hope that the power of Steem will allow me to fund more projects and collaborate with many more talented individuals all over the world in the years to come.
I also think back on my experiences exhibiting at Philadelphia and Baltimore and what I've learned to apply to future convention adventures in the years to come. In recent years I've attended both conventions as a spectator and seen the changes and growth. I'm eager to dive back into the "convention scene" again. On that note, our very own @beekart is exhibiting at the mother of all comic conventions, San Diego Comicon this summer! He's blogged about it several times (including here) so be sure to follow along with his experience and support his convention endeavors!
---
Thanks for taking a look at these extra illustrations! In the next "Looking at Seer" column, we'll travel back in time for a look at some of the earliest concept sketches and artwork... including the first time Seer ever appeared on paper!
-Bryan "the Imp" Imhoff
---
Support the growing comics community here on Steemit! by joining the @steem-comic-con!