I used to be a much more avid reader, devouring books, magazines, and comics at a steady to frantic pace. It's a habit that's lapsed over the years. Social media and Netflix have played a part I'm sure, and that's how habits work... one thing coming along and replacing another.
But it's a habit I missed, and that I know is very important. So I wanted to get it back and I've begun my quest!
---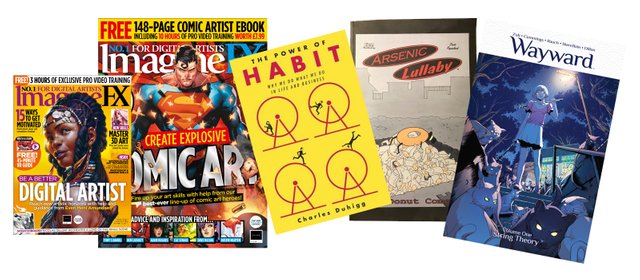 My recent reading...
---
Aptly enough, I purposefully began my new regimen with the book The Power of Habit. I'd read it before a couple years ago and it was fascinating. I wanted to revisit it in light of the beginnings of my little reading program, and thoroughly enjoyed it a second time around.
Over the past couple weeks I've devoted at least 1 hour a day to reading. So far I've plowed through exactly what you see above, The Power of Habit, a couple issues of ImagineFX magazine, The Donut Cometh, a collection of comics by our very own @arseniclullaby, and Volume 1 of the comic series Wayward.
I've gotten into a routine where I consciously put down the phone, turn off the tv, and set an hour timer, then pick up whatever it is I'm working on reading that evening. I use an app called Productive to track my progress and help lend some extra habitual motivation of not letting that good streak get broken! In the weeks and months to come, it's my goal to keep adding in additional good habits and building out better and more beneficial routines for myself.
---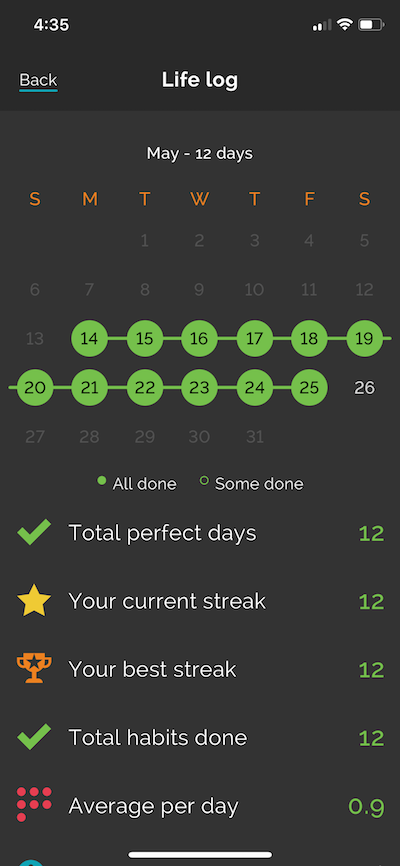 12 days in, and about to get my 13th night of readin' on!
---
I've enjoyed all my reading so far, there's not a bad page in the bunch! I hope that for me, reading is what is known as a "keystone" habit; a habit that when added or changed goes on to trigger other behavioral changes for the better. The relaxation, mental engagement, knowledge and inspiration that can be acquired through reading are critical to me in the pursuit of a creative career.
---
A few days ago I glanced upon a trending post among social media. It caught my eye as I was a ways into my new reading trend. TV host Jimmy Kimmel had seen a recent study that revealed 1 in 4 Americans have not read a book in the past year. He had a healthy disbelief for the survey, which I also share... the number of non reading Americans is most likely far, far worse than that self reported survey points to.
To test his point his show took to the streets and asked people to name a book, any book.
The results are equal parts hysterical and horrifying!
---
---
Don't be like those people!
I'm going to keep hitting the books and encourage anyone and everyone to do the same. If you're feeling stuck or frustrated, be it socially, professionally, or creatively, turning the right pages can be a big help.
So what's on everyone else's reading lists?
-Bryan "the Imp" Imhoff
---
Support the growing comics community here on Steemit! by joining the @steem-comic-con!