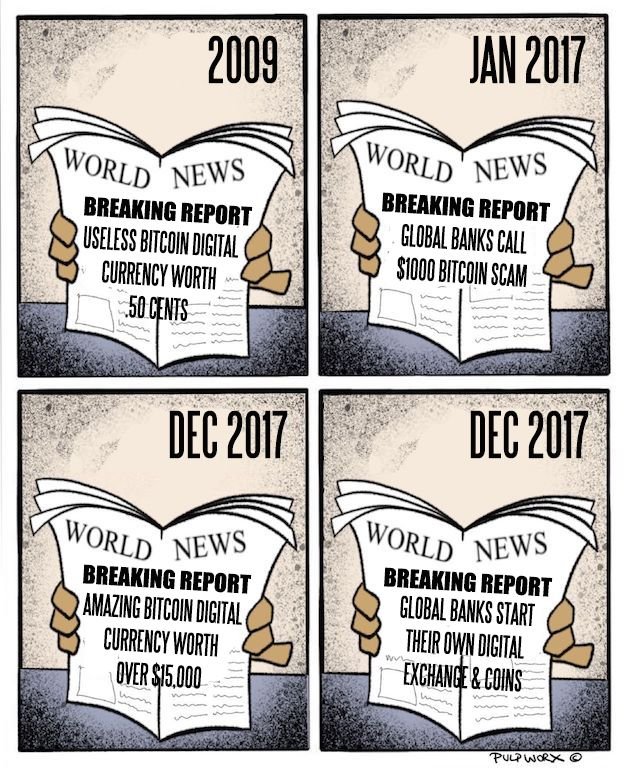 ---
Can you feel the winds of change? I do. However, none feels it more than the Elite 1% who have been deep into the Wars & Famine on our Planet for the last 400 years.
In less than 5 generations, total domination of trade, banking and securities have been controlled by those individuals of whom shan't be named. Bloody Hell, I would rather yell out the name Voldemort a million times in front of the bathroom mirror, than repeat the names of those pawns of Sauron & Tom Cruise!
Here is an insightful article by @v4vapid related to the comic panel.
The last 48hrs have been a roller-coaster ride, especially in time with the Patent of Bank of America dropping the info of their Exchange. Well you know what this means right, those who shan't be named, are preparing for conquest?.
---
How will the Crypto-Wars turn out in mid-2018?
Who will have the upper hand, the Elite or the Meek?
Did I leave my cat in the dryer last night?
---
If you're interested in:

Technology, Art/Comic, Philosophy, Exploration, Odd Things, Science & Spock

Do Follow Our Channel:

PulpWorx

You like SciFi short stories? We write an Original Comedy, Space Opera series on Steemit

Elron Ahura - Space Detective 2369 AD

You can read all 3 Chapters:

Part 1 - Part 2 - Part 3

Or alternatively, if you've had a long day from work, here is our AUDIOBOOK on DSOUND

We also Produce Seminars, last year we hosted Graham Hancock - And this year we had Dr. Lawrence Blair. Both videos of the seminars will be released later this month.

Until next time, Eat a Taco and Steem On!!
---