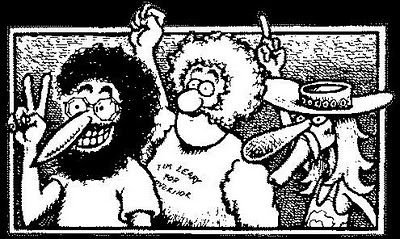 This is the second post in a series of post describing the inspirations for my comic about Phill from GCHQ. The first one was about the classic sleuth-comic: Dick Tracy. But this time I will get right to the source. Gilbert Shelton's: The Fabulous Furry Freak Brothers, an underground comix born in the summer of love, 1968, which in both drawing style, humour, and anarchist world-view are one of the direct inspirations for Phill from GCHQ.
Not that my poor paranoid hero, Phill, is directly comparable to Gilbert Shelton's crazy hippies, Freewheelin' Franklin, Phineas, and Fat Freddy. While the well behaved Phill is mostly concerned with protecting his meagre private life and keep out of the way of other people, the Freak Brother are more than anything occupied with the magical slums of narcotics.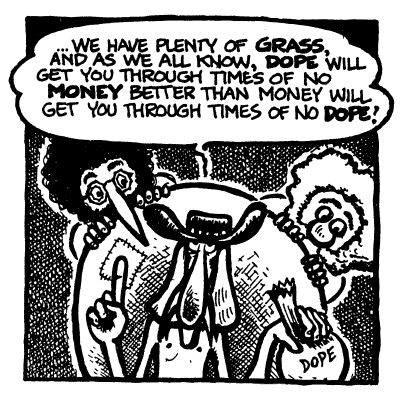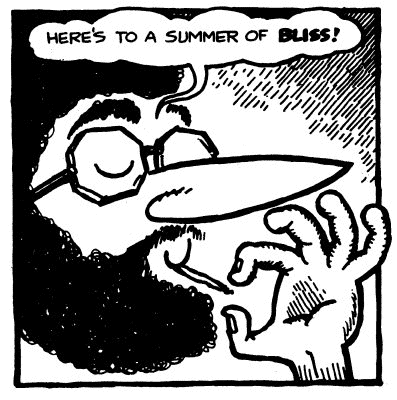 The epic of dope
It would be a bit of an overstatement to call the short stories, often only a couple of pages long, for complex literature. If I were to compare it to anything it would be early film comedians like Fy og bi or Laurel and Hardy. The plot is mostly very simple, mostly about buying or selling drugs, with a small not always obvious point, and often with a dramatic finale where one of the protagonists is chasing the other two with a shovel, shotgun or hammer.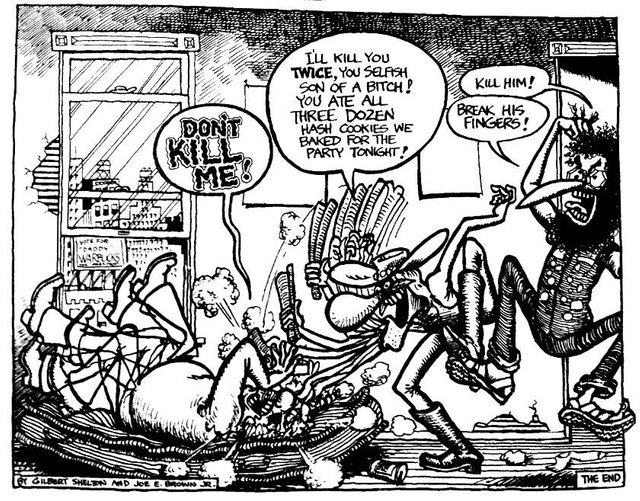 But Gilbert Shelton (the cartoonist) still makes it all very funny and entertaining with a fine mix of slap-stick, simple psychology, and a crazy imagination. The three archetypical hippies are very hard not to love, even though they are put together of the most egocentric, lazy and anti-social atoms. In many ways Shelton catches the childishness of the hippie-era, and without forgetting the darker sides he still have a great affection for these Falstaff'ish characters. Except maybe in this cameo where he appears himself.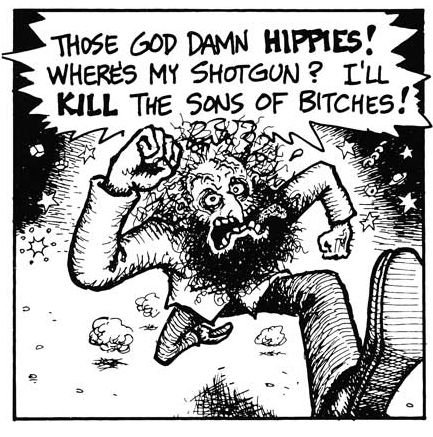 The lesser prince of cross-hatching
Gilbert Shelton is not Moebius - no French elegantier - no no no. There is something muddy about his not to perfect cross-hatching that might be one of the things I like most about the Freak Brothers. It is ugly, sometimes crabbed, sometimes overly compacted, but all in all it fits perfectly with the characters. There is simply a mood of Freak that I have loved since I first time read a Freak Brothers comic.

He often changes style and the three Freak Brothers are depicted with large amounts of artistic freedom. Especially Fat Freddy can look completely different in every frame without loosing his Fat Freddyness.
Dramatis personæ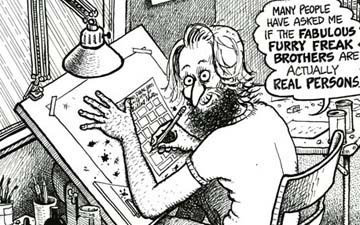 I have until now avoided presenting the three heroes and their cat. It's a bit up-side down, I know, but here goes - and with this I will end this small presentation.
Freewheelin' Franklin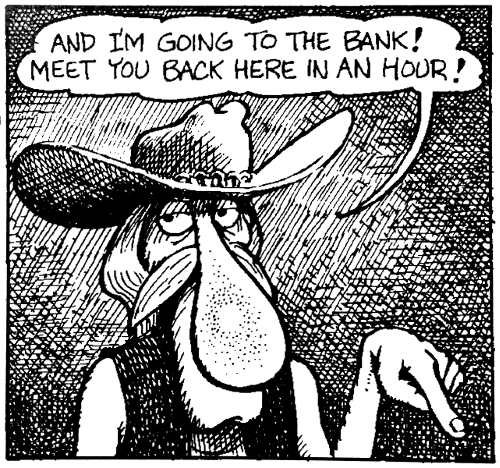 Freewheelin' Franklin Freek
is the individualist anarchist. He got the
born to be wild
biker look, and tends to be driven mostly by his personal want for freedom. Hanging out with his two friends seem to satify these needs.
Phineas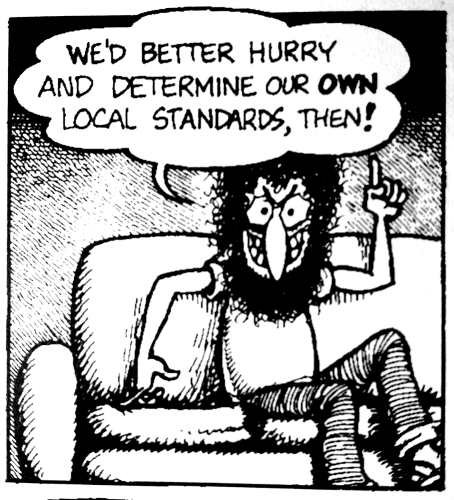 Phineas Phreak is the politically active hippie. He tends to start out with peace and love, but often ends up with violent revolution and Pol Pot. Quite a few of the ideological inconsistencies of the era is turned around in his character. None the less... drugs always trump politics for Phineas.
Fat Freddy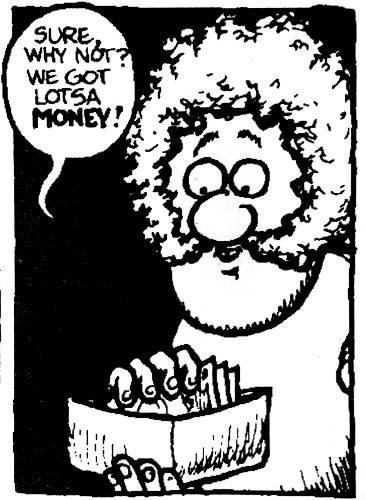 Fat Freddy is the hang-around opportunist. Mostly occupied with eating, boozing and taking drugs, he is also the one with most amorous affairs. In a long episode where the Freak Brothers are building a anarchist commune up in the mountains he even sides with the feminist women against his two friends - and sleeps with all three girls!
And then there is Fat Freddy's cat...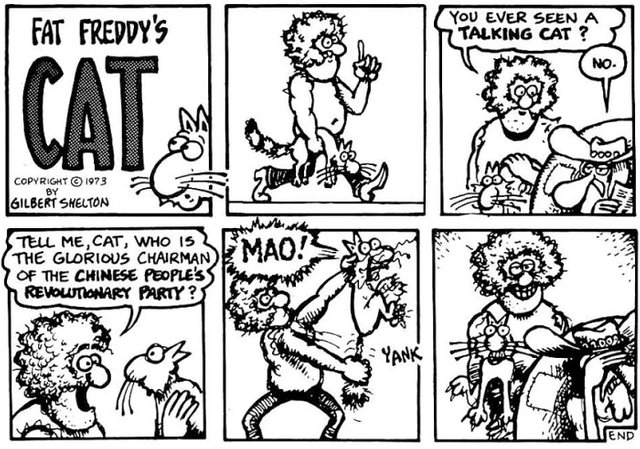 That's all folk!

Earlier Episodes of this glorious series:
I have used images from the following websites:
and images taken by myself from the following book:
The Fabulous Furry Freak Brothers Omnibus, Rip Off Press, California - ISBN 9780861661596
And then of course my own stuff