Hola! Funny bones come in Espanol too!
Hola, buenos dias…oh wait, do you not speak Spanish?
(Am I confused, or is it the weed?)
The Comedy Open Mic family is growing a Spanish horn!
Straight from the desk of the Comedy Open Mic community, we are proud to announce yet another leap - the latest addition, tagged:
Because we heard that Spanish folks think they're funny. ;)
Well, now's the time for them to prove it.
Okay all you English speaking peeps (that barely passed your Spanish classes in school), we now challenge you to continue reading and try to understand, as this post is now going native.
(If you prefer otherwise, then skip to the end for the English summary)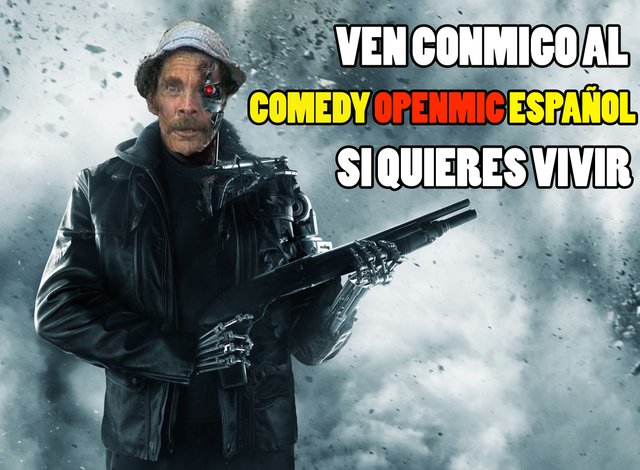 Original meme by @jonsnoww
Extra, Extra! Comedy Open Mic Abraza El Humor Hispano!
Sí señores! #ComedyOpenMic anda cruzando fronteras con un concurso exclusivo para el habla hispana. Nos referimos nada más y nada menos que…
[Suenen los tambores]
a #ComedyOpenMicEspanol. Así que no te quedes rascándote la barriga y ayúdanos a correr la voz porque la COMEDIA en Steemit se está internacionalizando!
Nuestro micrófono está abierto a toda la gente ocurrente, por lo que aceptamos cualquier manifestación graciosa: Desde historias, blogs, memes, gifs, vlog's, cortometrajes, bromas, chistes o cualquier cosa que consideres divertida porque aquí lo que se quiere es reír!
Este Concurso de locos está financiado (por ahora) por dos semanas. La semana 1 y 2 tendrán recompensas de 25 SBD. Nuestro panel de jueces será quien decida los ganadores y está ansioso por ver sus participaciones! Estaremos repartiendo generosas recompensas a los más divertidos.
PREMIOS - 50 SBD en la Bolsa
25 SBD Serán dados cada Semana
| # | Otorgar Titulo | Cantidad |
| --- | --- | --- |
| 1. | Bufón Ganador | 15 SBD |
| 2. | Los Mejores 3 | 2 SBD c/u |
| 3. | Cuatro (4) Ganadores de la Puerta de la Suerte | 1 SBD c/u |
Los pagos saldrán 24 horas después del anuncio de la siguiente ronda. Ayúdanos a propagarnos, multiplicarnos y extendernos en el tiempo… Corre la voz!
La Competencia inicia el 15/04/2018 asi que si vives en una cueva sin calendario, pidele uno al vecino. No puedes perderte el concurso mas divertido de Steemit COM en Español, asi es amigo, como lo Oyes EN ESPAÑOL!!!!!
Original meme by @jonsnoww and @YesAye
Okay English hombres, how did you fare? Do you even have any idea as to what is going on?
Well then, let us explain for the thick-skulled unilinguals of the world.
Because of course, we need your upvotes too. :P
Comedy Open Mic has been running for the past 8 weeks, and now we're adding another layer to accommodate the Spanish speaking community of our Steem blockchain!
The COMmunity (Comedy Open Mic community) is expanding its arms for an international cuddle-puddle of the funny!
So, get ready for diverse entries from Steemit's Spanish community which will be going on a two week run! The contest opens to Spanish-speaking communities all over the world on this weekend - specifically Sunday 15-04-2018 a.k.a 15th April, 2018!
So finally, if Spanish is your strongest means of communication, you now have the right to tell Google Translate to stop reading your mind and instead, take up the opportunity to tickle our funny bone, in your tongue of comfort. :D
PRIZES - 50 SBD Prize Pool
25 SBD will be given out each week:
| # | Award Title | Amount |
| --- | --- | --- |
| 1. | Jester | 15 SBDs |
| 2. | Top 3 | 3 SBDs each |
| 3. | Four (4) Lucky Door Winners | 1 SBD each |
You don't need to be a comedian to participate in COM.
Laughter is universal and most of us use it everyday.
All forms of media are welcome: stories, blogs, vlogs, memes, GIFs, audios, video clips, stand-up, that tattoo you got in your 20s which you severely regret now etc!
Help us spread the word to all your Spanish amigos!
If you think Steemit needs an internationally open community, ready for the sweet healing of comedy...then upvote, resteem and help us reach as many people as possible! :D
Adios, amigos.
Written by @buttcoins, @betavirosis, @jonsnoww, @holybranches. Edited by @diebitch and @yesaye #teamwork!