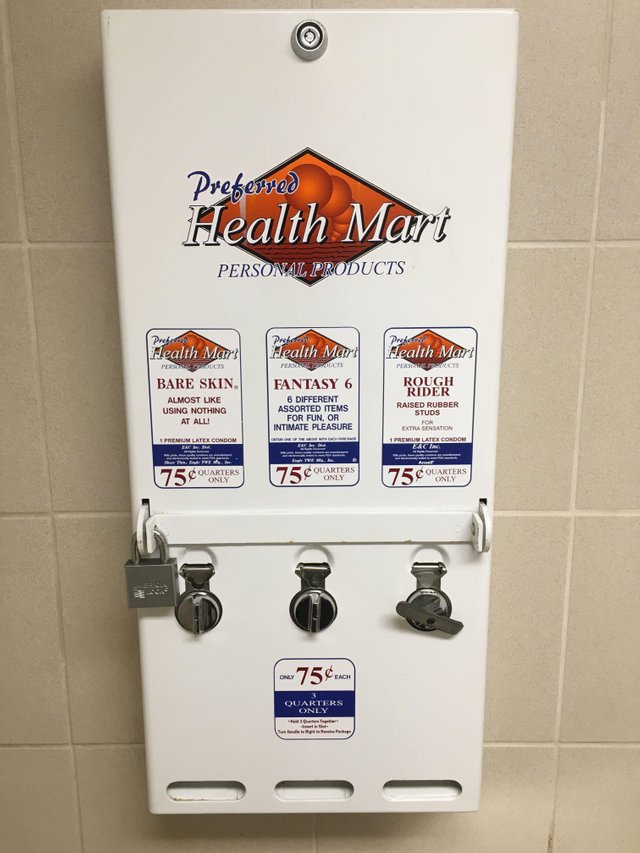 I'm not shy about using public restrooms ( I know some people are) but when ya gotta go, you gotta go. . .
In the past week I happened to use public restrooms 2 times and both of them had these ridiculous vending machines for condoms. . .
My first thought was, "Who uses condoms anymore?!!" I just figured everyone "rawdawgs" like me. . AND/OR women are on birth control/STD's and AIDS have died down quite a bit. . .
But apparently not. . .
Seems there is still a thriving market for bathroom condoms. . .
After you're done taking a shit in that dirty public restroom, pick up some "Rough Rider" condoms for 75 cents from your favorite supplier Preferred Health Mart Personal Products located next to the hand air dryer. . . 😂
WTF! 😂
If you really needed a condom would you actually trust that these were safe to prevent pregnancy or sexually transmitted diseases??!
"Hey honey, did you pick up those condoms?"
"Yea babe I got a rough rider 3 pack from the bathroom in the Shell gas station"
Seriously. . .
Who needs to search for comedy material when you can just open your eyes and pay attention to the world?
The funniest shit is right in front of us all day long. . .
Peace out!
Rawdawg