Colorchallenge - Sunset at MONUMENT VALLEY!
| | |
| --- | --- |
| My entry for MondayRed is a picture I took at the Monument Valley National Park (Arizona, US) two years ago. Normally the sand and the stones appear rather orange - but the ongoing sunset made it look amazingly red. | Mein Bild für MontagsRot ist ein Foto, welches ich vor zwei Jahren im Monument Valley National Park (Arizona, USA) gemacht habe. Die normal orangene Farbe der Steine wirkte durch den Sonnenuntergang wunderschön rötlich. |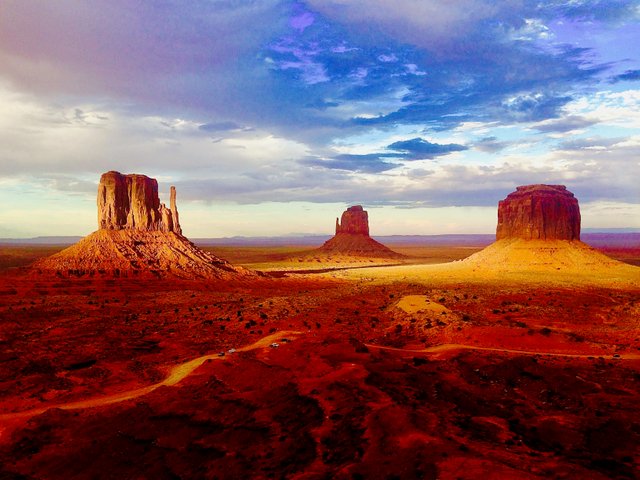 | | |
| --- | --- |
| If you liked this picture please support me with an upvote :) Maybe you will like my other posts as well: | Wenn euch das Bild gefallen hat, unterstützt mich mit einem upvote :) Vielleicht gefallen euch auch meine anderen Beiträge: |
Colorchallenge - PANORAMIC view over the GRAND CANYON!
Colorchallenge - GREENISH MOUNTAIN LAKE hidden in the woods
The birth of the LEGO STEEMIT WHALE / Die Geburt des LEGO STEEMIT WALS