With a heart radiating compassion and warmth.
Embracing the tangerine of this earthly life.
Basking in the sunshine of friendships.
Creative in everything you do.
Ever direct and honest.
A dancer BE. ~Ally.
Sometimes before beginning a new work, I will hold an impression of a person in my mind, feel my connection with them and dedicate the work to them.
I gather about me any natural elements: Usually flowers, berries, leaves and seeds of the prevailing season, as well as other stones, gems, crystals or ornaments that in some way relate to my feelings for this person.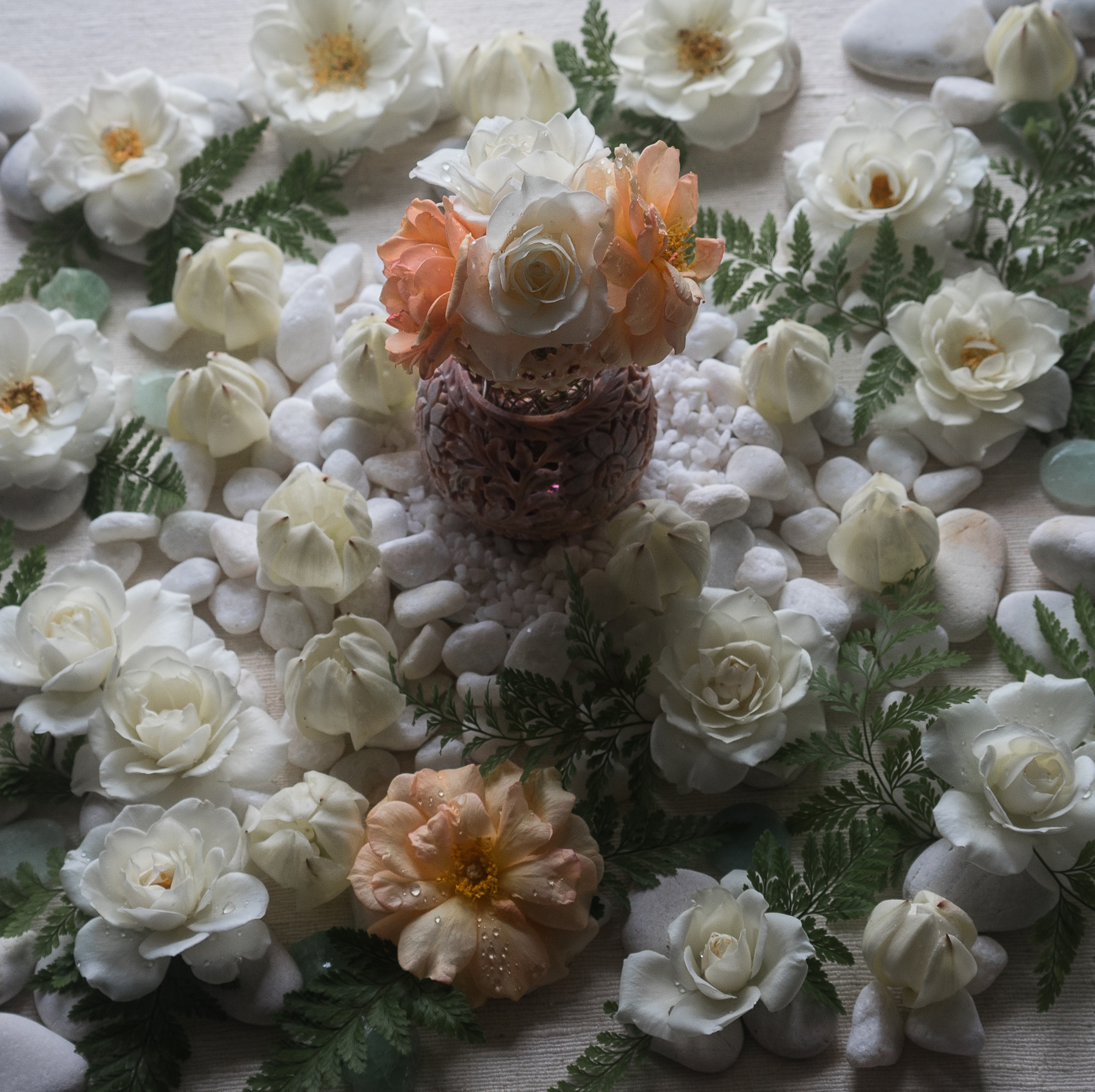 Someone fills the cup in front of us. We taste only sacredness. ~Rumi.
Photograph: ©Alison Lee Cousland.
Tangerine Roses
This piece was created with a particular friend in mind, an earth sign. So already I was thinking: Earthy tones of soft tangerine and creamy off-whites with muted forest greens: Small pure white stones, slightly larger white crystal stones with larger river rocks.
Orange is such a beautiful warm and stimulating colour. A combination of red and yellow, it has the vital energy of red with the sunniness of yellow. An excellent colour for creativity, enticing us to find the time, space and freedom to explore our inner world.
My friend who has an excellent eye for beauty had given me the intricately carved pot as a birthday present and it seemed only 'natural' that it be the starting point and central feature of the work.
Color Challenge for all Steemians
This is my first image in the 'Color Challenge for Steemians' which was presented by @kalemandra.
A different colour is designated to each day of the week, for the photographs shared on that day. Use the tag #ColorChallenge along with the tag for that day ie #TuesdayOrange.
Details at: 'Color Challenge for Steemians.'
About my work.
Relatively small assemblages or arrangements are built from flowers, weeds and plants combined with other natural materials that I find in the local bushland or surrounding urban streets.
During the creation of these pieces ~ The process is incredibly magical. Thoughts of anything else are silenced.
Sometimes hundreds of photographs are taken at the different stages of any arrangement. Sometimes a song or quote or other ideas/thoughts/words come to me, as I look at the resulting images. Giving form to new expressions ~ Short 'poems' to accompany the images.
A fuller description is in my introductory article: The Heart of Immortality
I really enjoy receiving comments and questions about my work. Especially from people who may see and add another dimension from their own reality. So if you have another layer to add ~ Please do.