Merhaba arkadaşlar, bu postumda sizlerle dizi ve film önerileri serisinin 3. önerisini paylaşacağım. Serimizin 3. önerisi tam olarak fantastik tutkunları için gelecek. Dizimiz 2009 yılında başlayan ve finalini 2017 kasım ayında başlayan 8 sezonluk bir macera olan The Vampire Daires.

3. The Vampire Diaries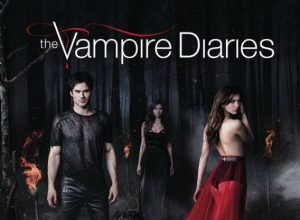 Dizi fantastik severler için tam anlamıyla aranan dizi olarak tanımlanabilir. İçerisinde aşk ile birlikte bol macera içeren bir dizi. Ailelerini bir kaza sonucu kaybeden 17 aşındaki Elena ve kardeşi Jeremy Mistic Falls isimli kasabada hayatlarını sürdürmektedir. İki vampir kardeş Stefan ve Damon'ın kasabaya gelirler ve kardeşler genç ve güzel Elena'ya ilgi duymaya başlar. İki kardeşten birisi iyi diğeri kötü vampir olarak adlandırabileceğimiz vampirdir. Hikaye bu şekilde başlamaktadır.

Dizinin Oyuncuları
| | |
| --- | --- |
| -Nina Dobrev | |
| -Paul Wesley | |
| -Ian Somerhalder | |
| -Candice King | |
| -Steven R. McQueen | |
| -Katerina Graham | |
Dizi Hakkındaki Yorumum
Dizi benim izlediğim ilk fantastik diziydi. Öncesinde fantastik olarak biliyorum diyebileceğim Super National var. Ancak onun başladığı dönemlerde yaşım küçüktü ve liseye başladıktan 2 sene sonra geriden gelip bu diziye başlamıştım. Her bölümünü soluksuz ve merakla izledim. Fantastik olduğu kadar bol macera dolu bir dizi. Umarım keyif alarak izlersiniz. 8 sezonu da izlemenizi tavsiye ederim.
---
Posted from my blog with SteemPress : https://ilkersteemit2.000webhostapp.com/2018/08/10/dizi-film-onerileri-serisi-3/
---