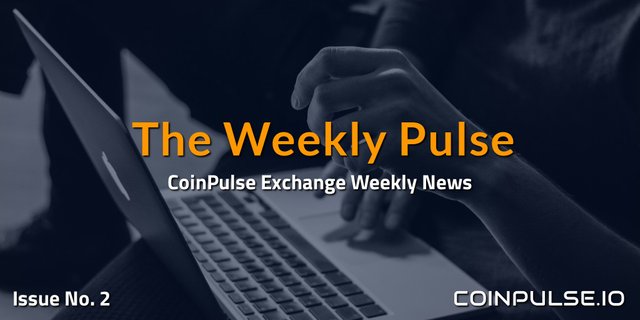 The Weekly Pulse Issue #2
Welcome to the second issue of the CoinPulse Weekly Pulse, where you can find the all the latest CoinPulse news and updates! A lot has happened this past week at CoinPulse!
Brand New User Interface!
The new UI release has been a great success! With this release, we had only a few minor adjustments, so it is evident that our devs have been perfecting the CoinPulse Platform on a consistent basis. We wanted to bring you the best, and the positive comments from the community reflect the excellent work completed by our development team.
Swap Competition and 100% Match Giveaway
We are delighted to announce that CoinPulse has begun the new Swap Competition and 100% Match Giveaway. 5 winners will share the prize and everyone who participates in the BTC/CPEX swap will receive a 100% match Bonus for a limited time only!
The Swap Competition:
Competition prize pool: 10% of amounts raised during the swap program to be paid in BTC.
The prize pool will be equally divided among the Top 5 users that used our swap page to make the purchases and will be distributed two weeks after the end of the program. Both the competition and swap program will end on November 15, 2018 23.59 UTC.
Example — if CoinPulse raised 100BTC through swap, then the prize pool will be 10BTC, which will be divided equally among the top 5 users. If you are in the top 5, then you will receive 2BTC for free.
100% Match Giveaway: After the competition is over, each user that participated in the BTC/CPEX swap on our swap page will also get a 100% match for the CPEX tokens purchased to be distributed in CPEX tokens. In other words, if you bought 100,000 CPEX during the swap period, then you will receive additional 100,000 CPEX free at the end of the program.
Terms & Conditions:
· To qualify for this competition and giveaway your total volume on the swap page must exceed 10,000 CPEX.
· Maximum 10 million CPEX available under this program. Once we reach our cap, the program and competition will be closed.
· Giveaway rewards will be issued within two weeks from the time competition ends.
· CoinPulse Exchange reserves the right to cancel or amend the competition or its rules with prior notice.
Weekly Reward Trading Competition!
The CoinPulse Weekly Competition:
The first week of our 25,000 CPEX Weekly Rewards Competition ended Friday October 26th. The first week had 4 winners:
ama***u@hotmail.com

just***o@gmail.com

ahm***h@gmail.com

jb2***y@gmail.com
Remember, the competition starts every Friday at 06:00 AM UTC, and will last for 7 days until the following Friday, 05:59 AM UTC.
The goal of this contest is to increase the much-needed volume for CoinPulse which can qualify us for listing on CMC. The second week of the competition is already underway, but there is still plenty of time to compete. We are expecting more entrants each week, so get in before the competition gets intense! Remember, this will be an on-going weekly competition until further notice.
CoinPulse University (CPU)
We are proud to announce the first installment of CoinPulse University! Join CoinPulse Team Member, Justin Chains, as he gives an in-depth commentary, walking you through our recently launched User Interface.
Moving forward the CoinPulse University Series will feature short instructional videos on specific aspects of the exchange, like placing orders, cancelling orders, strategy in placing limit orders along with a lot more. So, stay tuned for many more instructional yet always entertaining videos from Justin and CPU!
Don't forget to hit the like button and subscribe to our YouTube channel!
CoinPulse in the News, Integrations and Listings!
New Listings:
We are very pleased to announce that OmiseGO (OMG) token is now available for trading and withdrawal on CoinPulse Exchange. OmiseGO aims to be the next generation financial network and decentralized economy. They have a very active community and a skilled ambitious development team.
OMG is listed with below trading pairs on CoinPulse Exchange:
OMG/BTC
OMG/ETH
OMG/CPEX
Upcoming listings:
CoinPulse is currently working on integrating SpectreCoin (XSPEC). SpectreCoin is developing an energy-efficient "proof-of-stake" algorithm that will enable anonymous staking.
The CoinPulse team is also gearing up to add many more new listings. Stayed tuned for more announcements very soon!
In the News:
CoinPulse Exchange and the CPEX Token are both on the Blockfolio App. You can now include your trades when using CoinPulse and follow price fluctuations for CPEX in your portfolio. Please be advised that in order to have this functionality on the Blockfolio App, you will need to make sure you have upgraded to the Blockfolio 2.0 version or later.
Follow us on Investfeed — click here for the announcement
Rate us on Netbusinessrating — click here for the announcement
What you mean to us!
The CoinPulse Team has been hard at work to bring you the first community supported Crypto currency exchange for over a year now. We have had many trials, a few delays, and more importantly, many successes! In the end, we have always achieved our goals and unlike many projects that started with hundreds of thousands of dollars of your money, we never had an ICO and have been self-supported throughout. Unlike many of these well-funded projects, we followed our development roadmap and brought you CoinPulse, the first community supported exchange. Here are a few reasons why we think CoinPulse is the best:
· User friendly. Supported in 100+ languages
· Highly secured. Matched with Coinbase.
· Lowest fees. Pay only 0.06% with discount.
· Cheapest native token: CPEX, 100M supply & trading at $0.01
· Weekly rewards!
· No bots. All real traders.
· Quality Assets. We list assets only after thorough research.
· Already on Delta App, Cryptocompare.com, livecoinwatch.com, coinpaprika.com, Blockfolio, and many more!
· No fake volume or pumps and dumps.
· New CoinPulse University, where we go in-depth on a variety of subjects to help you learn how to use the CoinPulse Exchange to the fullest and get the most out of it.
Now that we followed through with our promise, we want to bring CoinPulse to the world. We need you to tell the world about us. If you like using CoinPulse, please tell your friends. Let other crypto traders know about us. Share! If you feel you have positive and informative comments about us, write about it! Let the world know about us! We don't use any bots and don't have any fake pumps. Your trading on the exchange will help build the seed volume that we need to really get going! When we say we are a community supported exchange, we mean this in every sense; it takes every one of you to build the CoinPulse community. We appreciate each of you, and are proud of our community. We look forward to building our future with you hand in hand.
Michael Seivold
Communication Director
Thank you,
Coinpulse Queen
Please see the announcements page on CoinPulse for more information on subjects discussed in this article.