[7월 총 결산] 크립토 커런시 시세 변화 - [July settlement] cryptocurrency price change - KR, EN

안녕하세요. 비트코인 스케일링 이슈로 한치앞을 알 수 없는 7월이었습니다.
심한 알트의 경우 -50%까지도 발생했습니다.. 과연 7월 1일대비 얼마나 시세 변화가 있었는지 알아보겠습니다.
(시세는 마켓캡 기준으로, 한국 프리미엄가격이 포함되지 않습니다.)
In the case of a specific coin, it occurred to -50%. Let's see how much time change has occurred compared to July 1st.
(Price is based on market cap, not including Korea premium price.)
---
7월 1일 ~ 7월 31일 결산 표 - July 1 - July 31 settlement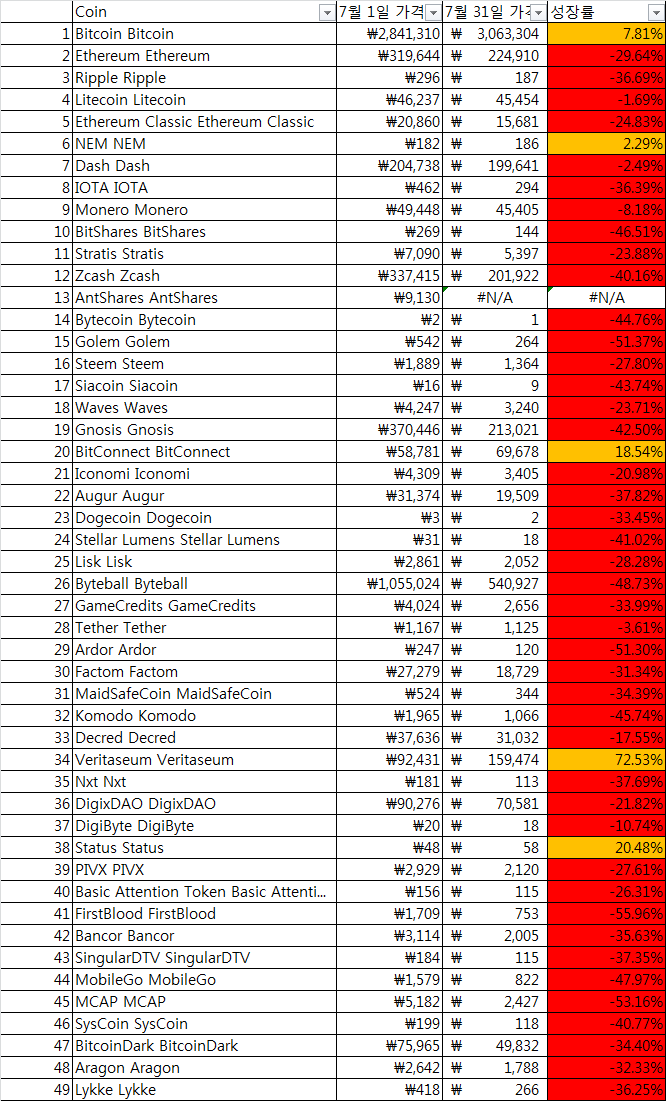 놀랍네요.. 생각보다 상태가 많이 심각합니다.
Bitcoin, Nem, Bitconnect,Veritaseum, 그리고 얼마전 ICO를 끝냈던 Status를 제외하면 모든 코인이 마이너스입니다.
Ethereum 및 Ripple이 Bitcoin의 헤지수단이 될 수 있을것인가에대해 많은 고민을 했으나.. 데이터에 기반해보자면 아직은 아닌것 같습니다.
I am surprised .. the state is much worse than I thought.
All coins are negative except for Bitcoin, Nem, Bitconnect, Veritaseum, and Status which ended ICO recently.
Ethereum and Ripple have been a lot worried about whether it could be a hedge against Bitcoin. But based on the data, it seems not yet.
---
수익률 결산표 - Profit closing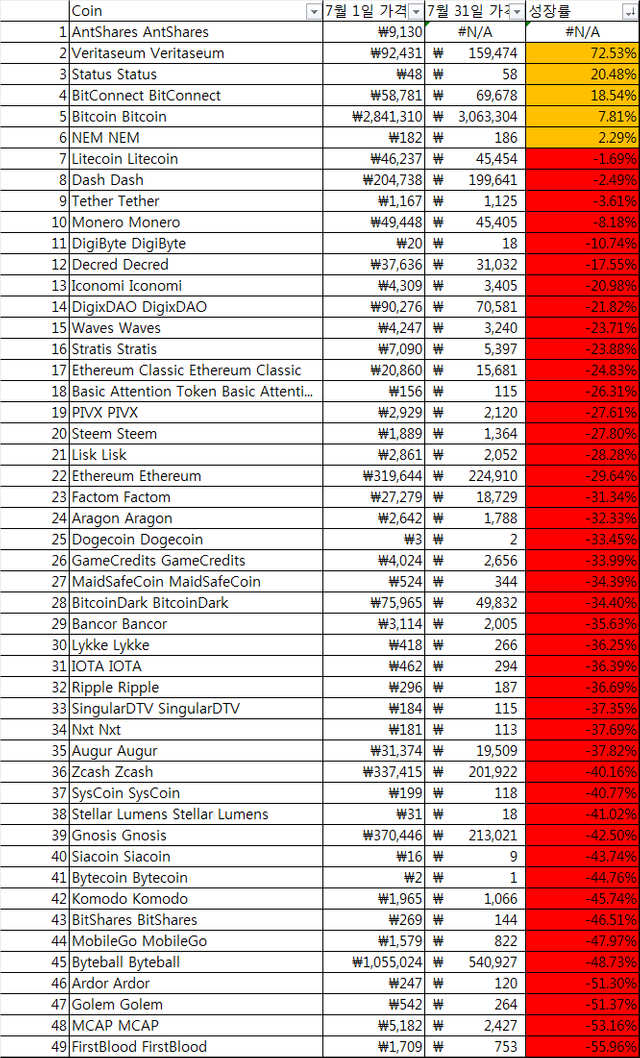 보기쉽게 정리해봤습니다.
아까 언급한 +코인을 제외하고 LTC Dash Tether Monero Digibyte 정도가 그나마 선방했지만, 골렘(-51%) Bitshares(-46%) Sia(-43%) Zcash(-40%) 등 꽤나 처참하게 하락하였습니다.
크게 하락된 코인들은 시장이 안정됨에 따라, 빠르게 복구할 가능성이 큽니다.
위기를 기회로 잡으시길 바라겠습니다 :)
It's easy to see.
The LTC Dash Tether Monero Digibyte is less damaging.
However, Golem (-51%) Bitshares (-46%) Sia (-43%) Zcash (-40%) fell a lot.
Significantly declining coins are likely to recover quickly as the market stabilizes.
I hope you will take the crisis as an opportunity :)
모든 댓글에는 자체 보팅을 해드립니다 :)
I will vote for all comments :)