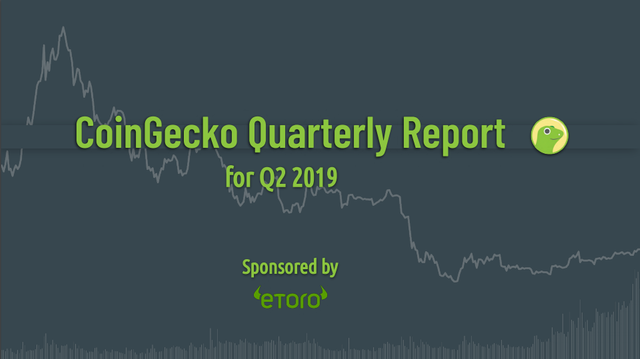 Introduction to CoinGecko
CoinGecko is a cryptocurrency ranking website and data aggregator in a similar mould to CoinMarketCap. They rank cryptocurrencies by price, volume and market capitalisation, while at the same time, also tracking community growth, open-source code development, major events and even on-chain metrics. These guys do everything.
An active member of the Steemit community, @coingecko have been contributing positively to our site for months now and recently shared a 46-page report that gave an overview of the state of the cryptocurrency market in the second quarter of 2019. The CoinGecko Q2 2019, Quarterly Report represents the company's 8th edition of their anticipated market insights, all shared for free.
I encourage you to click the link above and have a read of the full report yourself, but as I'm becoming more and more of a Bitcoin maximalist myself, I've focused on the three slides that highlight just how dominant Bitcoin has become.
[Slide 1] - Q2 2019 Market Overview - Top 5 Coin Returns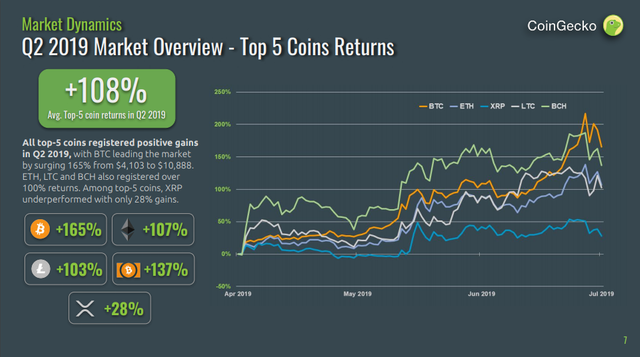 We don't have to head too deep into the report to see just how dominant Bitcoin has become. Flick to page 1 and the chart of top 5 coin returns over the 2nd quarter of 2019 shows in no uncertain terms that Bitcoin is still king.
While the overall average top 5 coin returns in Q2 2019 was +108%, if you had have focused your investment solely in Bitcoin, you would have returned a whopping +165%. Bitcoin ripped proverbial faces off, rallying from $4,103 USD to $10,88 during the quarter.
Yes, cryptocurrencies are highly risky, volatile assets, but those are some impressive returns that simply can't and I assure you wont, be ignored by investors heading into the back half of 2019.
[Slide 8] - Q2 2019 Market Overview - Dominance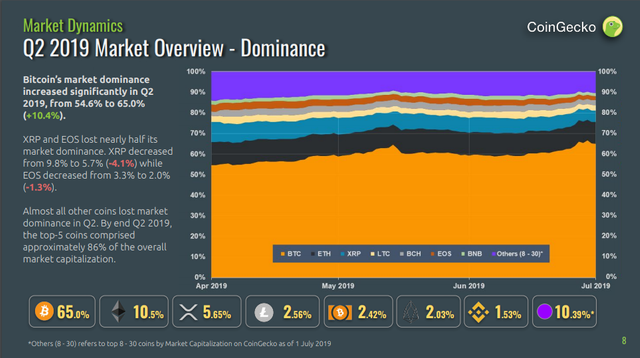 Delving deeper into the report at page number 8, we are greeted with a visual representation of Bitcoin's dominance. In this case, a picture truly does say 1000 words. Just take a look at all that Bitcoin yellow!
The graph shows that Bitcoin's market dominance increased significantly in Q2 2019, from 54.6%to 65.0%. That's a +10.4% increase in total market dominance for the already clear number 1, Bitcoin.
As a result of Bitcoin becoming more dominant during the quarter, the list of top 10 alts all suffered. XRP and EOS lost nearly half of their market dominance, losing -4.1% and -1.3% respectively.
An interesting takeaway from this slide is that by the end of Q2 2019, the top 5 coins comprised approximately 86% of the overall cryptocurrency market capitalisation. This goes to show that while Bitcoin is clearly the most dominant coin, if just 5 coins make up 86% of market cap, there is a really short list of others that are even valued by the market.
We endlessly read about the thousands of coins and tokens out there, but what this highlights is the cavernous gap between the top 5 coins and the rest.
[Slide 10] - Q2 2019 Bitcoin Overview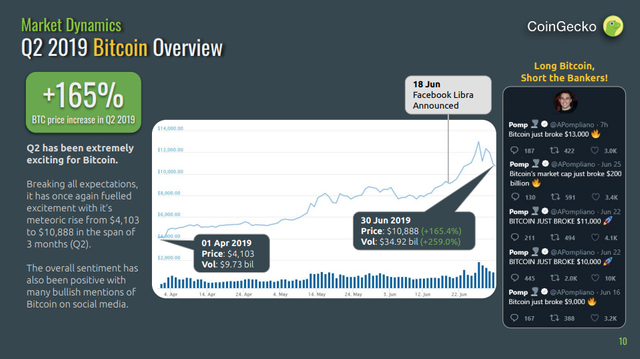 The final slide I've featured in this blog is slide number 10, the Q2 2019 Bitcoin overview slide. With a +165% price increase, it's pretty hard to argue that Q2 2019 has been about anything other than Bitcoin.
While Facebook's Libra announcement certainly spurred mainstream media interest in cryptocurrency, it was Bitcoin that gained the most from it. It's almost as if every argument against Libra from government and financial regulators, reads as a positive for why Bitcoin has a place in today's financial system.
Bitcoin ensures you are in control of your own financial destiny. A destiny that can't be interferred with by greedy, power hungry governments or corporations who have trust ratings at all time lows.
Bitcoin is freedom. Bitcoin is king. Bitcoin is here to stay.
Conclusion
It's great to see that company's like @coingecko see the value of using Steemit as their long form communication platform.
If you haven't yet, give the CoinGecko team a follow and check out some of their excellent, highly informative content that has been published on the Steem Blockchain.
Best of probabilities to you,
Dane.
---
Market Analyst and Forex Broker.
Join my Inner Circle ⭕️ - www.forexbrokr.com