🚀🚀We're seeing some impressive gains today!!🚀🚀
Quite a few top-20 coins are seeing double digit growth from the past 24 hours right now! Are we seeing a trading rally for these coins?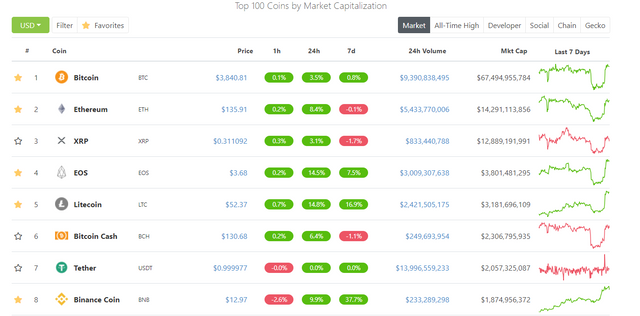 Chief of these is Litecoin, whose Founder Charlie Lee recently announced that they are working implementing Mimblewimble (You can read about MimbleWimble and Grin here.

EOS also saw a sudden jump to in the rally.

Another one that attracted our attention was Binance Coin, Which in the past month has been grabbing the headlines with the upcoming DEX, the philanthropy in Uganda and more.. Seeing that BNB was trading at only around $5 USD mere months ago, whoever bought the dip really will benefit with the rally.

One of the coin within the top 20 rank in CoinGecko.com also saw a some amazing boom. In case you need a primer, Ontology is working on Second Layer Blockchain Scaling Solutions tailored for businesses looking into intergrating Blockchain Tech into their operations.
Recently, Ontology announced that coders can now develop Ontology Smart Contracts on Cloud Computing Platforms such as Amazon Web Service, Google Cloud and Azure.

Seeing that Bitcoin recently broke the $4000 Barrier not long ago, are traders testing the ceiling again this time around?
Are you holding any of the cryptocurrency mentioned? do you plan to sell them?
Let us know in the Commments!