CoinGecko Releases Q2 2019 Quarterly Cryptocurrency Report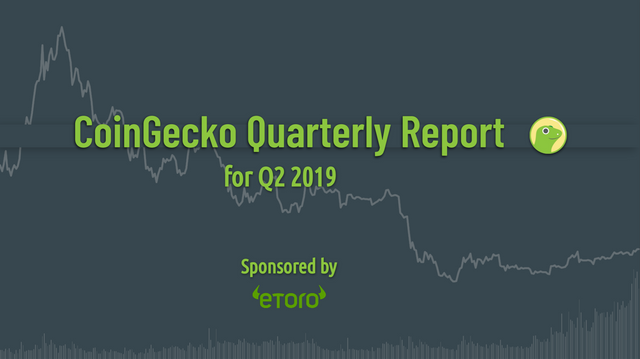 We have just released the CoinGecko 2019 Quarter 2 Cryptocurrency Report. This 46-page report gives an overview of the state of the cryptocurrency market and the major events that happened in the second quarter of 2019.
Shoutout to @dapp.com and RSK for collaborating and contributing to this report.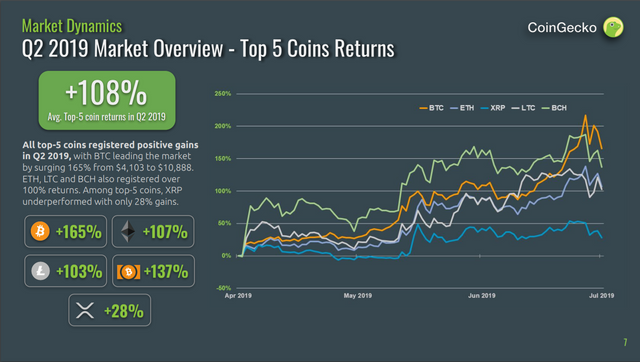 The charts don't lie, crypto summer has finally arrived! As crypto summer began to thaw out last year's crypto winter, this quarter saw an astounding 125% increase in crypto market capitalization. Bitcoin led the market with a gain of 165% in value from $4,103 to $10,888. The increase in Bitcoin's price saw its market dominance increase from 54.6% to 65.0%.
Some Highlights of the Report
As always, aside from the quarterly snapshot of market trends and insights, we've also included a number of notable highlights this quarter.
CoinGecko's Trust Score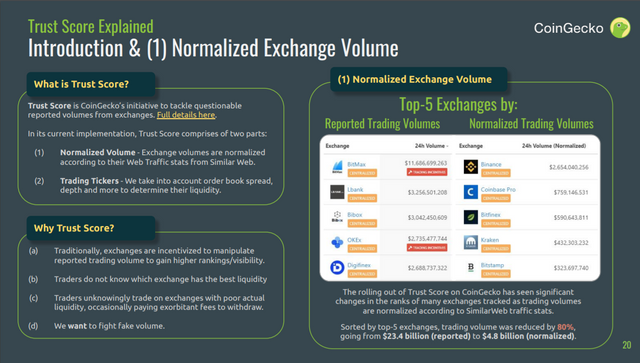 CoinGecko's Trust Score algorithm was created to address questionable trading volume reported by exchanges. CoinGecko users are now presented with normalized trading volumes based on exchange traffic statistics and in-depth order book data.
With CoinGecko's Trust Score, exchanges now have the incentive to be transparent and to empower users to make better-informed decisions.
Initial Exchange Offerings (IEO)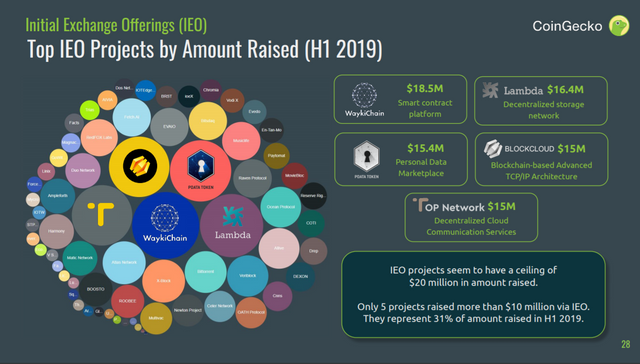 The IEO trend continued to grow throughout Q2, peaking in April with 34 IEOs and $109.9 million raised in a single month. Q2 was by far the most popular period for IEO with 66 out of 72 (91%) IEOs occurring during this period.
A total of $262 million was raised via IEOs in the first half of 2019. However, only 50% of IEOs were traded above their IEO price by the end of June 2019.
Facebook's Libra Project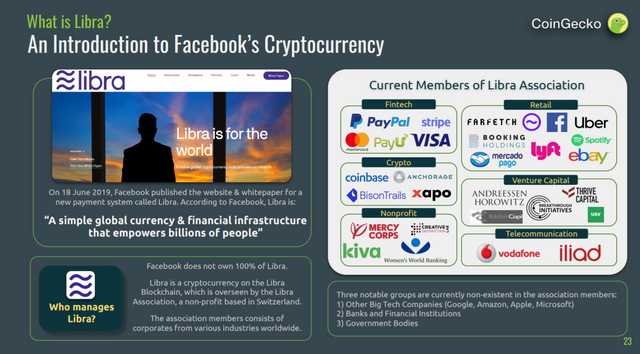 The crypto industry was given mainstream media attention when social media giant Facebook announced Libra, a global blockchain-powered payment system with a vision to "reinvent money and transform the global economy".
We've summarized the content of the Libra whitepaper for your reading pleasure so that you can have a clearer understanding of what Libra is about.
Lightning Network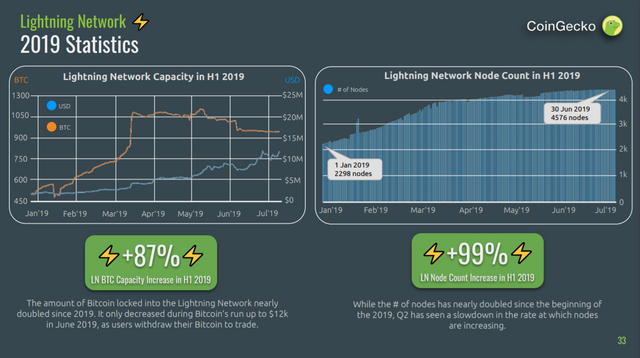 This report will also provide insights into the development of the Lightning Network this year. The Lightning Network is a second-layer solution built on top of the Bitcoin Network to allow cheap and instant Bitcoin payments.
The Lightning Network's overall network capacity saw an 87% increase to over 1,100 BTC and its node count doubled to 4,576 by the end of Q2 2019. 2019 also brought about major updates and releases of different Lightning Network apps.
We welcome everyone to read and share this report. The full report can be downloaded at the button below.

---
This report represents our 8th edition on highlight crypto market trend and providing market insights for free. Things in the crypto space are happening faster than ever. 1 quarter might as well be a year long seeing as how new projects, updates, news and even drama unfolds every single day.
As always, we are open to opinions and we would really appreciate your feedback – get in touch with us here, on Twitter, Telegram, Discord or write to us at [email protected]