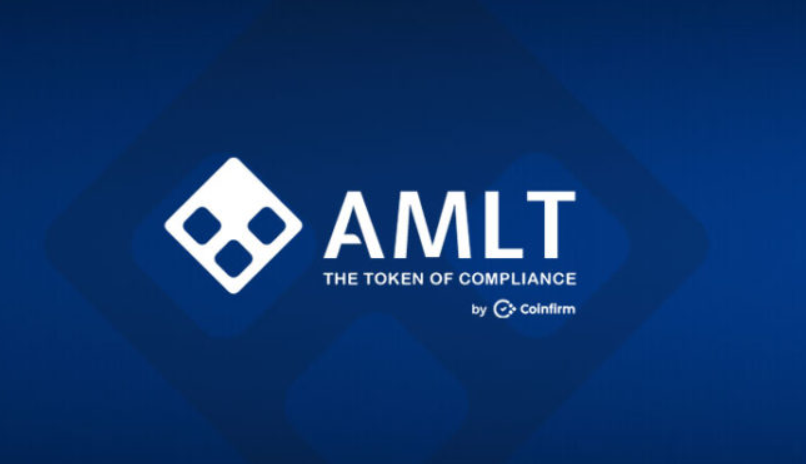 On the "Epic/Awesome/Cool" spectrum of crypto companies entering the market, entertainment sub-sectors such as gambling and esports rank pretty high. However, on the opposite side, you will find Anti-Money Laundering and Counter-Terrorist Financing (AML/CTF) regulatory compliance. While that may be true, you will be hard pressed to make an argument that AML/CTF as a service is not a critical component within the cryptocurrency.
To get a better understanding of what AML/CTF is, I suggest we look at why anyone would seek out the servicer. The recent news that Humaniq and Coinfirm have partnered is the perfect example where both of their missions align. Humaniq will benefit from enhanced security, protecting transactions made in its native HMQ token from uncontrolled use, and Coinfirm will fulfill their mission to make the global financial system more safe, transparent, effective, and accessible for emerging economics and individuals. In other words, Coinfirm's AML/CTF solutions provide a legitimacy to their digital currency and the same to other asset classes.
Think about it. Coinfirm's AML/CTF solution is perfect for any entity that has the need to convey and provide a high-level of trust. Whatever sector of the crypto market an entity is in, they don't want to expose themselves, clients, and partners to risk. In other words, any entity touching cryptocurrencies or operating with them needs to apply AML/CTF compliance rules to protect themselves and allow for its commercial growth. The cryptocurrency market can apply to a vast majority of the economy and the entities that operate in it will need AML/CTF compliance for legal, commercial, and moral reasons.
Coinfirm's AMLT token of compliance is the solution that can bring transparency and democratization to systems by actively involving market participants in risk determination. Furthermore, AMLT token will also fuel transactions on the Coinfirm platform, enabling risk management and creating a network for safe and transparent value exchange.
MARKET CHALLENGES & SOLUTION
The entire market is at risk when illicit activity is left unchecked. Coinfirm notes in their whitepaper that traditional AML enforcement fails 99.9% of the time and less than 1% of global illicit financial flows are seized and forfeited. Prevention and control mechanisms are essential for companies that want to ensure that they are not either knowingly or unknowingly exposed to, party to, or facilitating such high-risk transfers or counterparties.
However, blockchain technology allows for democratic participation and provides an opportunity for all to deliver input and participate. As such, that makes it possible to be more accurate, effective, and less arbitrary than the traditional systems. Therefore, it could not only allow for more transparency and efficiency but also opens up the financial market to more participants and promote real financial inclusion.
Coinfirm's mission is to deliver a streamlined and effective global standard for AML/CTF compliance in a decentralized and democratic way where participants can provide AML/CTF/Fraud/business/risk ratings (see Risk Report example below):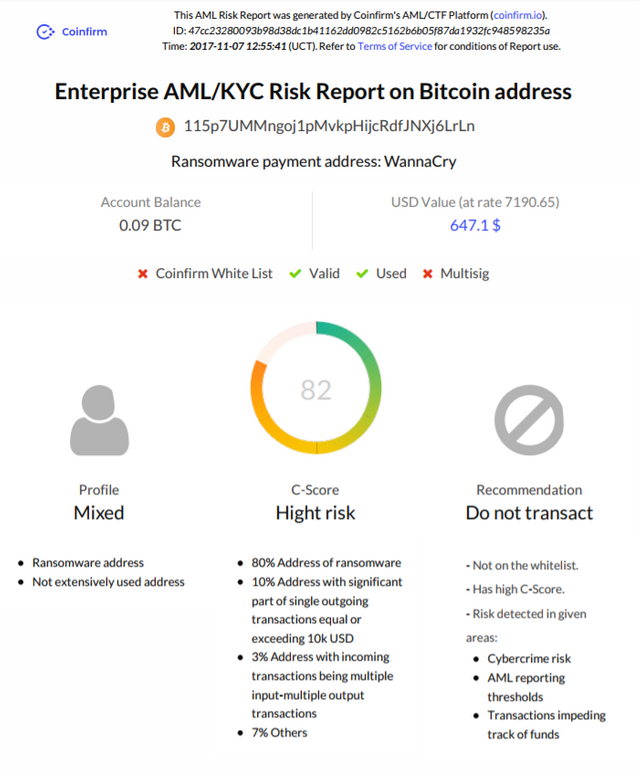 In addition, Coinfirm expects that their AML/CTF platform serves as a bridge to accommodating new business models and adopting blockchain and virtual currencies.
PLATFORM DETAILS
Coinfirm's AML/CTF platform currently serves three main blockchains as well as ERC20 and ERC233 tokens:
Bitcoin (BTC)
Dash (DASH)
Ethereum (ETH)
The platform can support the majority of public and private blockchains and can be integrated within thirty days.
The table below depicts technical metrics
| | |
| --- | --- |
| METRICS | DATA |
| Number of Queries | 100 reports per second |
| Size of Data Set | 3TB of SQL tables, 500 GB of graph data, 250GB of raw blockchain |
| Number of Scenarios of Assessment | 186 |
| Average Time to Generate Report | 10s |
ICO DISTRIBUTION DETAILS
TOKEN: AMLT
CIRCULATION: 210,000,000 at ICO
TOTAL CIRCULATION: 400,000,000
TOKEN TYPE: ERC 20
ACCEPTED CURRENCY: ETH
ICO DURATION: 28 November to 31 December, 2017
ROADMAP
| | |
| --- | --- |
| MILESTONE | SIGNIFICANCE |
| Pre- 1.0 AMLT | The Coinfirm AML/CTF Platform provides secure solution for virtual currency ecosystem |
| 1.0 AMLT | AMLT can be exchanged for AML Risk Reports with a substantial discount |
| 2.0 AMLT | AMLT Wallet integrated with the Platform. Users who went through the identification and verification process are able to exchange information for participating in the Daily Distribution of AMLT. |
FINAL THOUGHTS
If you are reading this sentence then let me give you a virtual fist bump because you must be very curious at how blockchain can transform and evolve regulation and compliance market. There aren't many topics that can kill a dinner party faster than trying to convince a guest that popular opinion is all wrong and the topic of regulation/compliance is in fact, sexy and exciting. That's when you look for an opportunity to politely excuse yourself to the restroom.
I understand the need for it, but it isn't a field that gets my blood flowing. However, what does get my blood flowing is reading about ways blockchain can be applied to places I wouldn't have thought it could be. Regulation/compliance is one of those places, so my curiosity at Coinfirm's plans provided me with enough motivation to power through their 50+ page whitepaper, blog, articles and website. I still don't think it's a great topic for a dinner party, but I guess that all depends on who you sit next to and how you deliver the information.
Coinfirm market's itself as a RegTech/compliance company, but I see them as more of a security firm where they advance and safeguard cryptocurrency market interests by identifying, analyzing and neutralizing illicit activity (AML/CTF).
To help illustrate how and where Coinfirm fits into the market, consider this fun analogy:
THE BIRTH OF CRYPTOTOWN
After central banking policies caused the second great depression, Satoshi, Vitalek, and several of their buddies decided "enough was enough." So they went off in search for an island that they could claim as their own independent nation and founded it on the principles of decentralization. Soon after, Cryptotown was born.
Cryptotown started out small, but news of this fabled town spread like wildfire, and businesses from other nations descended upon Cryptotown faster than a toupee in a hurricane.
Nothing is perfect, and Cryptotown's residents identified two (2) main challenges:
Cryptotown individuals and business entities were locked out of the financial system because it was difficult to convince other businesses that they were legitimate and risk free and the prevailing compliance system and related tools and processes were so ineffective.

Crime was costly and stifling Cryptotown's growth.
What to do? Cryptotown was decentralized and not governed by a central entity. There was no way to fund a sheriff's department. As a result, crime was running rampant.
On day, an enterprising person named Coinfirm proposed a solution. Coinfirm asked "why don't we leverage a blockchain platform where all the residents of Cryptotown participated in the security of the town by submitting their blockchain data for continuous monitoring and analysis? The platform will also be used to assess the risk of any blockchain that was on Coinfirm's platform. As a result, the platform will become the global standard for compliance and external businesses from other nations will be able to quickly assess the legitimacy of an existing or current business looking for liquidity."
At first, the residents were skeptical and said that the last thing they need is another costly compliance regime. Some even said having any type of regime will be a hindrance to innovation. Coinfirm agreed that a wrong approach will be harmful, but it was worth the shot and at the very least Cryptotown residents needed a way to prove distinguish themselves from the bad actors. Thus, Cryptotown residents agreed to adopt Coinfirm's platform idea.
In essence, Coinfirm became Cryptotown's sheriff and Coinfirm's platform's network of participants become the sheriff's deputies. Everyone become a stakeholder in Cryptotown's security and financial health.
Coinfirm went to work and oversaw the development of his platform's advanced clustering and network pattern analysis to detect Cryptotown blockchain addresses that belonged to the same person.
Using the platform's proprietary algorithms and big data analysis, the majority of the external and internal bad actors of Cryptotown were identified, arrested, and locked away. Illicit activity plummeted and mainland businesses now had a way to access risk for any of Cryptotown's businesses. Soon after, Cryptotown became a thriving metropolis and Coinfirm become a national hero.
THE END
As with any network, the value grows exponentially as new participants jump in. Coinfirm's platform has the potential to become the premier regulation/compliance entity for the entire cryptocurrency market. It's almost as if Coinfirm is an all-in-one security, data analytics, and Regtech firm.
I'm excited about Coinfirm's growth prospects, and I think Coinfirm's value proposition is now readily apparent.. I like platform cyrptocurrencies because they have a larger market capitalization potential.
Unfortunately, I must look for a new topic to put me to sleep. However, that is hard to do these days with blockchain disrupting and transforming traditional sectors in innovative and interesting ways.
REFERENCE LINKS
Coinfirm Website
AMLT Website
ICO Details
Whitepaper
Coinfirm Risk Report Example
Blog
These posts have greater value when you comment. Please share your thoughts with the Steemit community.
Traversing the Cryptosphere,
Kryptonaut
ETH ADDRESS: 0xc9F44cA1D383Bc48DcBe4Ea530B636CCFF577019