Coinbase suppressing XRP
An apparent Ripple insider, barableguy123 /u/bearableguy123 seems to point to: Coinbase suppressing the price of XRP. Here's one post on the day CoinMarketCap.com decided to exclude Korean cryptocurrency prices from their global market averages--artificially halting XRP's rapid price surge.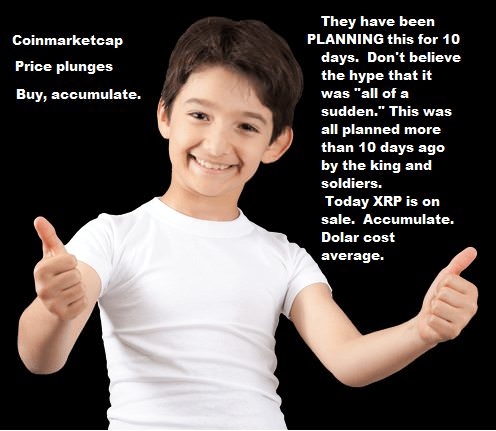 reddit
The king here most likely is Coinbase. Soldiers refers to representatives of other crypto currencies.
When XRP moons, the founders of Ripple become billionaires; conceivably, Bitcoin community would like to maintain status quo--keep Bitcoin the dominant crypto. Perhaps we could assume 3 things:
XRP price would be suppressed until Bitcoin is well above $20K
Powerful people in the crypto sub-culture manipulate assets to benefit themselves.
XRP price surge can't be contained for long--a huge opportunity for small investors to make x10 or x20 atleast !
The manipulators (?) : From Bloomberg, 1,000 People Who Own 40 Percent of the Bitcoin Market
The Showdown : Ripple vs Coinbase