The Hawaii Division of Financial Institutions (DFI) imposed a new policy which requires digital currency companies to maintain 100% cash and or asset reserves as permissible investments for every Bitcoin held by coinbase for Hawaii residents.
So if you live in Hawaii and have one Bitcoin, as of this writing Coinbase would have to hold $1282 dollars.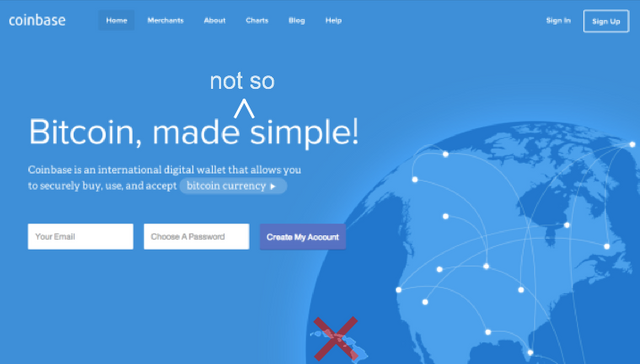 ​
COINBASE HAWAII- THE SKY IS FALLING!
​
Unfortunately Coinbase did not see any light at the end of the Hawaii (DFI) tunnel, because they just announced earlier this week that they are shutting down services for residents of the state. According to Coinbase, customers in Hawaii have 30 days to move their digital currency assets to another wallet, or liquidate before they are asked to terminate their account.
​
IT IS TIME TO PETITION THE HAWAII DFI TO CHANGE THIS NEW POLICY!
​
The best way to combat bad policy decisions like these from taking root in your state is by combating them where they appear first. In this case offense may be the best defense, so it is time to petition the Hawaii DFI to come up with a better policy. Maybe we can have a compromise, instead of 100% required cash reserves they could comprimise and use a fractional reserve style system instead. If nothing is done, bad policy like this could cripple the digital currency holdings of Hawaii residents for generations, and could even end up in your state next!!
​
COINBASE TO HAWAII RESIDENTS- YOU WILL BE MISSED!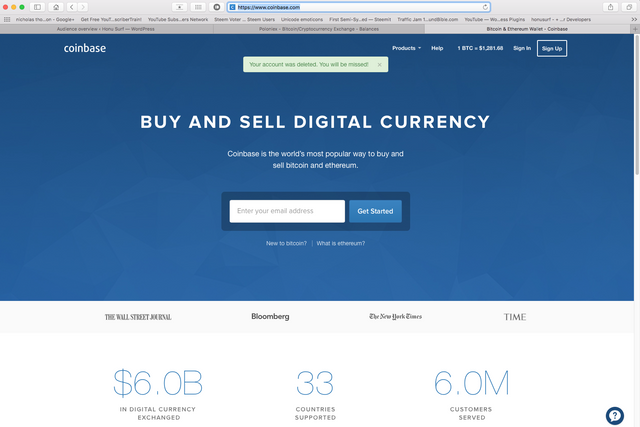 ​
​
This news was no shock to me because Coinbase already notified me of my impending account termination four months ago before I posted a blog about it here:
​
https://steemit.com/coinbase/@coininstant/coinbase-just-closed-my-account-for-betting-against-trump
​
Now I know the real reason why Coinbase closed my account, they used the decision to start doing some early housekeeping.
​
What Does this Mean for Bitcoin?
According to the coinbase blog regarding the new DFI policy decision:
https://blog.coinbase.com/how-bad-policy-harms-coinbase-customers-in-hawaii-ac9970d49b34#.3xwcx2b6x
​
"...compliance with this policy would siphon millions of dollars away from critical operations"
​
Millions of Dollars in in Bitcoin in Hawaii is not even a drop in the bucket when it comes to the global Bitcoin economy. This isolated event will probably will have little to no effect on the price of Bitcoin in the short term.
​
What worries me however is how easily an American Institution i.e. DFI can impose policy to shutdown digital currency. If this new policy begins to replicate in other states, it could mean the beginning of the end for Coinbase in the US.
​
WHAT DO YOU DO IN A POST COINBASE WORLD?
​
Instead of Coinbase I now rely on xCoins.io and Gyft.com. xCoins is pricey, but beggars can't be choosers. I have been using xCoins throughout the last four months, and I really like it. I recommend xCoins to all my Hawaii friends that need somewhere to turn to buy Bitcoin.
​
SO IS THERE A TRADE HERE?
​
In light of the Coinbase news, since I am a Hawaii resident, and the fact that Bitcoin is running on All time highs, I decided this is a good time as ever to cash out of some Bitcoins on xCoins! The way I decided to do this was by buying Amazon gift cards on Gyft.com with Bitcoin! It was really easy, Gyft uses ironically Coinbase or Bitpay as their gateway, so from xCoins I send Bitcoin to Gyft or Coinbase and gyft gives me a loaded giftcard. If there is a problem you can get a refund from Coinbase or Bitpay. Buying giftcards on gyft is easy as ever, and now you can even buy up to $2000 in 24 hours for quick shopping. (If you are in hawaii I would suggest not using coinbase to buy you gyft giftcards.) One of the cards I purchased however, never got confirmed, this is a bitcoin block size issue and unrelated to xCoins & gyft. Since this last issue xCoins is raising the miner fee and allowing us to change them in order to get our transactions cleared faster.
​
SAD BITCOIN DAYS AHEAD FOR HAWAII RESIDENTS
​
If you live in Hawaii, the era of coinbase is over. The road ahead may be tough if you plan on sticking with Bitcoin, and they sure are not making it simple!
​