Hi Steemians and Hi Coffee Lovers,
Here I have two coffee from totally two different world. Coffee Ranau(local coffee) and Coffee Luwak(imported coffee).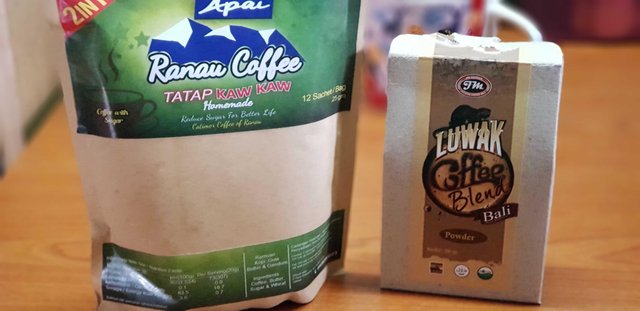 Coffee Ranau is a coffee made locally from Ranau, Borneo which I bought from a local shop last November. Everything is made local, from harvesting to packaging. Its taste is not quite strong but it has a nice strong coffee smell to which I like. It costs $30 for 12 sachets. Not bad for a local produce.
On my other hand, is the Coffee Luwak. Named as the most expensive coffee. Not sure if it's true. I didn't got to know the price because my brother gave it to me from his holiday trip to Bali. After googling this coffee, I think I might understand why it is expensive.
How do you like your coffee?
Enjoy your coffee Steemians. It's the last day of the year.