That's what people say: African coffees are exotic, like the whole continent is exotic. Of course there are significant differences between countries and within countries, but generally speaking washed African Arabica coffees are kind of balanced and contain a fruity or floral essence and dry processed coffees feature a good body that's enhanced with a strong sweetness. But those are of course generalizations at the level of a continent!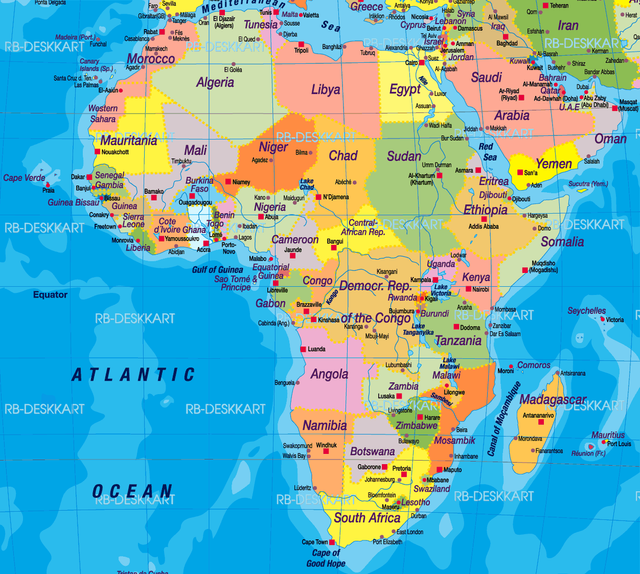 Africa is huge and has a great history and potential for coffee, but actually counts with only a few of the more famous coffees, especially if we compare it to the Americas. One of the reasons for this, I think, has to do with its big Robusta coffee production. The other reason is because only a part of its Arabica production is washed coffee. Now if you like the so called "natural" coffees (dry processed, or dried within its berry), then you have way to go with African coffees, but let's first take a look at the Arabica-Robusta ratio.
I took a look at the numbers of the International Trade Center's website and found, more or less, the following numbers when comparing Africa with America:
Africa: 53% Arabica, 47% Robusta
America: 85% Arabica, 14% Robusta
And then, you would have to take into account that over 95% of America's Robusta comes from Brazil! Let's take a closer look at the principal coffee producing African countries and their coffees.
ETHIOPIA
Of course we have to start with Ethiopia. Not only because it is said to be the historic cradle of coffee and Africa's biggest producer, but its coffee is classified as one of the best coffees of the world. The major coffee producing areas are in the Ethiopian Highlands: Harrar, Sidamo, and Yirgacheffe, all well over 1,200 meters above sea level. Harrar coffees are mostly dry-processed coffees and tend to come from old varietal typica coffee trees. Sidamo and Yirgacheffe coffees are for the most part wet-processed coffees. More than half of Ethiopia's production is Arabica.
KENYA
Also grown well over 1,200 meters above sea level, coffees of Kenya are highly sought after. Generally speaking, Kenya's "A-grade" Arabica coffees are washed and sun-dried. Kenya AA Coffee is one of the biggest coffee brands in Africa and it is grown at more than 1,800 meters above sea level, on the highest plateaus of Kenya.
TANZANIA
Tanzania is mostly known for its peaberry coffee, that is said to be the number one best coffee brand in Africa and for some people, this coffee is the best there is. But of course, the not peaberry coffee is worth trying out as well. It is grown on Mount Meru and Mount Kilimanjaro.
While Ethiopia, Kenya and Tanzania are the better known coffee producing countries, there are some others worth mentioning as well, like Congo, Madagascar, Rwanda, Burundi, Cameroon and Ivory Coast.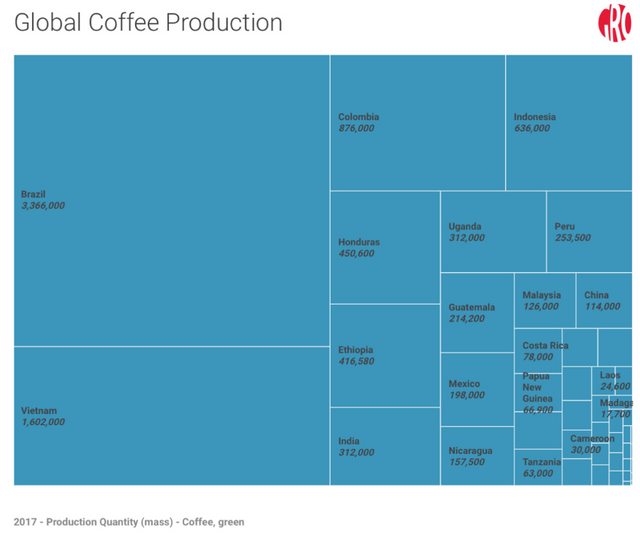 Source: gro-inteligence.com
UGANDA
Uganda is a special case and is also showing itself in the coffee market, becoming one of the leading coffee exporters on the continent ranking eighth on the list of global coffee production. The country grows very little Arabica coffee as Robusta comprises over 80 per cent of total production.
YEMEN
Still another special case is Yemen, because of its history. Yemen is said to have been the first country to commercially cultivate coffee. Since water is scarce, coffee beans grown here tend to be smaller and more irregular in size and shape and the coffee cherries will be dry processed after harvest. Mocha is the Yemeni port from where historically coffee was exported to destinations all over the world and was the mayor market for coffee between the 15th and 17th century, resulting in that the word Mocha became synonymous with Arabian coffee. The Dutch combined Arabian coffee with coffee grown on the island of Java to make the first coffee blend -- and one that is still well-known today -- Mocha Java.
---
Previous article from coffee series you can find under tag #cafescope.
You can see them all here.
Article was also published on Cafescope