Green Mountain Coffee - Colombian Fair Trade Select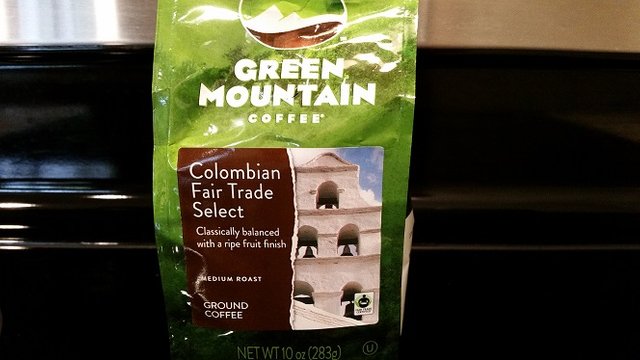 Hello Steemit Friends,
Full disclosure, I do not have a Keurig coffee maker. I don't hate it, I just don't need it. Green Mountain is a Keurig brand. That being said, I got a great deal on Green Mountain Coffee recently so I picked up two varieties and this is the first. I pick up the Green Mountain – Colombian Fair Trade Select. This is a 100% Arabica medium roast coffee.
To start the aroma is mild with a slight acidity. The flavor is forward, not bitter and nicely balanced. The aftertaste disappears quickly and is slightly dry. The description on the bag says it has a ripe fruit finish. To me that would indicate a full almost sweet taste. I don't get that, I get a hint of a cocoa not fruit.
I liked this coffee, it is a fine start for the day. The dryness of the aftertaste makes it not something that I want to drink all day but as a first cup in the morning it is good. I might buy this brand again but I won't go out of my way for it.
If you have tried the Colombian Fair Trade Select, let me know what you think.