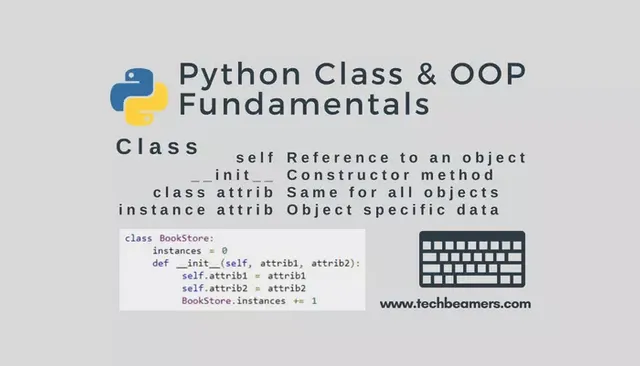 This is more difficult in Python and can really frustrate you.
Patience is the key and do not forget to practice.
Object oriented programming quiz
a) Using the property decorator
b) Using the classmethod decorator
c) Making a class a subclass of property
Answer - a) @property
What is the difference between a class method and a static method?
a) Class methods are passed the calling class, static methods aren't
b) Class methods are faster
c) Class methods are inherited, static methods aren't
Answer - a) refers to the class instance with cls or self
What are the usual parameter names for the calling instance and the calling class?
a) slf and cls
b) self and cls
c) self and class
Answer - b) self and cls ( it was also referred to in the previous question)
What method is called just before an object is instantiated?
a) create
b) del
c) init
answer - c) init
(__ is double underscore)
Fill in the blanks to make the egg attribute strongly private and access it from outside of the class.
class Test:
___egg = 7
t = Test()
print(t._Test____)
Answer - _egg = 7
t = Test()
print(t.Test egg)
What is the automatic process by which unnecessary objects are deleted to free memory?
a) Garbage collection
b) Rubbish deletion
c) Bit-trash exfoliation
Answer - a) Garbage collection
class Person:
def init(self, name):
self._name = name

@property
def name(self):
return self._name
---
def name(self, value):
self._____= value
@name.setter - first-line answer
_name - second line answer