Codex - Unlock the value of unique assets
Codex is a decentralized registry for unique assets like art, fine wines, watches, jewellery, collectible cars etc. In art & collectibles, an item's identity is central to its value. The Art and Collectibles asset class is estimated at $2 Trillion, that's $2,000,000,000,000. To buy or sell, get insurance, or take out a loan, previous owners, history and authenticity are constantly checked and verified. Codex stores an item's identity and history securely on the blockchain, immutable and transparent for all to verify. The need for a registry is essential because currently no centralized (or decentralized) title registry exists. In Art and Collectibles (A&C), the provenance (the history of ownership of an item and associated documentation) accounts for almost the entire monetary value of an item, because it is the most important indicator of authenticity.
With a widely adopted registry, it is expected there will be lower transaction costs and less fraud. Simplified financial products could appear like lending or fractionalization (tokenization) of assets. Imagine stolen collectibles being returned to their rightful owners, forgeries detected with minimal effort. The Codex registry is an ERC-721 Smart Contract.
Biddable is the first app built on top of Codex. Created in partnership with a consortium of industry leaders, Biddable will ensure Codex has adoption from day one. Not just a whitepaper like many other ICOs. See Biddable on Live Auctioneers.
Partners include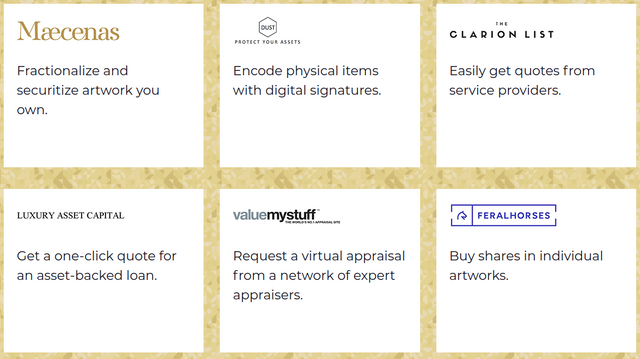 Image Source
https://www.maecenas.co/
http://dustidentity.com/
https://www.clarionlist.com/
http://luxuryassetcapital.com/
https://www.valuemystuff.com/
https://www.feralhorses.co.uk/
Validators and rewards
Once an item is on Codex, it's future ownership is immutably tracked. When items are first loaded onto Codex, any associated info needs to be verified. Codex Protocol relies on validators to research and load this info, or to verify it if loaded by end-users. Experts in their respected fields (art, auction houses, dealers, gallerists and appraisers) can earn fees as they do in the offline world. A reputation system can enhance this process.
Download the Whitepaper
Download the one pager
Token Info
Token: CODX - Codex Coin
Token Type: ERC-20
Token Price: US$ 0.067
Minimum Transaction: 0.05 ETH
Lockups: No Lock-up for Crowdsale
Size: US $5,000,000
Hard Cap: US $25,000,000
Soft Cap: US $15,000,000
Total Tokens: 1,000,000,000
Whitelist Dates: 2nd - 6th July 0800 UTC
Public Sale: End of July
Excluded countries: US, China
Unsold Tokens: Kept for future sale
More info
https://codexprotocol.com/
https://t.me/codexprotocol
#Crypto #Blockchain #Ethereum #Codex #Art #Bidding #Wine #Jewellery #Watches #Collectibles #ether #cryptocurrency #ICO #tokensale
This is not investment advice, always Do Your Own Research (DYOR).