CODEO is built using a very secure and decentralized, peer-to-peer technology.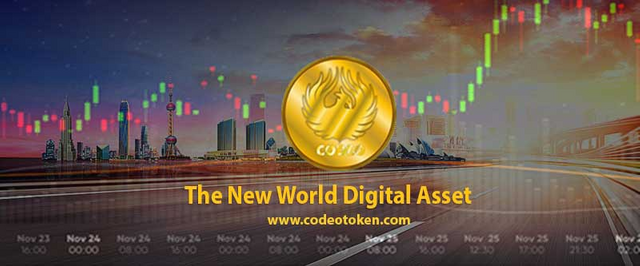 The world is slowly but surely getting used to the fact that cryptocurrencies and blockchain technology have so much to offer compared to the conventional currency. Ever since bitcoin was developed, people have been curious to find out what this innovative digital currency has to offer, which is much. Cryptos are soon going to eliminate fiat payment systems because of the ease and security in which transactions are processed. As a frequent crypto trader, I have been able to experience the benefits of blockchain and cryptos first hand, and I have never gone back to the slow and insecure fiat payment systems.
Security is the most important factor of consideration while crypto trading, which is why I am always on the lookout for scam projects. According to research which I have recently conducted, I have come across the ideal token, which is looking to solve all the challenges plaguing cryptocurrencies currently. I am talking of the Codeo token, which is a payment instrument that is going to utilise ERC20 technology. The Codeo token will be supported by Nodes Network, and it will be based on Ethereum technology which will also be offering mutual support and completion of the ecosystem.
Another issue that has been heavily plaguing various cryptos would be that of price fluctuations, especially bitcoin. This volatility can, at times, be very inconveniencing for fr4equent traders like me, because they are usually random and unexpected and leads to incredibly huge losses. Crypto traders are always in search of security in all ways which is why I am convinced that Codeo token is going to be the ideal payment instrument.
The Codeo token is going to be collaborating with a reputable Singapore company, Five Angels Investment Holding Pte.Ltd Company, where all participants will be able to purchase their tokens at a fixed price of 1dollar per token. This fixed price is going to be a guarantee that at no time will a trader wake up to find the price of Codeo altered, which is going to make transacting with the token convenient and encourage mass adoption as well.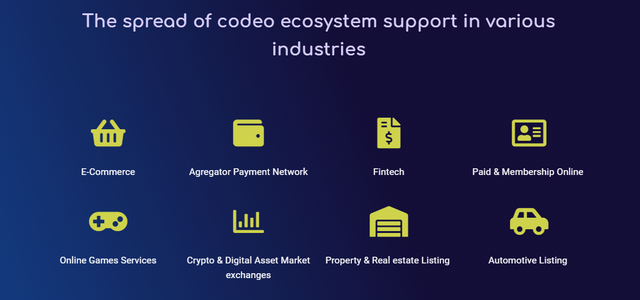 The Codeo token is going to be built using a very secure and decentralised peer to peer technology, blockchain. Traders who will purchase the token are going to be guaranteed of safety from fraudulent cyber criminals who tend to take advantage of unknowing individuals. Blockchain and cryptos are becoming a part of our daily, and they are getting better as they are being developed. Transactions are being incredibly simplified due to blockchain technology.
Transacting in Codeo tokens is going to be extremely fast because unnecessary intermediaries are going to be eliminated. One will be able to seamlessly transact with other traders in the ecosystem. The Codeo token is going to be considered as both an internal currency and a utility token. One will be able to trade Codeo Tokens on major market exchanges all around the world such as IDAX, HUOBI, CATEX, BINANCE and BITFINEX.
CONCLUSION.
I cannot wait to purchase my Codeo tokens and start this exciting trading venture where I will be able to enjoy all of these amazing benefits. Check out more about Codeo Token from their official website to keep yourself posted on recent developments.
✅ Official site: https://www.codeotoken.com/
✅ Whitepaper: https://codeotoken.com/wp-content/uploads/2019/10/Whitepaper-Archidax-v.1-1.pdf
✅ ANN: https : //bitcointalk.org/index.php? topic = 5201055.0
✅ Twitter: https://twitter.com/codeotoken
✅ Facebook: https://www.facebook.com/codeotoken/
✅ Telegram: https: // t. me / joinchat / MHlV6hcPQhGqNTQN6k4Wug
══════════════════════════════════
★ Author: jamesndungu1
★ BitcoinTalk Profile: https://bitcointalk.org/index.php?action=profile;u=1856049
★ All Images credited to CODEO OFFICIAL WEBSITE