Hi, Steemit friends. I hope you continue to enjoy reading my stories of growing up in China.
Stemmit的朋友们,你们好!我希望你们继续喜欢阅读有关我在中国的成长经历的故事。
When my oldest sister Xiaofeng was six years old, my mother felt a lump on her upper right arm close to the armpit one day when she helped Xiaofeng take off her sweater. My parents took Xiaofeng to the hospital and she was diagnosed with lymphoma. The doctor initially suggested amputation of her right arm and my parents refused to accept such drastic treatment recommendation. My mother felt responsible and guilty for Xiaofeng's diagnosis of cancer. Before she became pregnant with Xiaofeng, she suffered from several miscarriages. When she was pregnant with Xiaofeng, she took Chinese herb medicine to prevent another miscarriage. My mother believed that the medicine she took during her pregnancy was the culprit for Xiaofeng's cancer. Xiaofeng was admitted to the hospital and received surgery to remove the lump on her arm and radiation treatment. The surgery was successful but the doctor told my parents that Xiaofeng might only have five more years to live. This news was like thunder in a bright sunny day and my parents lived in fear for years that one day they were going to lose their beloved first daughter. My sister's cancer diagnosis brought my parents closer together and one year later I was born.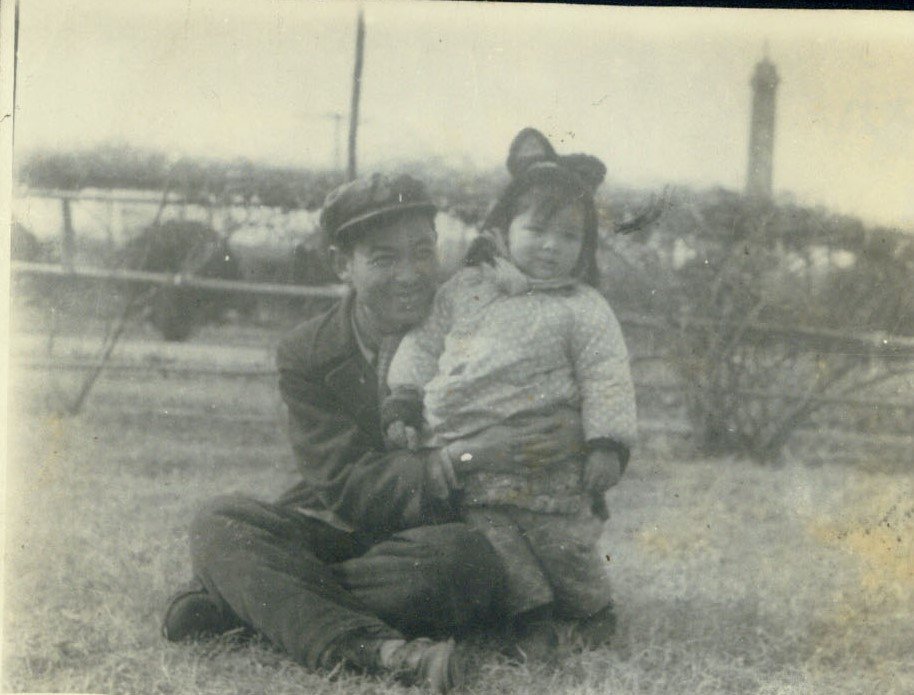 A Photo of my father and Xiaofeng at People's Park in Chengdu taken when Xiaofeng was about two.
我爸爸和小枫在人民公园的留影。小枫当时大约两岁。
Xiaofeng was a well-loved and treasured child who was like a bright pearl in my parents' palms. When she was in the hospital receiving surgery and radiation treatment, she was brave and cheerful and she made friends with doctors and patients around her. The doctor who treated her completely fell in love with Xiaofeng. When she was discharged from the hospital, the doctor gave Xiaofeng a beautiful conch shell as a gift which became the most treasured possession that Xiaofeng had during her childhood.
For five years after the operation, other than a long scar on her right arm and a very skinny right arm, Xiaofeng showed no signs of being sick with cancer. She continued to grow healthy and strong. Being the oldest child who received much love and attention from my parents as a young child, Xiaofeng was a kind-hearted, confident and capable child with a strong sense of filial piety to my parents and strong sense of responsibilities to her younger sisters, Xiaoling and I. Our nanny Yee Po Po left our family to take care of a new born baby in our courtyard compound when Xiaofeng was twelve. Since my mother only came home one day a week on Sundays and my father, being an old fashioned male growing up in a Confucian household, had no practical skills taking care of a family, Xiaofeng was put in charge of the household affairs at the age of twelve.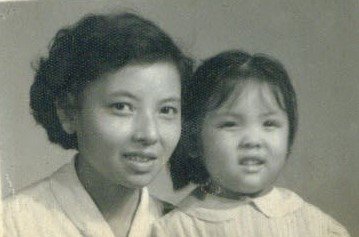 A photo of my mother and Xiaofeng taken when Xiaofeng was about four.
我妈妈和小枫的留影。当时小枫大概四岁。
Xiaofeng was like a second mother to me and she made me feel loved and protected. My earliest memory of her went back to the time when I was only four, during the Cultural Revolution when armed fractional fighting broke out in Chengdu. One day, Xiaofeng and I were walking on the street near the headquarter of the Southwest Bureau where my father worked. Suddenly we saw people running toward us yelling loudly. Xiaofeng held my hand tightly and started to run in the same direction as the other people as fast as she could and I remembered running so fast that my feet did not seem to touch the ground. We heard gunshots behind us. Xiaofeng and I ran all the way home without stopping or turning our heads to look behind.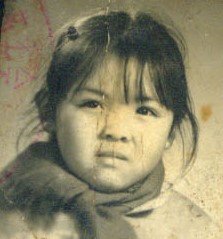 A photo of Xiaofeng at the age of seven.
小枫七岁时的留影。
At the age of twelve, Xiaofeng was responsible for cooking, cleaning, grocery-shopping, and washing clothes. I still remember how she washed our clothes using the washboard placed slanted inside a wooden wash tub. After scrubbing the clothes on the washboard with soup, she would rinse them with cold water, even in the cold winter, when her hands were red and freezing.
Xiaofeng would use the same washboard and wooden wash tub to kill and prepare eels for us. During the time when meat was scarce, sometime we would have the treat of buying a basinful of live eels. Xiaofeng was an expert at preparing the eels. She would drive a nail through the washboard with the nail point exposed and place the washboard inside the wooden wash tub. She would sit on a stool in front of the tub, reach out to grab an eel from the basin, smash the head of the eel on the edge of the wooden tub to kill it, push its head through the nail point and use a small knife to cut the eel open along the washboard. She would scrape the insides and bones of the eel, cut it into small piece and place the meat into a bowl. We would have a delicious eel meat stir fried with Pi Xian bean paste and garlic prepared by Xiaofeng。
Xiaofeng was also skilled at killing chickens. Since meat and eggs along with all food items were rationed during my childhood, families in our residential compounds would each raise half dozen of chickens for meat and eggs to supplement the limited protein supply. Xiaofeng was always the one in my family who killed, prepared and cooked the chickens.
One weekend, my mother decided that we should treat ourselves with chicken meat since we had not had meat for a long time. We were all so excited and looked forward to such special treat. Xiaofeng rolled up her sleeves and began preparing for the killing. She sharpened the kitchen knife on a stone, picked up one of our chickens and grabbed it by the wings firmly with her left hand. She pulled its head backward to join where the wings attached and tightened the skin around the throat with her left thumb and index finger. She plucked the feather around the neck area and slit the chicken's throat with the sharp knife in her firm right hand. She turned the chicken upside down and drained the blood into a bowl. My sister Xiaoling and I helped pluck the feathers off the freshly killed chicken soaked in a pot of hot water. We saved several long feathers to make shuttlecocks for play. Xiaofeng cut open the chicken with the knife and reached inside with her hand to pull out all the organs. She cleaned and sliced the chicken liver, heart and gizzard. My mother took over and made a stir-fried chicken giblets dish, a stir-fried coagulating chicken blood dish and stewed chicken soup.
Right at the time when a pot of juicy, appetizing chicken soup was placed on the dinner table, my uncle came to visit unexpectedly. The smell and the look of the delicious chicken made his mouth water. My mother, being hospitable and polite, offered him a pair of chopsticks and told him to go ahead and have a taste of the chicken before the dinner officially started. My uncle skillfully scooped up half of the chicken breast with the chopsticks and devoured it. He then scooped up the other half of the chicken breast and chewed it slower than the first bite but with much enjoyment on his face. Once he started eating he was not able to stop. He must have been starving for meat for a very long time and chicken in front of him made him forget where he was and what he was doing and it certainly made him forget his manners as a guest. By the time when my mother, my sisters and I sat down for dinner, all we could see was the skeleton of a chicken swimming in the soup. Xiaofeng could not believe her eyes. She rushed outside and squatted down at the corner of the wall crying silently and bitterly, covering her face with her shaky hands. This was the very first time that I ever saw my big sister Xiaofeng cry.
我大姐小枫满六岁那年,有一天我妈妈给她脱毛衣时在她右胳膊靠近胳肢窝处摸到一个包块。我父母带小枫去医院检查,结果是她患了淋巴癌。医生最初建议将小枫的右肢截肢,我父母不能接受这一极端的建议。我妈妈对小枫的癌症诊断感到非常自责和内疚。在生小枫前,我妈妈曾经怀孕几次,但都自然流产了。怀上小枫后,为了避免又一次流产,我妈妈吃了保胎药。我妈妈认为在她怀小枫的时候吃的保胎药最终导致小枫身患癌症。小枫后来住院接受手术治疗,切除了癌瘤,还接受了放疗治疗。手术虽然很成功,但医生告诉我父母说小枫很可能只能再活五年。这一预断如同晴天霹雳,我父母几年里都生活在恐惧中,不知哪一天就会失去他们珍爱的长女。我大姐的癌症拉近了我父母的感情,一年后,他们生下了我。
小枫从小就从我父母那里得到了大量的关爱,她是我父母的"掌上明珠"。在她住院做手术和接受放疗期间,她表现得勇敢和开朗,和周围的病人和医生们成为朋友。负责治疗小枫的医生完全爱上了这个可爱的小姑娘。小枫出院时这个医生送给小枫一个海螺留着纪念。小枫在她整个童年时代都一直珍藏着这个海螺。
手术后的五年内,小枫除了右臂上一个长长的手术伤疤和一条细细的右胳臂,没有表现出任何因为淋巴癌术后可能发作的病态。她继续健康茁壮地成长。小枫作为我父母的长女,从小获得父母的爱护和关注,因此成长为一个心地善良,能干自信,对父母有孝心,对妹妹小玲和我有责任感的女孩子。小枫十二岁的时候,家里的保姆易婆婆因为要去邻居家帮助照顾一个新生儿而离开了我们。我妈妈当时一周只有星期天才在家,我爸爸是在男尊女卑旧式家庭里长大的,对如何干家务活没有什么概念和能力,小枫因此在十二岁就开始当家了。
小枫对我来说就像我的第二个母亲。和她在一起,我感受到爱和安全感。我对小枫最早的记忆追溯到文化大革命期间成都发生武斗的时候。我当时只有四岁。一天,小枫和我正走在我爸爸工作单位西南局附近的街上走,突然看见许多人朝我们这边跑过来,一边跑一边高声叫嚷。小枫紧攥我的手,转身带着我向这群人相同的方向开始跑。我记得我脚不沾地地和小枫一起飞跑。我们听到身后传来的枪响。小枫和我头都不回地一口气飞跑回家。
从十二岁开始,小枫就负责家里的包括做饭,做清洁,买菜和洗衣服等家务事。我现在还记得她在斜放在木盆上的洗衣板上搓衣服的情景。在搓衣板上搓好刷好打上肥皂的衣服后,她还需要用冷水多次在木盆里漂净衣服。在严寒的冬天,她经常用自己冻得红红的手清洗家人的衣服。
小枫还用同一个洗衣木盆和搓衣板为我们剐黄鳝。那时我们很少有机会吃到肉。偶尔可以在市场上买到一盆活黄鳝。小枫是剐黄鳝的能手。她把一颗长钉子钉在搓衣板上,钉子头暴露在外,把搓衣板斜放在木盆上。她坐在小凳子上,面前是斜搭有搓衣板的空木盆,旁边是装有黄鳝的盆子。小枫伸右手抓起一根黄鳝,将它的头狠狠地撞击在木盆上打晕,然后把它的头直接按进钉子头上,用小刀顺着搓衣板从头到尾将黄鳝剖开,把黄鳝的内脏和骨头刮干净,再用刀把黄鳝切成小块,放到碗里。小枫剐好满满一碗黄鳝,然后用郫县豆瓣酱和大蒜炒一盘香喷喷的大蒜鳝鱼。
小枫还是一个杀鸡能手。我们小时候肉,鸡蛋等食物都很短缺,需要每月凭票限量购买。我们院子里许多家庭都要喂几只鸡,补贴身体所需要的营养。小枫承担起我们家杀鸡整理鸡的责任。
有一个周末,我妈妈决定让家人打一打牙祭,杀一只鸡让我们解解馋,因为我们已经很就没有吃肉了。大家都为此感到很兴奋和期盼。小枫挽起袖子,开始准备杀鸡。她先把菜刀在磨刀石上磨锋利,捉住一只鸡,左手握紧鸡翅膀,将鸡的头往后拉到翅膀处,用左手大指拇和食指将鸡脖子上的肉绷得紧紧的,拔掉鸡喉咙周围的鸡毛,然后用她稳健的右手用刀切开鸡喉咙,放下菜刀,将鸡倒立着,鸡血就滴进事先准备好的一个碗里,再把杀好的鸡放进一盆鲜开水里侵泡,我和二姐小玲帮忙将鸡毛拔下。我们还留下几根长的鸡毛用于将来做鸡毛毽子玩。小枫用刀剖开鸡,用手掏出鸡的内脏,洗净后将鸡肝,鸡心,鸡胗和鸡血切成片。我妈妈接下来为我们炒了一盘鸡杂,一盘鸡血和炖了一锅鸡汤。
正当一锅热腾腾,香喷喷的鸡汤摆上饭桌时,我妈妈的表兄不请自来来到我们家。鸡汤的香味使他垂延欲滴。我妈妈出于礼貌,给他一双筷子,在还没有正式开饭前让他"尝一尝"锅里的鸡肉。我表舅拿起筷子,很熟练地将筷子插进鸡胸,往上一挑, 挑了一半鸡胸肉,放在嘴里狼吞虎咽吃了下去。吃完后他又挑起另一半胸脯肉,放在嘴里慢慢咀嚼,脸上露出满足自得的表情。吃了两口鸡肉后他就停不下来了。他大概已经很久没有吃到肉了,面前的鸡肉使得他完全忘记了他在何处,忘记了他的所作所为,忘记了他作为客人的礼貌。当我,我的两个姐姐和妈妈坐下来开始进餐时,摆在我们面前的是一锅只有鸡骨头的鸡汤。小枫完全不能相信她的眼睛。她站起来离开了餐桌,跑到屋外,蹲在墙角边伤心地无声地哭起来,她用颤抖的双手蒙住了自己的脸。这是我第一次看到我的大姐小枫伤心流泪。