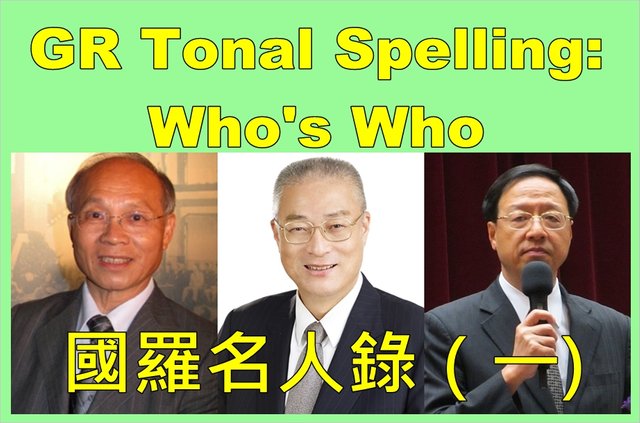 Many outstanding Taiwanese spell their names in GR: scientists, engineers, doctors, lawyers, architects, university professors and many others.
---
GR Tonal Spelling (Gwoyeu)
This ingenious and very distinctive #spelling makes it very easy to recognize talented Chinese people who come from Taiwan. #grtonalspelling uses mostly dual-purpose, #mnemonic letters to denote semivowel glides and tones simultaneously. Most spellings are appreciably shorter than equivalent Hanyu Pinyin spellings (i.e. GR is a "green" system that conserves electrons ;-), GR is much easier to remember and type on a standard ASCII-only keyboard.
Example of Spelling Economy: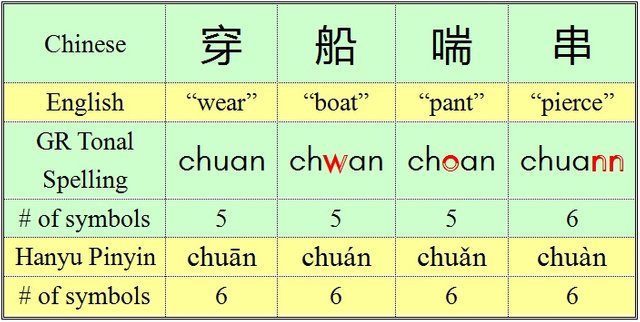 Notice how the rightmost stroke of the w in chwan does double duty as a 2nd tone (rising tone) contour marker. The bottom half of the o in choan does double duty as a 3rd tone (low dipping tone) contour marker. Each GR spelling requires an average of 5 marks/symbols (vowel/consonant + tone), but ALL Pinyin spellings require 6 marks (letters + tone marks).
Famous Politicians Who Use GR Tonal Spelling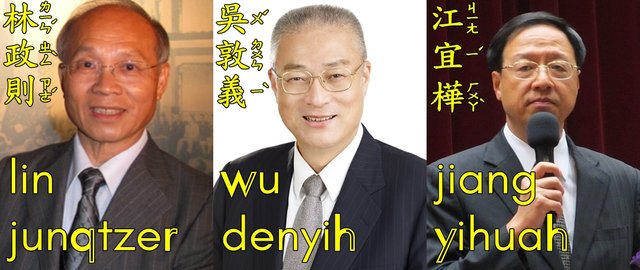 Three ROC government officials, one of whom spells his name 100% according to GR rules; the other two names deviate only slightly from the rules (score = 99%). [The middle image,Wu Den-yih is copyright: 中華民國總統府(國史館提供); the other two are PD images]
These fine gentlemen deserve praise for helping to preserve China's unique cultural treasure, the mnemonic spelling system for Chinese tones: 國語羅馬字 GR Tonal Spelling (old name: Gwoyeu Romatzyh).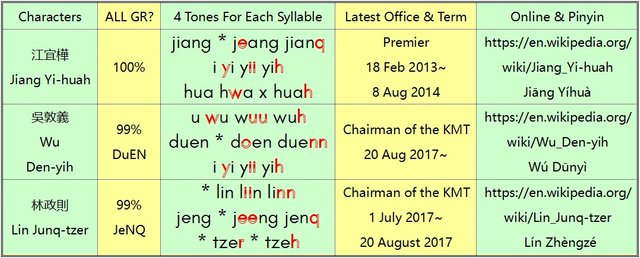 Who I am:
https://steemit.com/introduceyourself/@wentong-syhhae/enthusiastic-intp-polyglot