$80,000 for a surgery to remove the inflamed appendix?//阑尾炎手术需八万美金?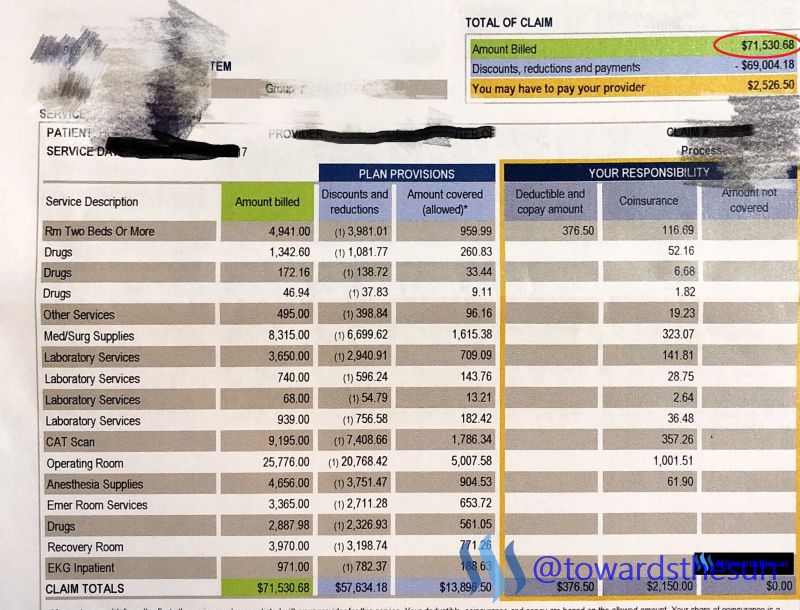 Last month, I rushed to the emergency room due to abnormal abdomen pain. And after the CT scan, the doctor concluded that my appendix was inflamed and needed surgery. So another doctor on duty operate the surgery and I was released the next day from the hospital.
I got the explanation of benefits from the insurance and was shocked by a few numbers.
First of all, the hospital is in-network of my insurance. Initially, it cost around $71,000.
After working with my insurance company, the bill reduced to around $14,000 with applied discounts and deals.
And the insurance company paid $11,530, which left around 2500 dollars for me to pay.
I am ok with this number from the hospital since I have heard that emergency room service is really expensive.
The second big number came from the doctor. There are two separate charges from the doctor (one is for surgery and the other is the medical visit). They add up to around $9000.
And I might be responsible for almost $8000 because the doctor is out of network!!
So I stayed in an in-network hospital, while the hospital assigned an out-of-network doctor to save my life, which I had no choice on who is on duty and who can do the operation.
Now I am told to be prepared for the big bill I might need to pay, which in total is more than $10,000.
I started to call the insurance company, and they told me to bargain with the provider. I called the provider and they transferred my call several times, and finally reached a voicemail.
Friends are shocked when they heard about the charges. Since they all believed that schools often have the best insurance. One friend mentioned that a similar situation happened to her co-worker. Eventually, she managed to file an appeal through the insurance company and argued with the provider. The provider finally charged as an in-network provider. But the whole process took a few months.
I guess I need to constantly make phone calls until my voice can be heard. No matter what, I am not prepared to pay over $10,000 for an appendix removal surgery. I really could be broke for this.
Health is truly priceless.
---
之前因为急性阑尾炎去了急症,动了手术。最近收到了保险公司发过来的价目表。着实被巨额的费用吓了一跳。毕竟,我从无购买奢侈品的经历,从没见过这么大数额的账目。
价目表按类别分了大概有十来页,各个项目单独报价。有医院的,医生的,各项检查化验等等。其中,医院和医生的费用最高。
医院的费用为71000美元,由于该医院属于保险公司的网内医院,折扣以及价格调整,最终实收14000美元。保险公司将支付其中的11500美元。我自己则需要垫付2500美元左右。
早就听说急诊室费用高,最终自掏2500美元也算能接受。
然后,医生的费用分手术费和诊断费。加到一起大约要9000美元。
问题是,这个主刀医生不在保险网络内,保险公司支付的比例大大地降低。
于是我自掏很有可能高达8000美元给医生。
所有自掏加起来,我很可能需要垫付一万美金左右。这着实超出了我的预算,甚至认知。
早就听说美国医疗系统相当复杂,价格计算更是因人而异。不同保险,价目不同。
而且这次,网内医院指派了当值的能给我及时动手术的主刀医生竟然是网络外的。这一结果完全不在我的掌控之中。我特意选择了网内医院就诊,可是也不能提前预知我需要动手术,更不能预知是何种手术,也就不能提前预约网内的医生了。
听一个朋友说听过类似的情况,也是网内医院指派了网外医生。最终通过向保险公司申诉,重新与医生医院沟通,讨价还价,最终按网内医生的价目来算的。不过前前后后花了好几个月的时间。
我之后也开始给保险公司打电话,被告知类似的程序。看来这种情况发生的几率还挺高的,以至于他们的应对手法都专业流程化了。我再给医生办公室打电话,被多次转接后,听到了一个语音留言。看来申诉会需要耐心打电话,做好长期作战的准备。
朋友们听说后都纷纷表示病不起,我则表示若申诉不成功,我真的要破产啦。
无论如何,身体健康才是真正的奢侈品。不需要看病,就是在省钱!
---
原文首发于 http://Steemit.com。感谢阅读,也欢迎 Follow, Upvote, Reply, ReSteem (repost) @towardsthesun. Thank you for reading.