Splinter Daily - 030720 - DEC Earning #69 | 賺DEC之路 #69
What's up, Splinters! I hope everything is great and well.
---
It has been quite a long time since my last post about Splinterlands. And it is the #69!
The last two weeks were like dark ages for STEEM and I hope things can be resolved anytime soon.
Anyhow, let's talk about Splinterlands.
We are now in the midst of the season and with the help of my precious monsters,
I managed to reach Diamond 3 at the moment and trying to reach higher.
It was quite nice to be able to use all of my cards.
As you might know that if you are in Gold or lower, even you have a level 6 card. You are still prohibited to use them.
That's how Splinterlands want you to advance to a higher rank.
Let's check out what I have got earlier today for the daily quest!
---
My main goal now has changed to accumulate DEC, so I can replace my normal card to gold card because I would like to earn more DEC on each battle.
---
自從我上一篇有關Splinterlands的文章,已經過去了一段時間。
過去的兩個星期就像STEEM的黑暗時代一樣,我希望情況能盡快解決。
無論如何,讓我們談論有關Splinterlands。
現在,我們正處於賽季之中,在我的珍貴怪物的幫助下,我達到了Diamond 3,並試圖達到更高的水平。
能夠使用我所有的卡真是太好了。
您知道,如果您使用的是Gold或更低級別,甚至您也擁有6級卡。 您仍然被禁止使用它們。
這就是Splinterlands希望您晉升到更高等級的方式。
以下請看我今天早些時候在日常任務獎勵拿到了什麼吧!
---
我的主要目標現在已經改為累積DEC,完成每日任務更像是一個副任務。 我的DEC餘額的短期目標是25K。 因為我打算繼續為公會做出貢獻。
---
Today snapshot of DEC Balances
今天的 DEC Balances 快照
030720 - DEC Balance: 871
---
As always here is my daily reward from the daily quest. Comment to this draw:
4 cards! I glad that this time we received some cards but not all potions! Nice!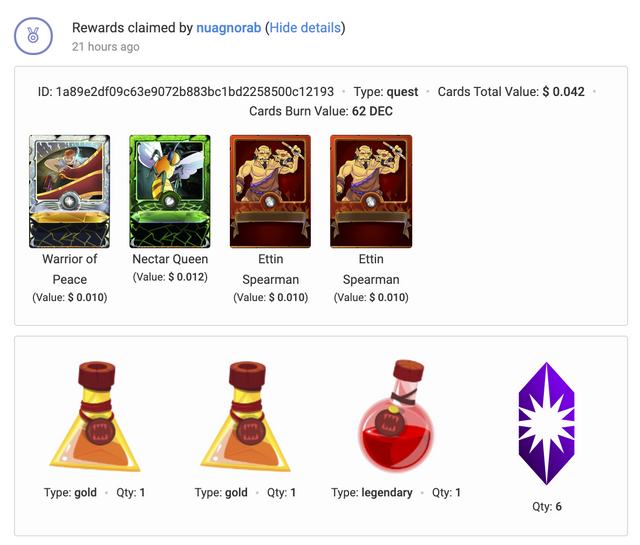 ---
Interested in one of the best Cryptos games that can earn coins while playing?
Splinterlands is fun and lets you earn crypto that can convert back to Steem, Tron and many more with the help of partner exchanges.
---
Splinterlands 很有趣,可以讓您賺取可以轉換成 Steem(STEEM) 或 Tron(TRX) 的加密貨幣 - DEC 。
對好玩而又可以賺幣的加密貨幣遊戲感興趣?
Come join us on Splinterlands! https://steemmonsters.com?ref=nuagnorab
---
Cheers