Splinter Daily - 030120 - DEC Earning #68 | 賺DEC之路 #68
What's up, Splinters! I hope everything is great and well.
---
I was quite busy these weeks.
Therefore I didn't update much for my DEC Earning report for a short period of time.
Heard from some friends on STEEM saying there was big news about the new soft fork.
Not sure who is right but I am hoping they can do best for what's good for STEEM.
STEEM is one of the few chains that actually allow people to share thoughts and transfer tokens in secs without much of problems about RAM or CPU.
I love STEEM and hoping it can still grow and improve.
Today seems to be the last day of the season, Let's see what I will get for the past season in the next report.
For now, Let's see what I've got for the daily quest.
---
My main goal now has changed to accumulate DEC, and completing the daily quest is more like a side quest. My short target of DEC balance is 25K. As I intended to continuously contribute to the Guild.
---
這幾週我很忙。
因此,我的DEC收入報告在短時間內沒有太多更新。
在STEEM上聽到一些朋友的聲音說,關於新的軟叉大新聞。
不確定誰是對的,但我希望他們都能為STEEM做好最好的準備。
STEEM是實際上可以允許人們在幾秒鐘內共享思想和轉移tokens而且沒有太多限制的(對RAM或CPU)的少數幾個鏈之一。
我喜歡STEEM,希望它仍然可以發展壯大。
今天似乎是本賽季的最後一天,讓我們在下一份報告中了解上一賽季的收穫。
現在,讓我們看看我的日常任務。
---
我的主要目標現在已經改為累積DEC,完成每日任務更像是一個副任務。 我的DEC餘額的短期目標是25K。 因為我打算繼續為公會做出貢獻。
---
Today snapshot of DEC Balances
今天的 DEC Balances 快照
0222020 - DEC Balance: 3,577
---
As always here is my daily reward from the daily quest. Comment to this draw:
It has been a long time since I last encountered the furious chicken from the rewards.
And an Orb just arrived nicely together with the chicken! I love it!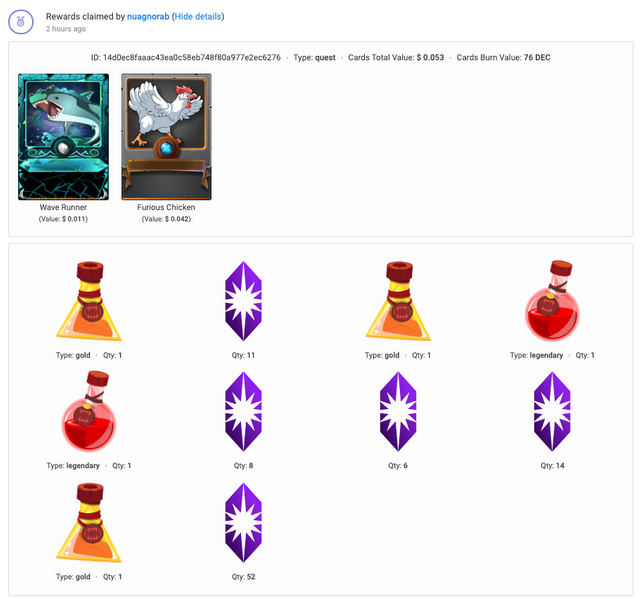 ---
Interested in one of the best Cryptos games that can earn coins while playing?
Splinterlands is fun and lets you earn crypto that can convert back to Steem, Tron and many more with the help of partner exchanges.
---
Splinterlands 很有趣,可以讓您賺取可以轉換成 Steem(STEEM) 或 Tron(TRX) 的加密貨幣 - DEC 。
對好玩而又可以賺幣的加密貨幣遊戲感興趣?
Come join us on Splinterlands! https://steemmonsters.com?ref=nuagnorab
---
Cheers