Splinter Daily - 022220 - DEC Earning #67 | 賺DEC之路 #67
What's up, Splinters! I hope everything is great and well.
---
Wishing everyone reading this had a great weekend.
I also wish you all safe and healthy throughout the coronavirus threat.
Back to Splinterlands game!
I found that I don't have much luck with the new reward system in the past week.
When I complete the daily quest and found that today seems to be my lucky day of the week.
Although the reward is not as good as some splinters here getting a gold legendary,
It is still pretty fun to watch the somewhat worthy prize show up on the screen.
---
My main goal now has changed to accumulate DEC, and completing the daily quest is more like a side quest. My short target of DEC balance is 25K. As I intended to continuously contribute to the Guild.
---
希望閱讀本文的每個人度過一個愉快的周末。
我也祝大家在冠狀病毒威脅期間能夠安全,健康。
回到Splinterlands遊戲!
我發現過去一周新獎勵系統對我好像沒有很好。
當我完成日常任務後,發現今天似乎是我一周中的幸運日。
儘管獲得的獎勵不如這裡的一些朋友獲得傳奇卡,
但在屏幕上看到有價值的獎品仍然很有趣。
---
我的主要目標現在已經改為累積DEC,完成每日任務更像是一個副任務。 我的DEC餘額的短期目標是25K。 因為我打算繼續為公會做出貢獻。
---
Today snapshot of DEC Balances
今天的 DEC Balances 快照
0222020 - DEC Balance: 918
---
As always here is my daily reward from the daily quest. Comment to this draw:
It has been a long time since I last encountered the furious chicken from the rewards.
And an Orb just arrived nicely together with the chicken! I love it!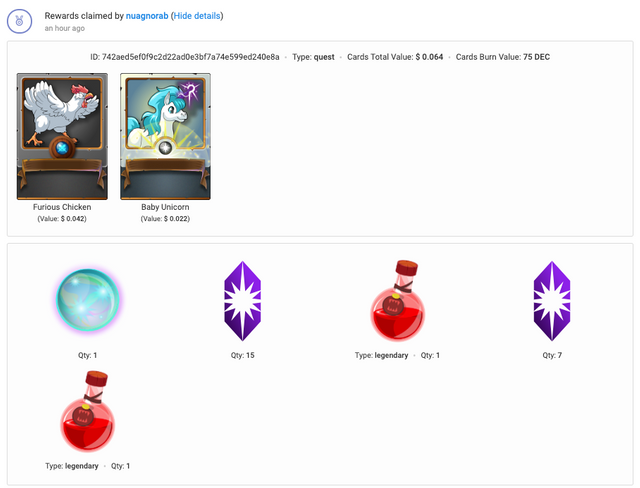 ---
Interested in one of the best Cryptos games that can earn coins while playing?
Splinterlands is fun and lets you earn crypto that can convert back to Steem, Tron and many more with the help of partner exchanges.
---
Splinterlands 很有趣,可以讓您賺取可以轉換成 Steem(STEEM) 或 Tron(TRX) 的加密貨幣 - DEC 。
對好玩而又可以賺幣的加密貨幣遊戲感興趣?
Come join us on Splinterlands! https://steemmonsters.com?ref=nuagnorab
---
Cheers