Steemit Online Tool - Earnings Report 在线工具 Steemit 收益报告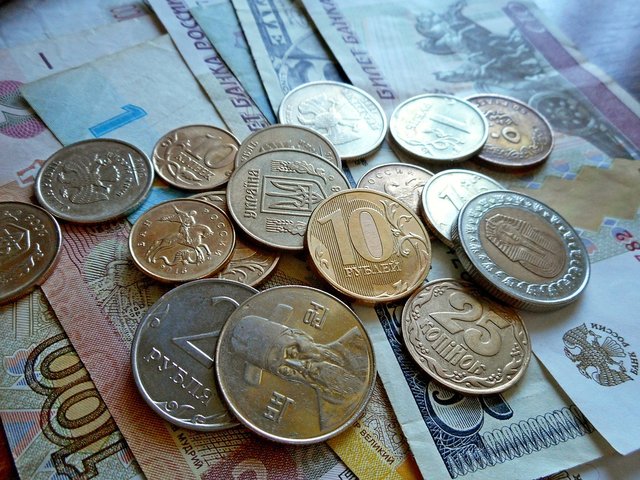 Image Credit: Pixabay.com
This tool generates a payout report so you can check the earnings between any two dates. As payout for posts less than 7 days are not finalized yet, the curator figures will be zeros. Comments are also included in the calculation. API will be provided as free-of-charge but use it at your own risk.
Tool URL: https://helloacm.com/tools/steemit/payout/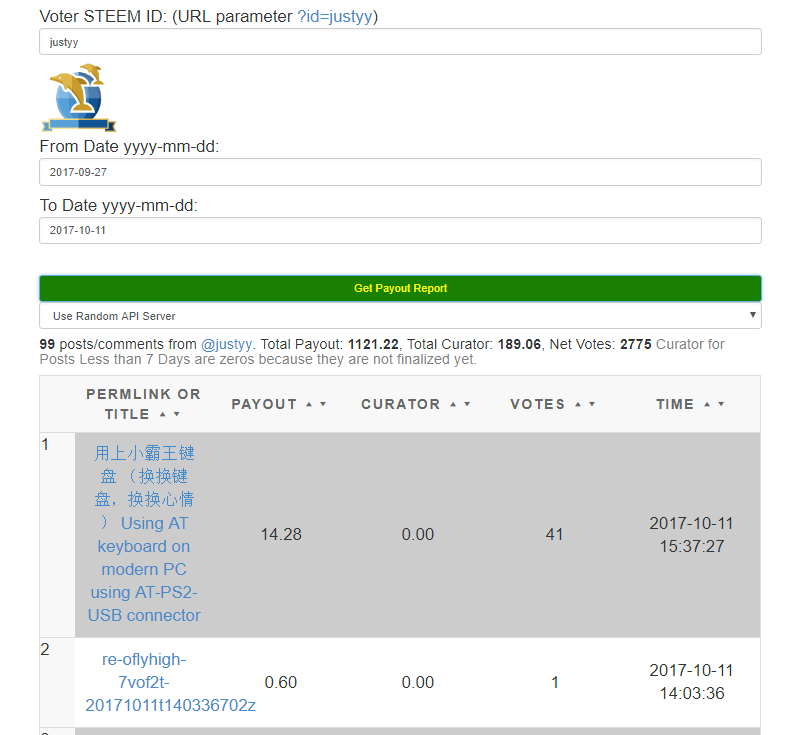 Tool Tips:
The table is sortable, so you can sort by payout, net_votes or timestamp.
You can book mark the tool by adding ?id parameter so you don't have to type in your SteemId everytime.
All Tools:
Recent Posts:
---
简单来说,这个STEEMIT在线工具能让你查看任意一个时间段里你的收益情况,它会列出每篇收益不为零的帖子或者回复,并且会告诉你一个收益总数。7天内的帖子点赞收益(Curator)为零,因为还没有到结算的时候。这个工具提供了一个免费好用的API,可以很方便的返回两个日期内STEEM用户所得到的收益情况。
工具地址: https://helloacm.com/tools/steemit/list-of-payout/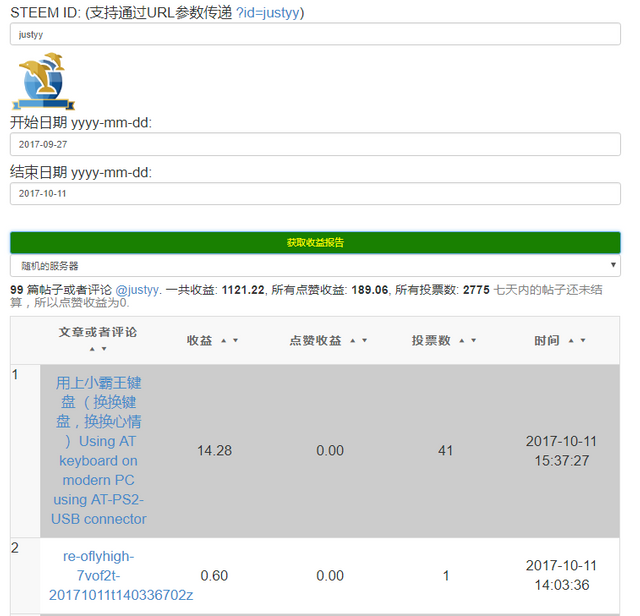 其它工具:
工具使用技巧:
整个表格数据是可以被排序的,你可以点击表头来对收益、点赞数或者是时间排序。
可以在整个网址后面加入 ?id= 然后你就可以收藏这个网址而不用每次都输入你的ID。
最近文章:
@justyy 是 https://justyy.com 的博主,在大哥 @tumutanzi 的介绍下加入 STEEMIT,写些帖子挣些小钱养家糊口。
---
@justyy 也是CN 区的点赞机器人,对优质内容点赞,只要代理给 @justyy 每天收利息(年化率14.6%)并能获得一次至少2倍(VP 200%+)的点赞,大鱼 @htliao 都加入了这个计划(530 SP)表示支持。