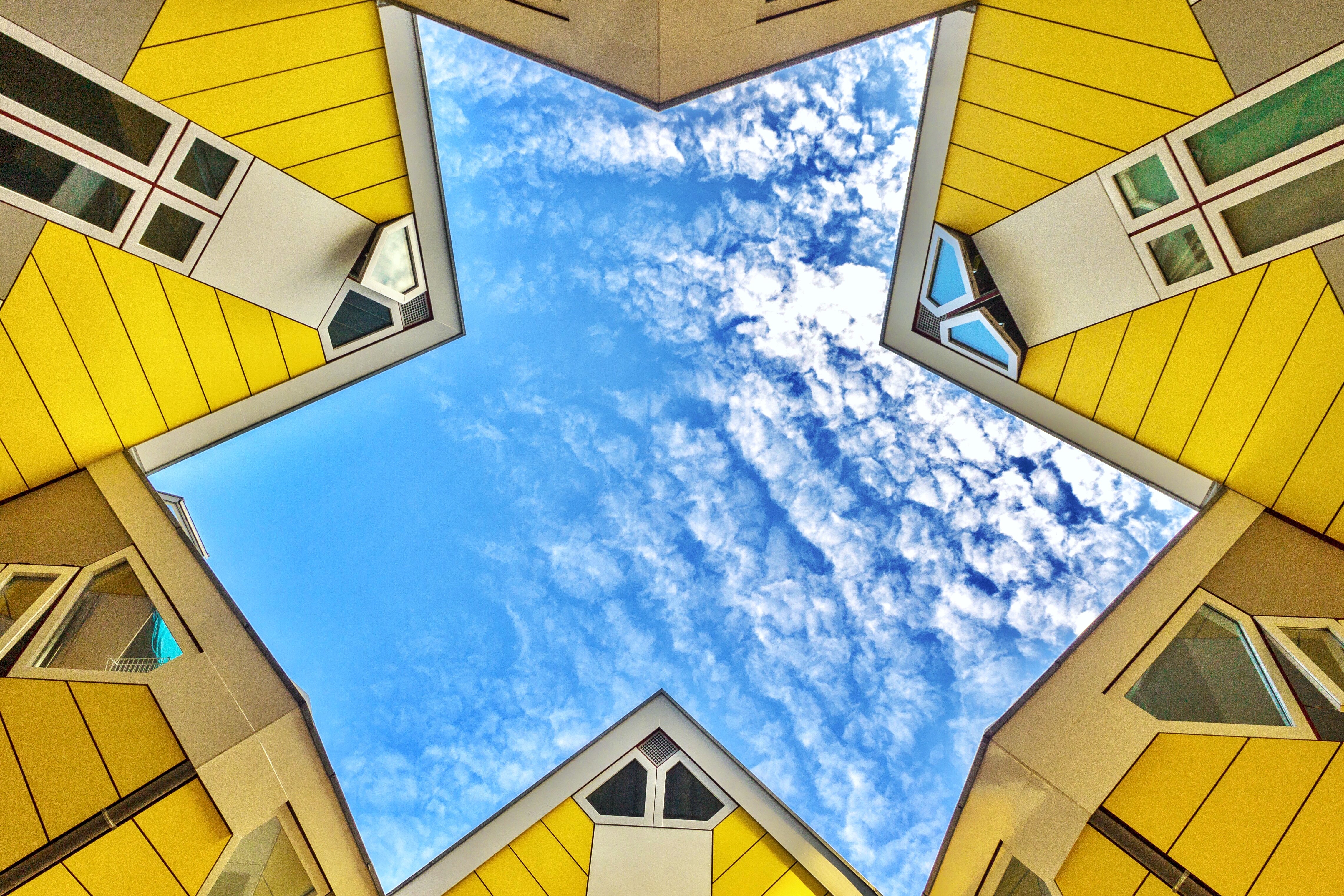 The Cube Houses ("Kubuswoningen" in Dutch) in central Rotterdam have long attracted visitors for their creative design and bright color. This set of unique houses were designed by Dutch architect Piet Blom, who is one of the representatives of the movement Structuralism.
In fact, Blom designed the first Cube Houses in Helmond(northeast of Eindhoven) in the mid-1970s. But these yellow houses built later in the early 1980s in Rotterdam are better known to the world. You can visit Piet Blom Museum in Hengelo, The Netherlands, if you are interested in knowing more about his works.
鹿特丹是荷兰仅次于首都阿姆斯特丹的第二大城市,也是欧洲最大的海港。不同于众多拥有中世纪古风建筑的欧洲城市,鹿特丹以标新立异的现代建筑而闻名。原本是座历史古城,但是二战的炮火几乎将其夷为平地,不同于严谨坚韧的德国人将科隆、德累斯顿等被炸毁的古城悉数复原,富有创意的荷兰人在片片废墟上立起了独特的新作。这里也诞生了不少知名的建筑设计师,比如北京CCTV的新楼"大裤衩" 就是由来自鹿特丹的设计师然·考哈斯(Rem Koolhass)设计的。
今天我来带大家看看鹿特丹市中心的立体魔方屋。这些魔方一样的房子造型独特,色彩鲜艳,吸引着一波又一波游客前来一探究竟。魔方屋是由荷兰建筑师皮特·布洛姆设计的,布洛姆是荷兰结构主义先驱阿尔多·凡·艾克的得意门生,和老师还有另一个学生赫曼·赫茨伯格一起,并称荷兰结构主义三杰。
其实,70年代中期的时候,布洛姆先在埃因霍分东北部的小城市赫蒙德设计建造了几座砖红色的立体房子,但是远不如80年代早期在鹿特丹建的这些明黄色的立体屋这么有名。如果你对这位建筑师的作品有兴趣,可以去亨赫罗专门为他而建的博物馆参观参观。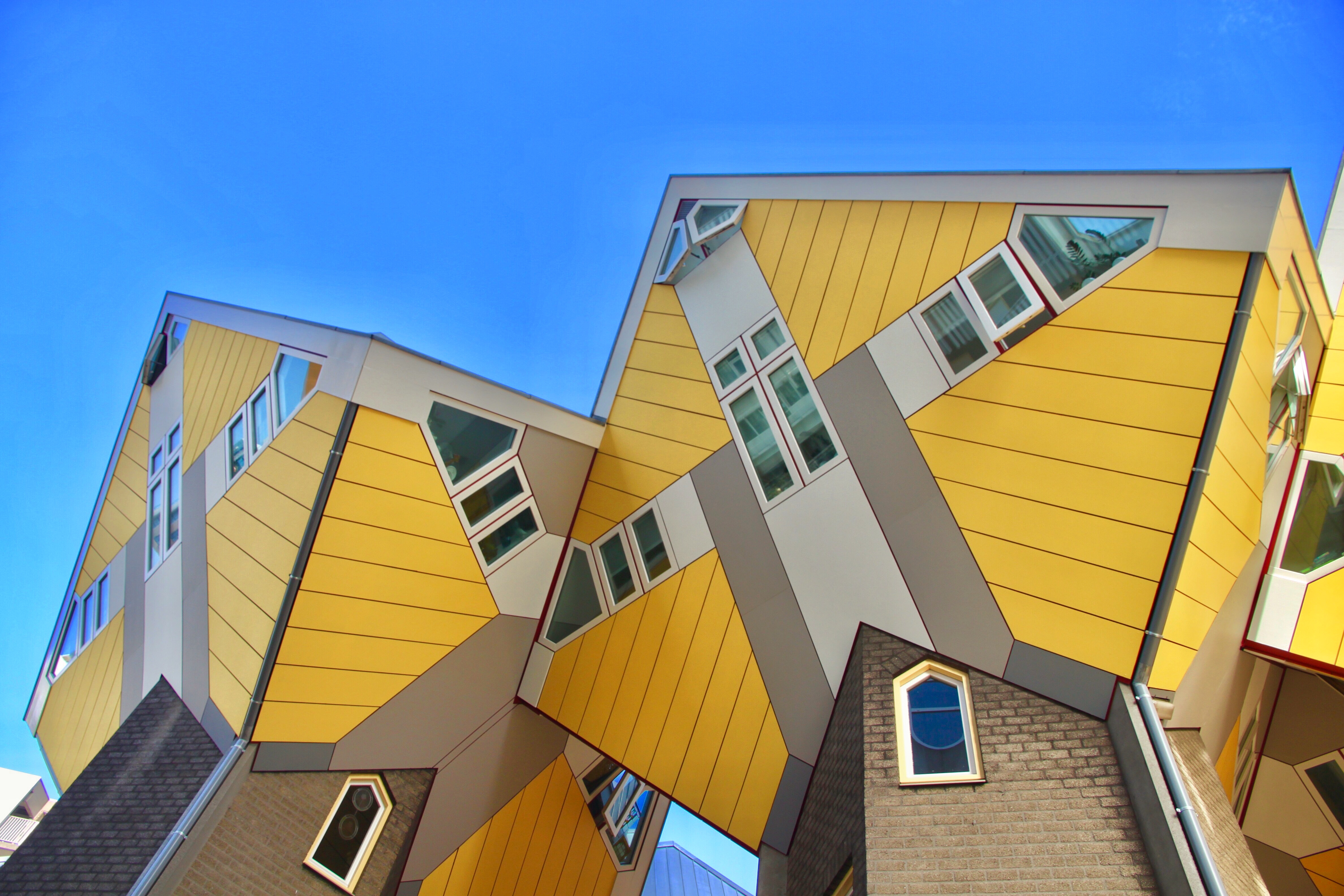 Blom's vision for Cube Houses is to combine functionality and style to achieve livable, affordable, and beautiful homes. All the 38 cubes are attached to each other, which represents a village within a city. As you can see from the photos, these cube houses are tilted 45 degrees and are rested upon a hexagon-shaped pylon. Each house represents a tree, and all the houses together, a forest. The open space under the cubes integrates well with the rest of the city.
布洛姆设计立体屋的宗旨是,将功能性和美观性相结合,建造宜居、实惠又好看的房屋。这一建筑群所有的30个立方体都互相连接,代表了城市内的聚居区。从我拍的这些照片上也可以看到,这些房子都倾斜45度角,由六角形的柱形结构来支撑。每座房子代表一棵树,所有的房子在一起连成一片树林。上面的小立方就像树冠一样,底部"树干"边的开放空间使其连成一片,并自然的融入到周边的城市之中。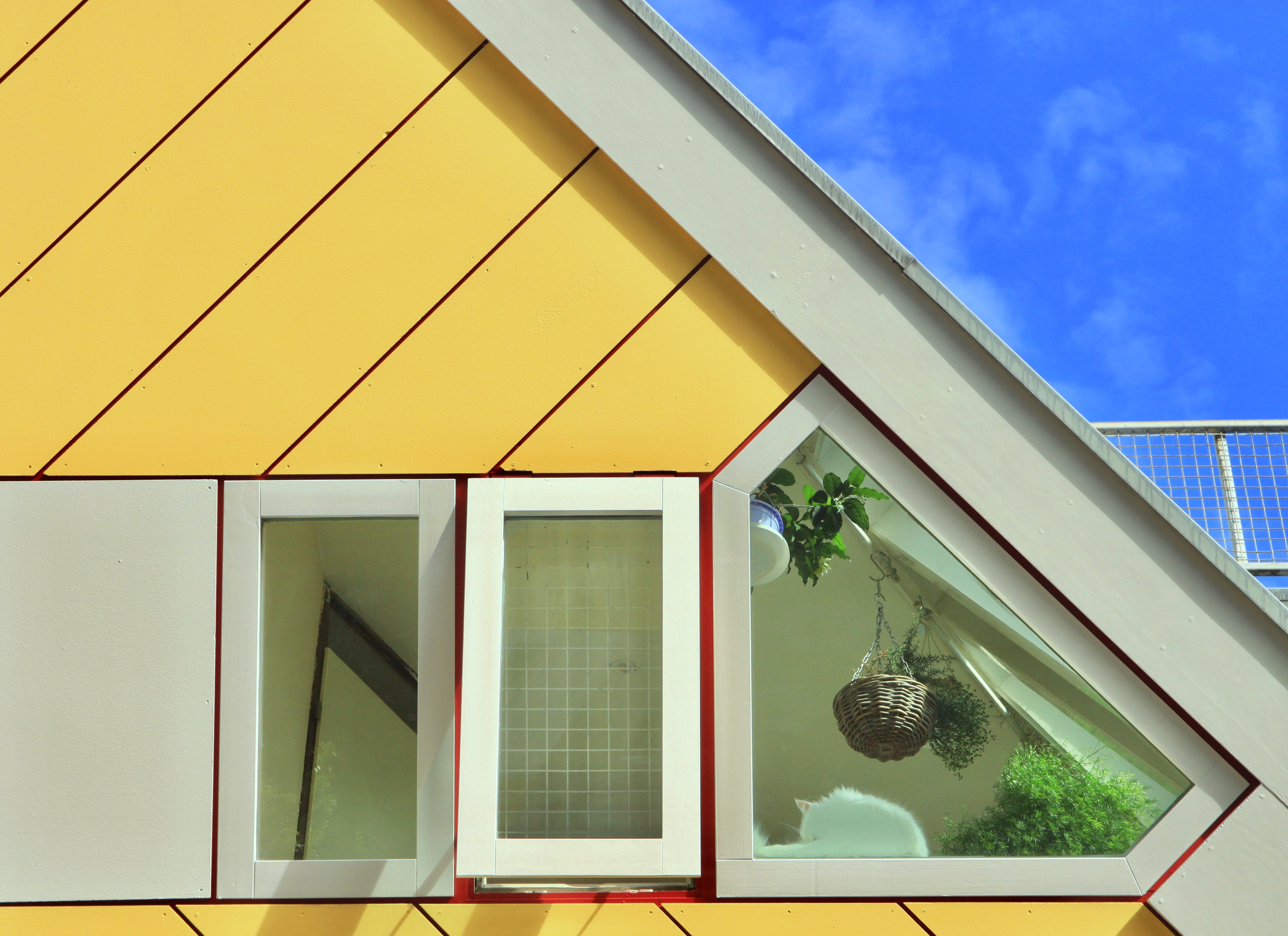 As these innovative houses are so popular among curious visitors, the residents here are often disturbed, and one owner decided to open a "show cube" and offer tours to tourists. A real Dutch entrepreneur! ;) Since his living space is so popular, it's a great idea to make a living out of it, right? I lived in Belgium for years, so I visited the Netherlands pretty often, and was attracted by the ubiquitous adventurous and mercantile spirit, and its cultural liberalism and tolerance.
The houses contain three floors: ground floor entrance, first floor with living room and open kitchen, second floor with two bedrooms and bathroom, top floor which is sometimes used as a small garden. I paid a few euros to get in and found inside just like normal houses, the main differences are the walls and windows are angled at 54.7 degrees, so around a quarter of the 100-square-meter space is unusable. It reminds me of high heels, yes they are pretty, but not so comfortable to wear.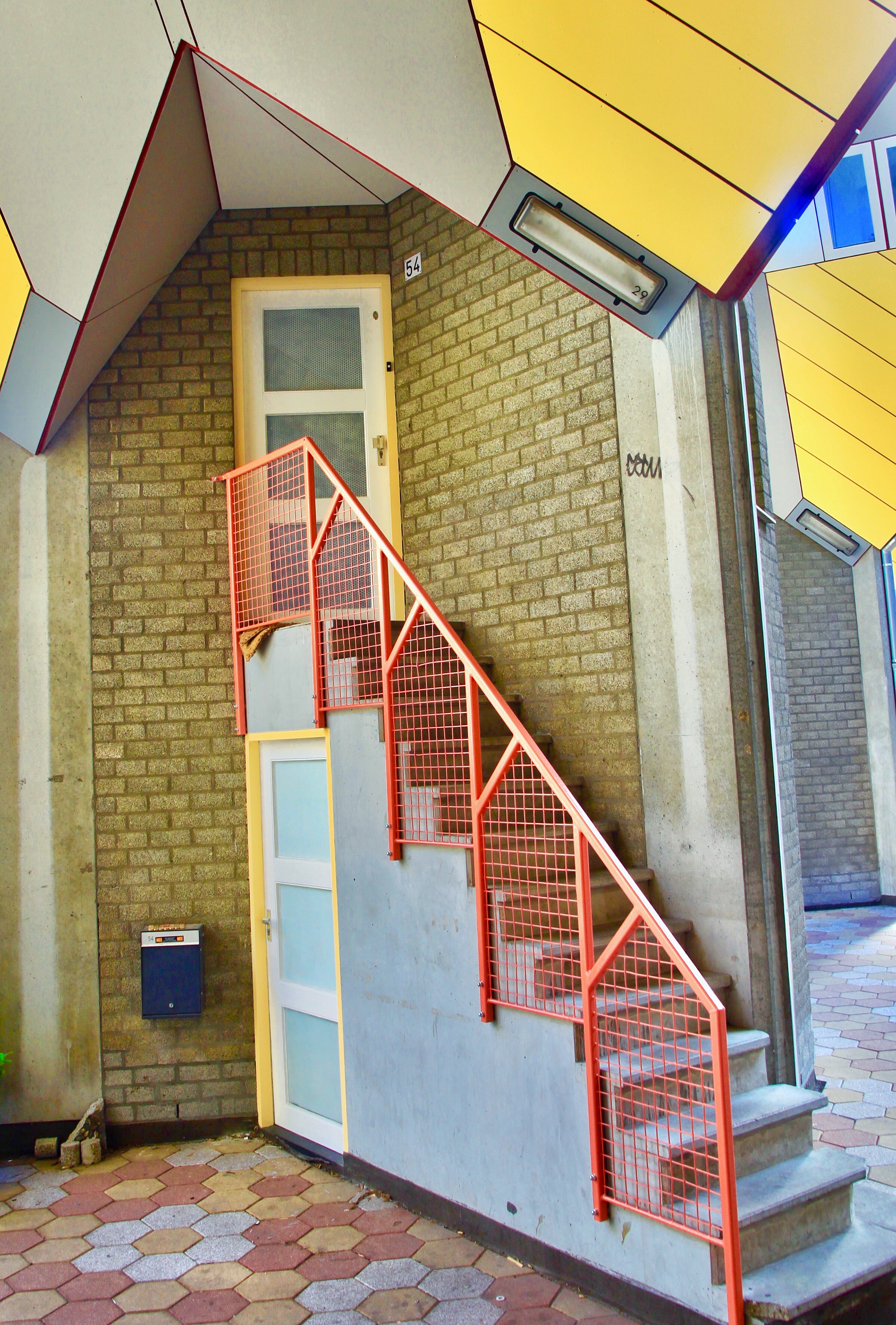 来看这些新颖的立体屋的访客络绎不绝,里面的居民深受其扰。于是,其中有一位屋主干脆开放了自家的房子供游客付费参观。此举真是尽显荷兰的企业家精神啊!由于在荷兰南边的比利时住了几年,常常去荷兰,对这个大航海时代的第二代霸主有了些许了解。荷兰一向以开放包容,勇于冒险的开拓创新精神著称,在其他很多国民眼里都是个很酷的国家,以致于很多次的旅途谈话中,别人不知道比利时在何方的情况下,我就说我住在荷兰南边,也是说荷兰语的地方。得到的答案总是:好酷啊。呵呵,真是沾了人家荷兰不少的光啊。; )
每间房子都有三层,底层是入口,二楼是客厅和开放式厨房,三楼有两个卧室和卫生间,顶上一般用作小花园。我付了几欧元的门票进去参观,发现室内跟普通民居的唯一差别就是墙壁和窗户呈54.7度角,也因此导致100平米的房子有大约四分之一的面积不可使用。不知怎的,我就突然想到了高跟鞋,看着漂亮,穿着却不舒服。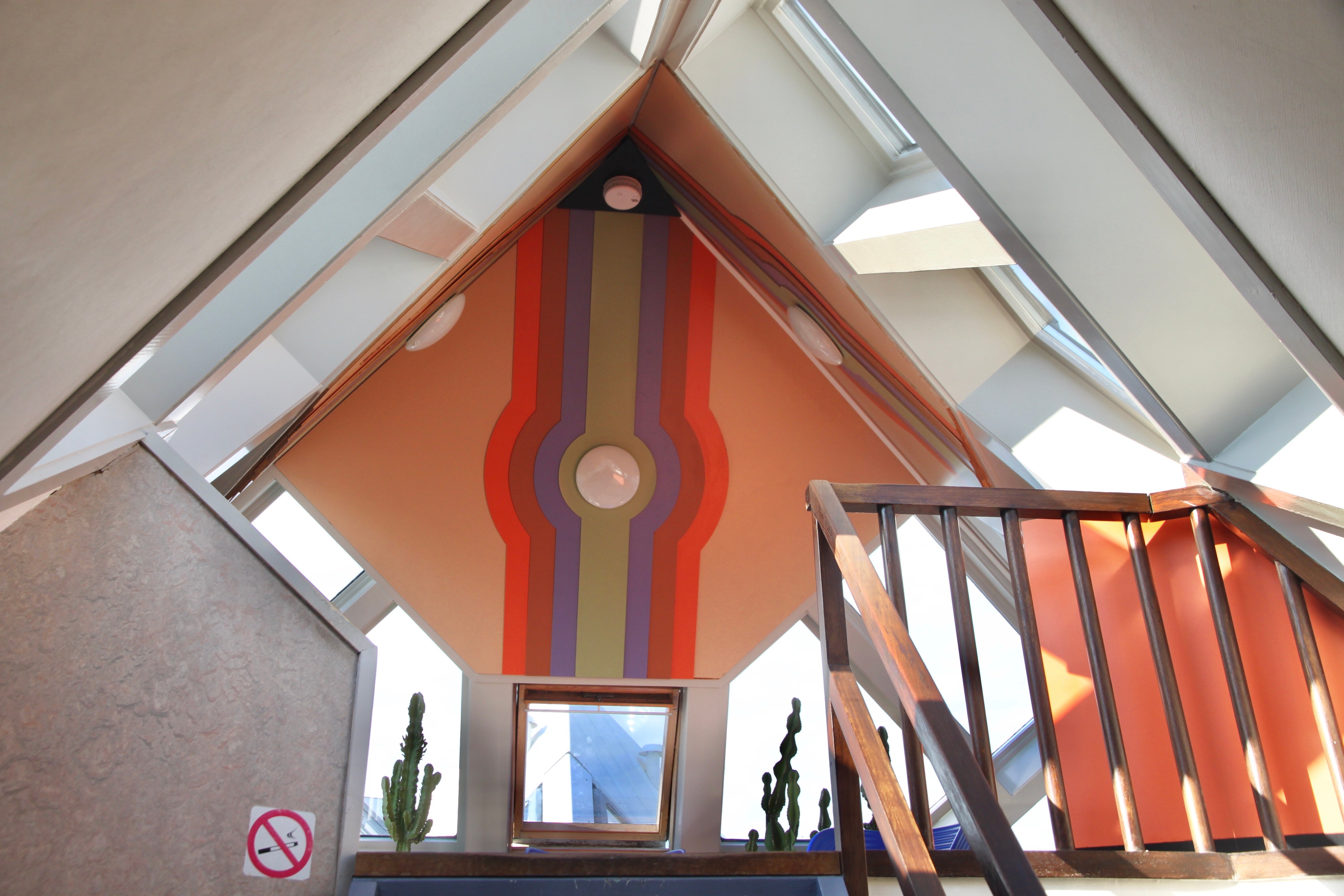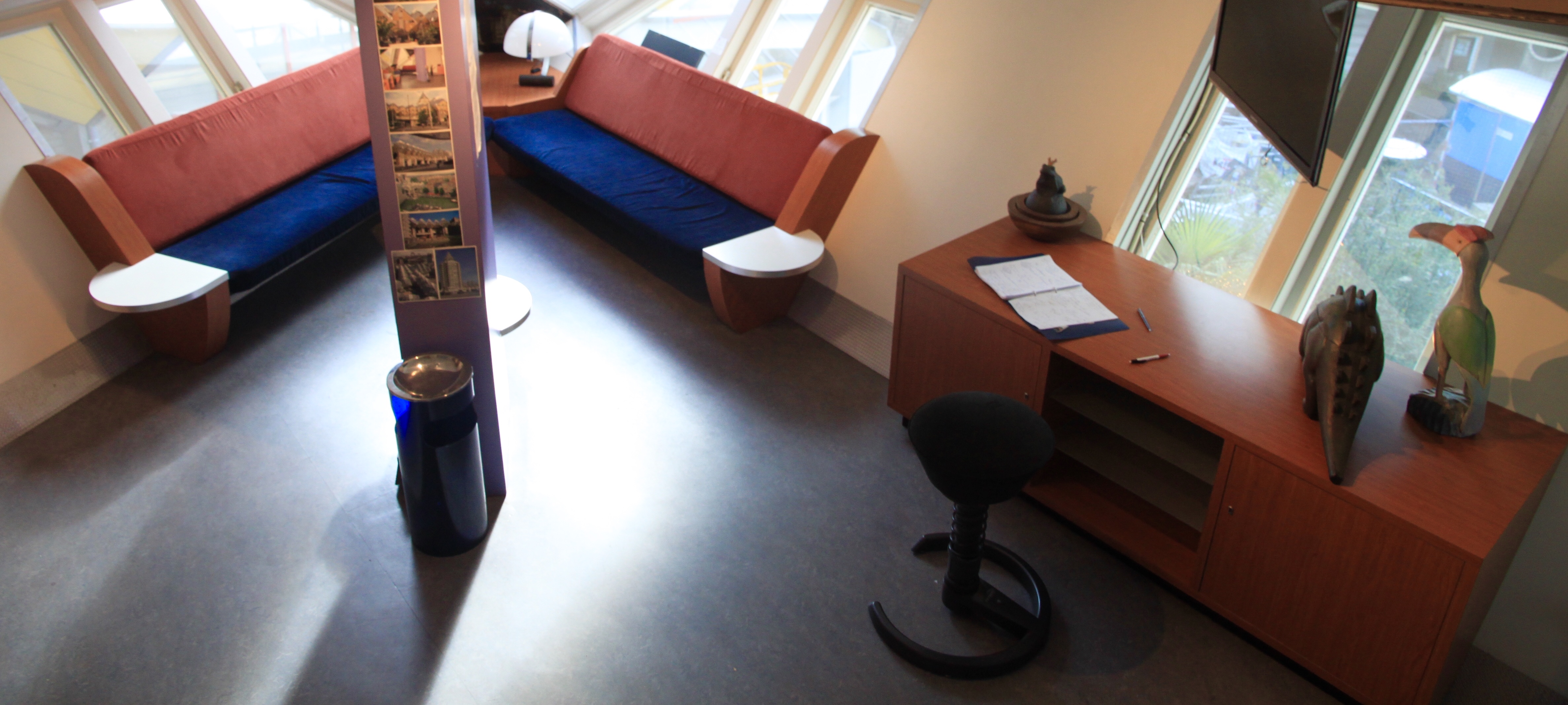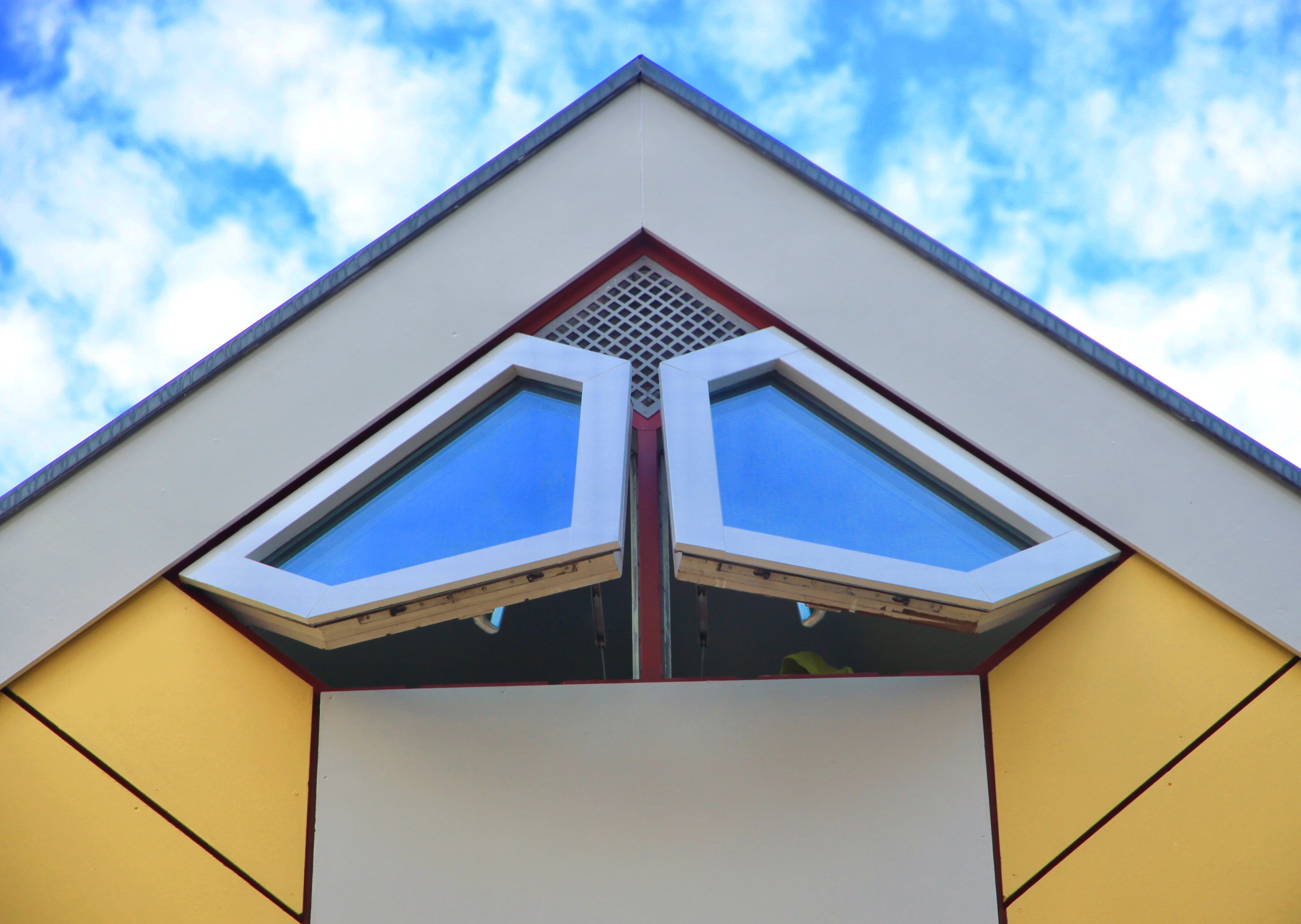 You can book several of the homes online to stay overnight or longer, and do it as early as possible, since they often fill up months in advance. There's also a hostel at the ground floor called Stayokay. Along with this special living experience, the location at the city center is also convenient to explore Rotterdam, this port city known for bold, modern architecture.
If you visit Cube Houses here, don't forget to check out the Markthal (Market Hall) close by, another architecture marvel and an awesome indoor food court and fresh market. Check out my previous post if interested.
So that's it for today. Hope you enjoyed it! Have you visited Rotterdam? What modern architectures did you see there? Tell me your experiences in the comments below! If you like my content, upvote it and follow me for more! =)
还有几家可供住宿,只要去网上预订,但是要趁早,因为常常是提前几个月就被预订一空。底层还有一家青旅叫StayOkay, 有兴趣也可以去住住。除了体验一下这种独特的立体住宅,处于市中心的位置也为游客提供了方便。
如果你来参观这些魔方屋,别忘了去旁边的拱廊市场看看,我也曾写过这个很有特色的建筑,里面售卖蔬果禽肉等各种农产品,还有不少小吃和餐馆,被称为全球颜值最高的菜市场。
---
今天的图文分享就到这里,希望你们喜欢。不知道你去过鹿特丹没有?看到哪些现代建筑了呢?快来留言告诉我你的想法和经历吧!
All content by @itchyfeetdonica
图文 by Donica多
Photo shot with Canon EOS Kiss X3