Cloudbric Review: Next-Gen Cybersecurity for the Blockchain Age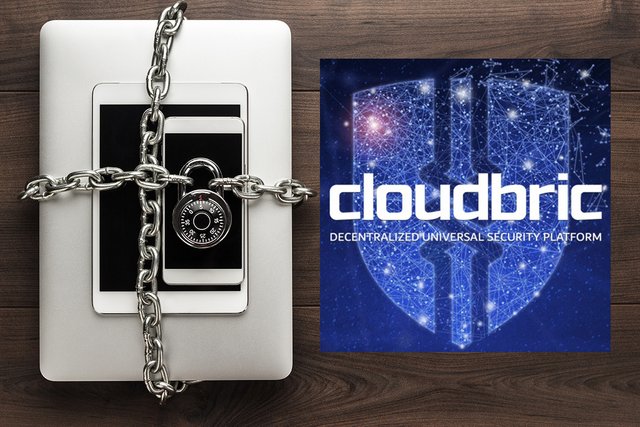 Overview & Vision
The birth of the internet ushered in what we now refer to as the digital age; waves of digital technology have continued to sweep across the globe, revolutionising industry after industry and forever changing the way humans interact with the world, and of course with each other. As with any revolution, however, this magnificent technological advancement has its intrinsic and crippling problems and hurdles, but none are more pressing in the digital world than the ever-existent and increasingly growing threat to cybersecurity by malicious actors such as hackers and scammers.
The state of the average user's cyber security is spotty, at best, and with cyber criminals becoming increasingly sophisticated in their means of attack, the established insular and inefficient industry mechanisms of operation are all too clearly beginning to buckle under the pressure. Traditionally, cyber threats have had to be dealt with using a plethora of niche-specific security solutions with certainly no effective all-encompassing solution to protect all segments of internet users' data. That is, until now.
Cloudbric are looking to disrupt the fragmented and insular cybersecurity space with their next-generation universal cybersecurity solution. A plethora of innovative features makes their solution truly revolutionary, in more ways than one; not only does Cloudbric provide a whole ecosystem of all-encompassing security solutions, powered by machine learning, but the extent to which community engagement is encouraged and utilised through their rewards program is remarkable- a truly novel use of blockchain for a truly noble cause.

Cloudbric's partners and investors, taken from their website: https://www.cloudbric.io/
But let's dig a little deeper into the current market inefficiencies which make the cybersecurity space so ripe for disruption.
Current Industry Situation
The inefficiencies of the current cybersecurity space are painfully clear, with hacks and attacks of all kinds a routine part of internet users' experiences. This is despite the fact that there are currently a plethora of cybersecurity solutions vying for a prime position in the market. So, why all the crippling issues and inefficiencies?
Essentially, the traditional model of cybersecurity solutions is inherently flawed and cannot effectively keep pace with the ever-evolving digital space, and Cloudbric have identified the following three specific factors as specifically problematic for the end user:
Oversaturation of Security Solutions
To the average end user, cybersecurity can seem like a vast and complicated subject– and for good reason. Such security solutions are fragmented and niche-oriented, with no effective all-encompassing solution available. Despite this, people obviously want to ensure the safety of their data as much as possible. As a result, users are consistently bombarded by niche-specific security solutions all promising to be the best option for their security needs. To put it in perspective, there are currently more than 1,600 solutions offered in the global cybersecurity market today.
Centralised Threat Intelligence Data
Currently, threat intelligence data is problematically private and centralised; the traditional actors described above collect large amounts of threat data (such as malicious file identification and attack patterns/ behaviours) but hoard this data privately.
This is (in a way) understandably done for reasons of profit and retaining a market-edge, but it is certainly not the most beneficial approach to threat data collection and use. Knowledge on threats is compartmentalised and fenced off, preventing potential innovation by other parties who might otherwise have access, and this profit-hungry traditional cybersecurity company model leaves no room at all for compensation of users who aid in maintaining the security of the ecosystem by reporting threats etc.
Uncertainty of Security Performance
This oversaturation of various niche-related security solutions has resulted in a market containing products with a wide range of effectiveness. Many cybersecurity products are created by unscrupulous actors who promise more than they can deliver, and with over 1600 such products on the global market sifting through each is hardly a financially or technically possible option for the average-Joe user.
These, of course, are all inherent issues which have largely always been present, but until now have been dealt with as necessary burdens of taking part in the digital world; to combat these inherent issues, let alone all three, a truly revolutionary innovation would undoubtedly be required…
Cloudbric's Solution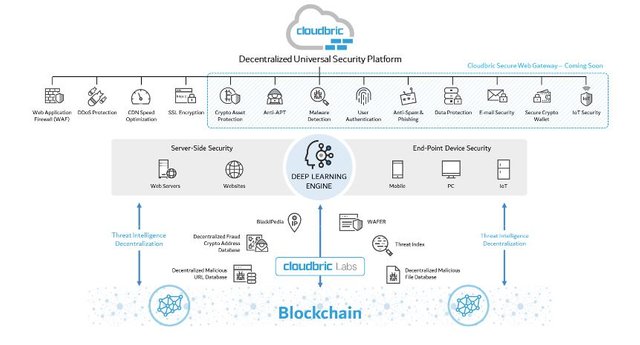 Cloudbric's proposed solution overview, taken from their whitepaper: https://ico.cloudbric.io/upload/file/Cloudbric_Whitepaper_EN.pdf
The projects which excite me most in the space are those which utilise the possibilities of two or more cutting-edge technologies within their solution, and Cloudbric's technical innovation certainly doesn't disappoint. Cloudbric are proposing a truly innovative use of blockchain and artificial intelligence to present a vison of an open, fair and all-encompassing community-powered solution.
New Technological Possibilities
Cloudbric's deep learning and blockchain powered universal security platform will feature multiple security components for end users; primarily Cloudbric will focus on internet security, PC and mobile device security, and- to the delight of those of us involved directly in the blockchain space- cryptocurrency asset protection.
The use of blockchain alongside VISION- Cloudbric's patented deep learning module which will be the engine of the Cloudbric platform- will enable a solution which is not only inherently open and transparent, but also technically sophisticated enough to provide an all-inclusive cybersecurity ecosystem not before possible.
The blockchain layer- utilised alongside IPFS- will provide the backbone of Cloudbric's decentralised platform, allowing for all such threat data to be recorded in an open, transparent and accessible manner.
Revolutionary Community-Powered Approach
Cloudbric's operational mechanism puts the community in the driving seat like never before seen in the cybersecurity space; the platform will incorporate a fully decentralised user governance system whilst actively encouraging community contribution of valuable threat data through incentivisation.
A key distinction between traditional cybersecurity mechanisms and Cloudbric's new approach is their intrinsic incentivisation model. Users will be incentivised using Cloudbric's native ERC20 token, CLB, for sharing anonymous threat logs to the VISION deep learning mechanism. This user-focused approach not only aims to foster a strong and happy community, but also a maximally effective and beneficial user environment.
This is a truly magnificent vision for the cybersecurity space, but do the team have the capability to turn this revolutionary vision into reality?
Team and Company Analysis
Anybody can write an impressive whitepaper and create a persuasive website; the idea is the easy part, it's implementing the idea which is difficult. In the Wild West of crypto, ensuring that the team has the experience and capability required is crucial.
In the case of Cloudbric I was remarkably impressed with not only the size, but more importantly the calibre of the team. Each team member is relevantly educated and impressive in their own right, which is always reassuring to see. For instance, CEO and founder TJ Jung alone has more than a decade of experience in the information security arena.
Of course, it is important to note that the Cloudbric team are provably suitably experienced from the excellent track record of Cloudbric's endeavours already; this is certainly not a team thrown together on a whim overnight, rather the Cloudbric team are top-tier experts in the cybersecurity space, and together harness an array of skills necessary for their mammoth vision to completely revolutionise the cybersecurity space.
Cloudbric as an entity has shown impressive growth and market performance since its inception in 2015, beginning its journey with solid foundations as an in-house venture of the leading enterprise-level data encryption and web security firm in South Korea and the APAC region, Penta Security Systems, Inc. Cloudbric's stellar performance is testified to by the plethora of accolades awarded to the company.
Cloudbric's accolades, taken from their website: https://www.cloudbric.io/
Verdict & Summary
Cloudbric is not your typical blockchain start-up but is a truly remarkable solution to one of the biggest problems within the vast digital space; the problem of cybersecurity is becoming more pressing as we progress deeper into the digital age, and with only a fragmented and insular selection of niche-specific security solutions protecting users from cyber criminals, an effective solution is desperately needed.
The traditional mechanism of cybersecurity solutions has created a chaotic and confusing environment for users who are traditionally left with little choice for assuredly true security than to spend vast sums on a range of specific security products. Cloudbric's solution offers a remarkably different model of operation which is inherently revolutionary through its novel use of technologies.
The marriage of artificial intelligence, through Cloudbric's patent-pending VISION machine learning mechanism, and blockchain technology present security-based technological opportunities never before possible. Not only striving to disrupt the traditional cybersecurity industry by tackling its many problems through such technical innovation, Cloudbric is looking to revolutionise the way in which people interact within the space by incentivising community engagement for the betterment of all.
The community-powered security ecosystem as proposed by Cloudbric is unlike any other previously proposed solution. Cyber threat data on the blockchain will be inherently public, open and freely accessible, and the Cloudbric's This mechanism will create an open, accessible and hugely beneficial ecosystem for all actors involved- a truly novel and beneficial use of blockchain technology.
I wish Cloudbric the best of luck for their upcoming token sales, and will certainly be watching with a keen eye as they progress on their journey to revolutionise the cybersecurity space.
KYC is currently open for those looking to partake in the pre-sale, scheduled for 08/23~09/01, 7am UTC.
Have any questions regarding Cloudbric? Join their active community on Telegram where you can discuss anything Cloudbric-related: https://t.me/cloudbric
Learn more at their website, where you can also find their whitepaper if you want to dig in deeper: https://www.cloudbric.io
Get connected to Cloudbric on social media:
Twitter: https://twitter.com/cloudbric
Facebook: https://www.facebook.com/cloudbric
My Bitcointalk.org profile (leonidas89): https://bitcointalk.org/index.php?action=profile;u=1669790