7 Cloud Computing Benefits for Business Success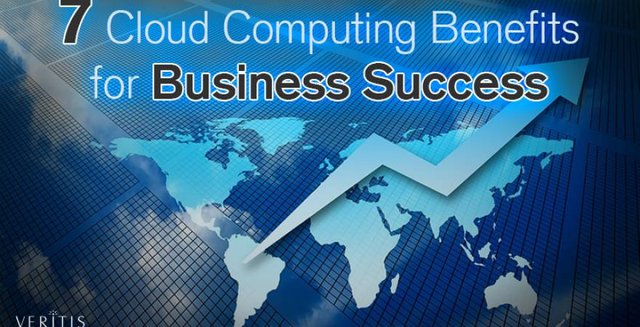 Cloud computing has brought about a significant transformation all across, irrespective of industry, geography, and size of the organization. Relieving the critical hardware maintenance burden and costs, the cloud computing technology increased the pace of business, minimizing human-intensive tasks and maximizing overall productivity.
With its over-the-network services, cloud computing technology enables you to get the job done on the go.
Moreover, you will not have to pay for everything. Just pay for what you use !
This way, the cloud has many advantages to the organization of any size and is often considered as a boon to start-ups and Small Medium Businesses (SMBs), who are usually more vulnerable to capital expenditure burden.
Here are a few benefits that you should know about cloud computing software for your business:
Cost Reduction
Moving to cloud platform naturally minimizes the maintenance and management of IT systems. One can save costs of maintaining expensive hardware by just sourcing requirements from cloud service providers. Cloud reduces operating costs that arise out of system upgrades, software and hardware purchase.

Interchangeability
Given the fact that cloud operates in a virtual platform, consumers get an advantage of choosing resources according to their requirements or interchange with the systems that offer high computation power, streamlined communication, and greater proprietary off-site data storage options.
Cloud systems are user-friendly and cost less than the common infrastructure facilities in the traditional models. In fact, businesses will no longer need to maintain expensive systems in-house.
Information Security
Considering the cyber threats that pose challenges pertaining to loss of data and information, one might think processes over the network might pose vulnerability to malicious attacks. Don't worry! Cloud computing allows you to build your own private cloud networks. Besides, cloud service providers are also known for their ability to tackle information security and related infrastructure. Owing to this reason, one can observe a growing inclination towards cloud service providers.

Business Continuity
This is one key advantage that the cloud technology offers. Cloud is there for you to store all your important information that you feel are vulnerable to unexpected disasters or system outages. No worries! Store and run them on cloud and get them back once recovered. This way, cloud ensures business continuity despite unexpected challenges.

Flexibility in Work
Cloud's virtual office helps users to easily access their important data from anywhere, at any time. Since the data is stored online and the process is performed over the network, your physical presence shouldn't be a serious concern for your organization.

Automatic Updates
You don't have to worry about expiry date of your existing software or tools. Cloud takes care of this aspect by enabling timely upgrading of your software with the latest update. This includes software upgrades, server upgrades, and updating of the computer processing power.

Application Portability
In Cloud, you can easily move your portable applications to your traditional infrastructure and take back whenever required. This way, the cloud enables business flexibility for effective management of applications and data.
The Conclusion
List not exhaustive! There are many advanced benefits that Cloud Computing can offer for your business.
Irrespective of the size of your business, the cloud can empower your organization to the new level, maximizing your operational efficiency and overall productivity. Besides, the cloud also relieves your budgetary constraints easing your capital expenditure, encouraging you to pay only for what you use on a gradual basis.
This way, you can plan your investment in line with the gradually-growing business demands, while ensuring business continuity. What are you waiting for? Go and get on to the cloud way for increased business productivity and competitive edge.