Clever Protocol is the next generation Defi platform
Many investors today is looking for a crypto project that will give them a good passive income, a project that has a good ecosystem that can sustain it self. Today I will introduce to you a project that has it all. Clever Protocol is 100% Defi Protocol that will rock the world of crypto because this project makes deference from other Defi project. As we know now a days there's a lot of project that offers a good APY% by staking, farming and by adding liquidity. The problem of that systems you have to lock up your token to smart contract or you have to pair it with other crypto if you want to farm , stake or add liquidity in order for you to earn reward. If you want to know more about Clever Defi Protocol project you can visit their site here: https://clva.com/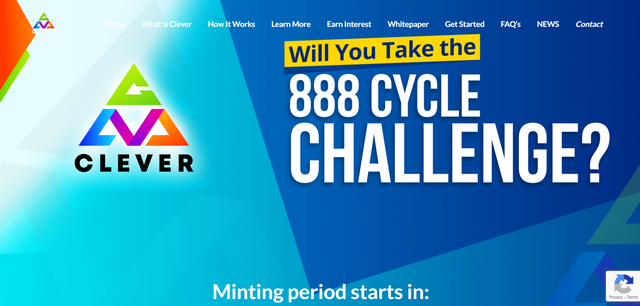 This is what make Clever Defi Protocol project defer from other projects, In Clever you don't need to lock up your token, you don't need to pair it with other crypto and there is no penalty if you withdrawing it late or withdraw it earlier. In Clever Defi Protocol you own it and you can do what ever you want on CLVA token,no string attach for having CLVA token. Every thing is easy in Clever Defi Protocol just buy CLVA token and store it in your wallet and that's it you will earn reward every 14 days as long as you have it on your wallet , yes every thing is simple and the more CLVA token you have the more reward you can get. This is a perfect project for every one that wants to earn passive income because you don't need to worry about many things like penalty or gas fees. Not only that in Clever Defi Protocol you will able to compound up to 11% of your earnings, It is guaranteed with compound interest to CLVA Token Holders.
Clever Defi Protocol have a strong fundamental foundation because the CLVA token supply is fix and CLEVER is a Defi distributes automatic interest payments to all CLVA token holders on a pre-programmed routine cycle schedule over 888 fortnightly cycles taking exactly 34.15 years to complete. The team has no pre mine supply, they don't hold any amount of token for them selves, every supply will be minted starting on February 1 until 888 cycle will complete on 34.15 year cycle period, that means there is no dumping will happen and in that way CLVA price will naturally goes up according to the demand and supply in the market, it is a self driven no pumping and dumping or any price manipulation in the market, just what you see on other crypto that is on the market right now the are holding much token for them selves and all they do is pump the price and dump it so that they make much money for them selves. If you want to know more about Clever Defi Protocol project you can visit their site here: https://clva.com/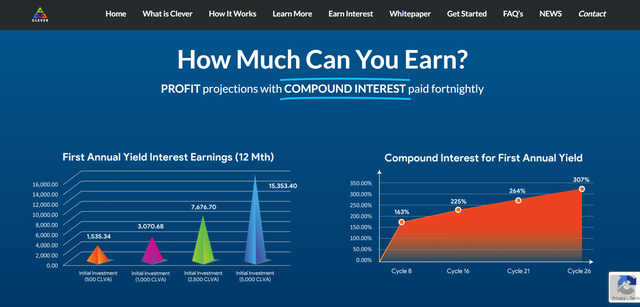 I'm investing on some project right now but I did not see a project that goes near to CLEVER because most of the Defi project now a days are copy cuts they don't have there own system not like Clever Defi they have there own system, you will see that every thing are on plan. That is why I recommend this project to every one. If you want to invest in crypto specially on Defi then this is the right project for you. A project that you will not regret that you join and buy CLVA token because in the near future the price of the token will go higher as the demand goes up. Because as you hold your CLVA token in your wallet you will received interest from it in every cycle and you can compound it, that's the beauty of Clever Defi Protocol no locking of token. Just buy CLVA token and hold it on your wallet and you will start earning interest.
Today Ethereum gas fees is to high it will charge you 60 to 100 dollars per transactions. If you invest in other Defi project you will be in penalty if you don't withdraw your end stake on time and that's make harder to the small investors because there profit is out match by the transaction fees even some big investors have a problem on it also, that's the number one problem in Ethereum space that investors facing today. That is why Clever Defi Protocol is the best of all Defi project because you don't need to do things just hold your CLVA token in your wallet and your getting paid in every cycle and that's 100% guaranteed, no hassle interest will just added in your wallet automatically, no need to spend for gas fees, no penalty will be deducted and no locking of token in smart contract, this means that you will save gas fees on this things that I mention. That is why when you invest in CLEVER Defi Protocol you're stress free and worry free, so guys don't waste this opportunity to buy CLVA token and full your bag while public sale is still ongoing because after the sale when CLVA token is already listed to exchangers the price will surely goes higher, it will go 20 to 30 times higher that their ICO price. To know more about Clever Defi Protocol project you can visit their site here: https://clva.com/
You can also Watch this video to know more about CLEVER Defi Protocol Project
Initial Mint Phase Runs Between February 1st - March 2nd, 2021
DAY 1 Mint Rate: 1 CLVA = 0.0020 ETH
DAY 2-3 Mint Rate: 1 CLVA = 0.0021 ETH
DAY 4-7 Mint Rate: 1 CLVA = 0.0022 ETH
DAY 8-10 Mint Rate: 1 CLVA = 0.0023 ETH
DAY 11-30 Mint Rate: 1 CLVA = 0.0024 ETH
To Buy CLVA Token USE CLEVER Minting Portal Here: https://portal.clva.com/
Just connect to your Ethereum wallet using Metamask via the CLEVER Minting Portal and select the amount of CLVA you wish to mint. You will automatically receive the selected amount of CLVA Tokens to your same wallet address.
Clever Defi Protocol Token Info
Symble: CLVA
Contract Address : 0xC52e23194476B1dD39408cB0B9D935dA8e6Db3d6
You can also visit their social media account
Facebook : https://web.facebook.com/cleverdefi/
Twitter : https://twitter.com/cleverdefi
LinkedIn : https://www.linkedin.com/company/cleverdefi/
Telegram : https://t.me/cleverdefi
---
---
Bitcointalk username: staingmoney
Bitcointalk Profile Link: https://bitcointalk.org/index.php?action=profile;u=2934282