Hello everyone.
There's an app on Steemit that hasn't had much attention but I'm here to bring it to your attention.
---
It's called the @cleanplanet app. Surpise :)
What's it about? The basic idea is to incentivize people to help clean up the planet by rewarding them with crypto.
The idea is simple but powerful.
For now you can only get rewarded with STEEM. The SMT token, which name is yet to be determinated but let's call it CLEAN token to simplify things, will be the first ECO token created on the STEEM blockchain.
The project was created and is run by @yann0975 and @french.fyde.
How do I get rewarded?
Well basically you must record (picture and video) yourself picking up the trash and thowing it into the trash can and get rewarded. It must be somewhere outside. Your home place doesn't count.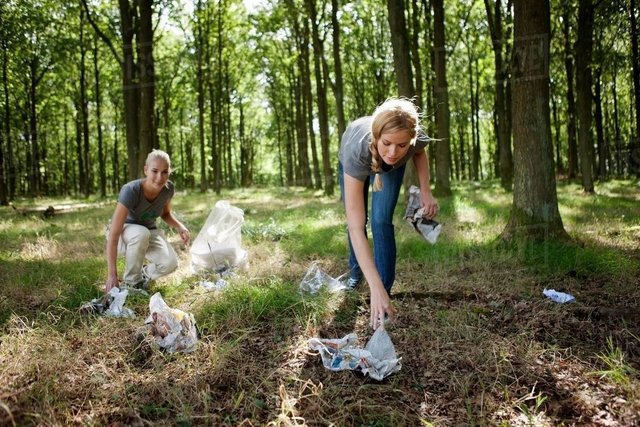 1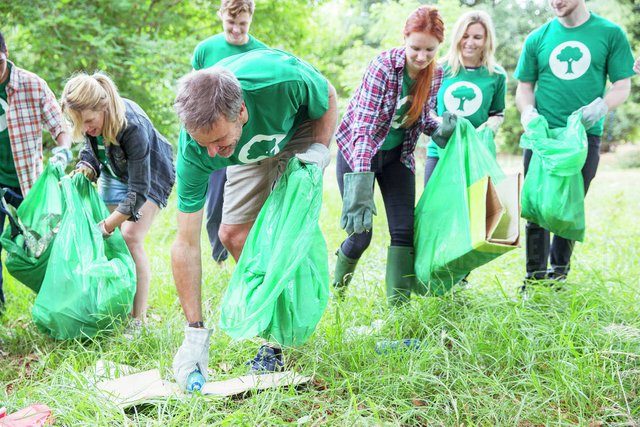 2
How much do I get rewarded?
The upvote from @cleanplanet is worth about 0.40$. But apparently @dtube at least for now (check the links below) is supporting this movement so if you post a video on dtube of your cleaning action you will get a 16-17% upvote from them which is worth around 20$ like the screenshots below show. Now that's a sweet deal.
Unless you don't want to reveal yourself or are camera shy here's an amazing chance for you to earn around 21$ and do a good deed for the planet.
Below are two examples.
---
https://d.tube/#!/v/wanderingagorist/8olu6vg8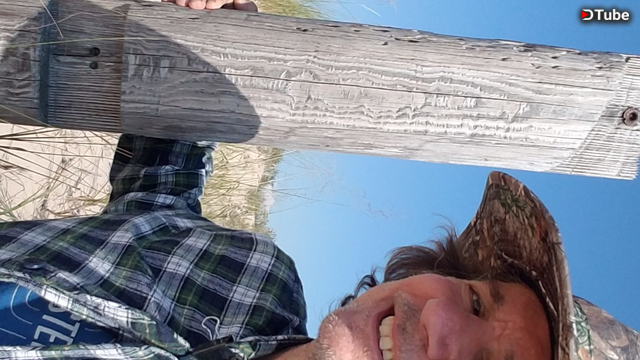 ---
https://d.tube/#!/v/sandflea/1ml4th7h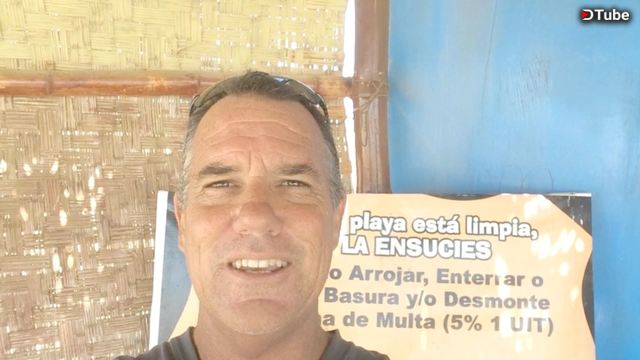 Cleanplanet SMT distribution plan
When the SMT's come out in March 2019 the number of CLEAN token that will be issued (the numbers not yet decided) will be distributed according to the pie chart below. 10 % will be distributed to early delegators, 15 % to delegators, 15 % to @cleanplanet funders, 25 % to cleaners and 35 % to @cleanplanet.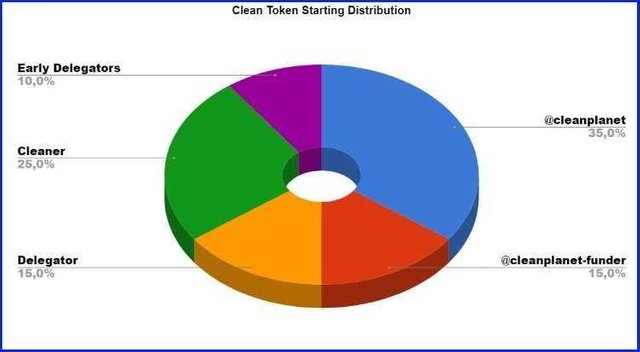 Clean token distribution
Early delegator sytem
Since @cleanplanet hasn't issued ERC-20 (Etherium token protocol) CLEAN tokens to give to delegators like for example @steemhunt that has issued ERC-20 HUNT tokens (which can later be swapped for HUNT tokens with the SMT protocol) you will be earning Cleanplanet POINTS as an early delegator instead.
The early delegator program will last from 1st July to 1st September. Today is 26th of August so there are only 5 days left to become an early delegator. Dolphins, orcas and whales could still make a huge amount of points in these 5 days if they delegated because there haven't been a whole lot of huge delegations so far.
When we have the exact total number of token, a simple calculation will give The corresponding 10 % for the "early delegator" (from 1 July 2018 to 1 September 2018). -cleanplanet
1 delegated SP equals 1 Clean Point. So a 1000 SP delegation will equal:
1000 SP x 5 days = 5000 points
I had joined the early delegator system myself a week ago by delegating 50 SP to @cleanplanet.
Donors
You can also DONATE liquid STEEM or SBD to @cleanplanet which means you will be earning DOUBLE Clean POINTS until September 1st.
Yes some Steemians have given Steem for this beautiful cause.
Certainly they felt affected and concerned by this initiative.
Lovers of nature, respectful of cleanliness, confirmed or primary ecologists, sensitive to a new approach to the STEEM Blockchain.... these donors have their own reasons. -cleanplanet
These are some of the donors:
@evildido | 5,792 steem
@planetenamek | 18,227 steem
@fayetristan | 8,780 steem
@hafizullah | 5,000 steem
@baart | 0,508 sbd
@zonguin | 3,799 sbd
@ixindamix | 10,763 sbd
Delegators
You can still delegate after September 1st in which case:
You benefit from the possibility to collect tokens by accumulating them from September 2 until the SMT.
During this period you will share 15% of the total volume of the token created with the delegators of the first hour.
The calculation will also be prorated temporis and delegated volume. -cleanplanet
Become a planeteer
Remember that cartoon in the 90's - Captain Planet and the planeeters. Now you can become a planeteer and contribute to a worthy cause. But instead of Captain Planet giving you a tap on the back for a good job you will be rewarded with Steem and in the future with Clean tokens.
Reaching out to Eco oriented communities on Steemit
I would like to take this oportunity to invite @tribesteemup and @ecotrain (2 eco communities on Steemit I'm aware of) to contribute to this noble cause/project in some shape or form either as a small delegation, donation or maybe in the form of upvotes for Cleaner posts like @dtube is doing at the moment.
I believe this would be in line with @tribesteemup's Pillars 5,6,7 and 8.

Thank you for your attention.
@direwolf