ADSactly Cult Movies: Reservoir Dogs
When you sit down to watch a Quentin Tarantino movie you know what you're in for - violence, a lot of it, and, of course, fast-paced action and witty dialogues. However, that applies to today's movie goers, but things were completely different 27 years ago when a virtually unknown Tarantino presented his debut feature-length movie, 'Reservoir Dogs'.
A small-budget independent movie, 'Reservoir Dogs', premiered at the 1992 Sundance Festival and caused quite a shock, on account of its violence and profanity-laden script. The movie got a limited theater release, made a modest profit, as most critics decried the violence, even though praising Tarantino's otherwise brilliant script. And, of course, the cast. Although it was his debut movie, Tarantion managed to secure the participation of some of Hollywood's finest actors - Harvey Keitel, Tim Roth and Steve Buscemi. Tarantino also plays in the movie, as one of the gang members.
'Reservoir Dogs' is a heist movie, shot in neo-noir style, and reminiscent of many other heist films. Critics have since pointed out that , with this movie, Tarantino honors an established Hollywood tradition. Many other famed directors before him started with a heist movie - from Woody Allen with "Take the Money and Run" to Wes Anderson's "Bottle Rocket"or Bryan Singer's "The Usual Suspects".
"All you need to make a movie is a girl and a gun"is a popular film industry saying. Tarantino goes beyond that - there is no girl in his gang of thieves and, although there's plenty of guns, the heist itself is not showed on screen. One reason, quoted by the director himself, is insufficient funding, but the real reason is probably that Tarantino didn't care much about the action part. There were already plenty of other movies presenting bank robberies or jewelry heists. It's hard to be original about that. So Tarantino focused on the thieves and the complicated relations between them, presented in flash-backs. The film starts with the greater part of characters shrouded in mystery. They don't even have names, they're introduced as Mr.White, Mr. Pink or Mr.Orange. Secrecy is essential to the success of the operation, an idea also used decades later by the film-makers behind the hit-series 'La Casa de Papel'(Money Heist). Instead of colors, the robbers in the Spanish TV show use cities as nicknames: Berlin, Moscow, Tokyo. (Hint: If you haven't seen 'La Casa de Papel', you can find it on Netflix!)
An important part of 'Reservoir Dogs' is devoted to exploring what's behind the masks characters use, how do they relate to one another and the obsessive question of whether there's a cop among them.
Tarantino impressed the critics with his alert dialogue, not an easy feat considering that there are pretty long scenes with no real action, just talk.
Another thing critics loved is Tarantino's mastery behind the camera.
There is not a single dull shot in the movie, from the opening scene continuously circulating the breakfast club, to the slow-mo Wild Bunch credit sequence, to the brilliant pan-away during the cutting of the ear (…) There's a method to Tarantino's style; every frame is calculated and every line of dialogue serves to set the action in motion. The film never slows down, and Tarantino makes great use of dozens of long tracking shots."
One of the questions that's been bugging me is how does one unknown would-be writer and would-be actor get to make such a movie and the answer is luck. Originally, Tarantino wanted to shoot the movie in black-and-white on a small budget ($30,000), with his friend Lawrence Bender playing the part of a cop. It was Bender who gave the script to his drama teacher, whose wife happened to be friends with Harvey Keitel. The actor liked it so much he helped Tarantino secure funding for his project and convinced Steve Buscemi to agree to play in the movie.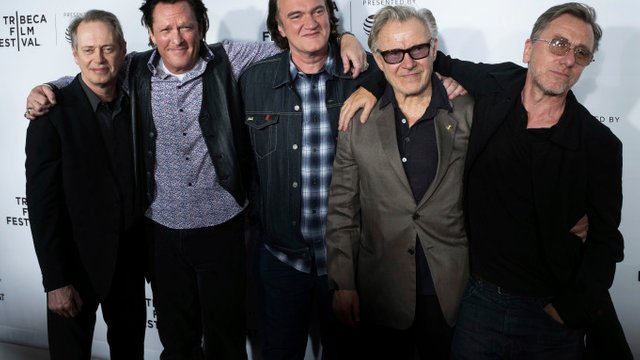 Reunited, 25 years later, at the Tribeca Film Festival
source
Many of the movie's loyal fans only discovered'Reservoir Dogs' after Tarantino's next film, the 1994 'Pulp Fiction', another neo-noir crime movie, which turned out to be the director's first box-office hit.
'Pulp Fiction' got seven Oscar nominations and Tarantino won the Best Original Screenplay. Obviously, people got curious to see his previous works, there was a surge in interest for 'Reservoir Dogs' which became a cult movie,mostly thanks to home-video.
Oddly enough, before becoming a film-maker, Tarantino actually worked in a video-rental store. Legend has it the title of the movie came from one client who wanted to rent out Louis Malle 's movie'Au revoir les enfants', but mispronounced the first words as 'reservoir'.
The film industry has changed a lot since Tarantino's debut and Tarantino did his part to change it. In 1992, some walked out of the theaters after the ear-cutting scene. Today we've grown accustomed to seeing much more gore on a regular basis and nobody blinks an eye. Tarantino is also credited with using pop-culture references in his scripts. In his opinion, movie characters talked to much about the plot.
"Most of us don't talk about the plot in our lives. We talk all around things. We talk about bullshit."
No wonder that, caught up in the midst of a heist gone terribly wrong, the gang members in "Reservoir Dogs" end up talking about Pam Grier, Silver Surfer comics, Madonna lyrics or Aerosmith.
According to many film critics, "Reservoir Dogs may just be the best heist film made in the '90s and arguably, Tarantino's best film."
---
---
Click the coin below to join our Discord Server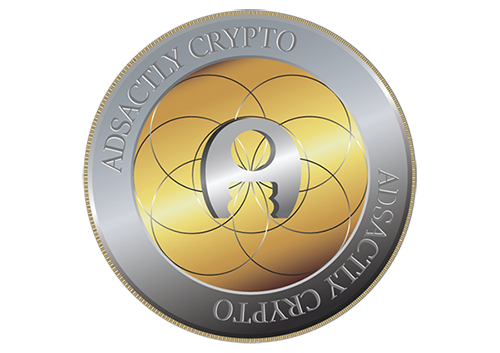 ---
We would greatly appreciate your witness vote
To vote for @adsactly-witness please click the link above, then find "adsactly-witness" and click the upvote arrow or scroll to the bottom and type "adsactly-witness" in the box
Thank You
---