It appears that I stopped the gushing from the wound yesterday. My experience forecasting crypto markets keeps growing. There's always room for improvement.
Cindicator is a prediction platform that rewards effective forecasters with cash. This series is my story about becoming a super-forecaster through a challenge I entered called the Rising Star Challenge.
It is Day 9. Tomorrow marks the halfway point in this challenge. I have to keep that in perspective when I feel like I am scrambling to find clarity on my opinion of how the market will go. I had a rough day with that yesterday after falling so far.
The conclusion I came to, was to take my own advice; I won't do myself any justice by crawling under a rock, the only option is to scratch and claw and fight my way back up. I received my first summary email, and within the confines of the competition, I am still 65% accurate so I haven't lost yet. The worst thing you can do is give up. I don't have to fear losing this competition because it's really just another construct. I am working on improving myself and so the results are irrelevant, my increased knowledge is the real reward. That said I want to rise to the pro crypto challenge and I have to get over this hurdle to get there.
I did slide down in rank today. But not nearly as far as yesterday, I will have to keep my head down and keep working to rise to the challenge of bringing my ranking back up.
Here are today's Infographics: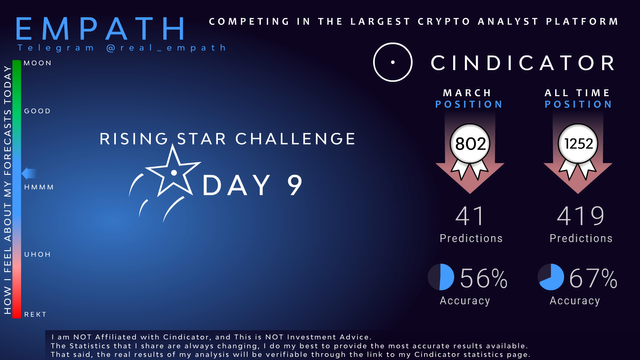 Here is today's screencap of my statistics page: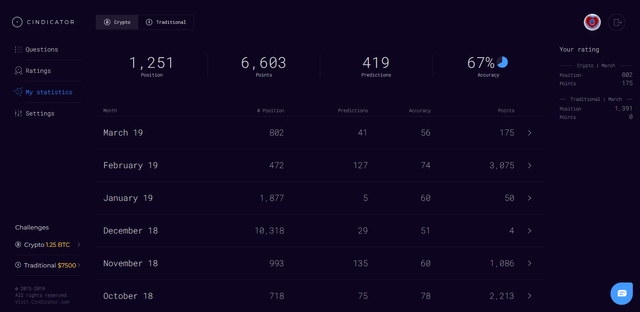 As you can see I am just drifting along when I would like to be motoring. Cindicator is an endurance race, sure I set an artificial finish line at the 17th because that's when my rising star challenge ends, but really this is something I was motivating myself to keep doing for a long time. I want to develop accountability for my decisions in cryptocurrency investments and expand my mind to new tools that allow me to navigate these assets with a jet engine instead of rowing along. It's going to take painful falls and drastic events for me to develop that, and it's a multi-year process. If you haven't started thinking about it you should start now. You want to cross the finish line way way ahead and it's going to take a lot of you to get there.
Answering the questions that Cindicator provides exposes you to new assets, and you have to use a battery of tools, and you have to look at a question from every angle to come up with a rationale for answering. That rationale doesn't just fade away it stays and starts forming a patchwork for a more organized decision-making process. The tools you use will change and you will find more of them and those will be important for your better understanding of lots of assets. If you haven't tried out or looked at Cindicator then please take the time out someday to download it and answer a few questions. It is available for free on google and apple and as a web app at app.Cindicator.com. It's your future; You have the power to go into it gracefully with these interesting tools.
Thanks for visiting and sharing in my experience with competing in the largest cryptocurrency analyst competition. The little traction I get with these posts is enough for me but I want for you to find inspiration in learning and adapting to the future of money. Give it a try!