The Ave Maria Holy Grail is a giant cigar with a vintage shape. Ave Maria are known to be mild cigars that have a lovely taste with billows of Smoke. Tonight a local friend gave me my first in this vitola.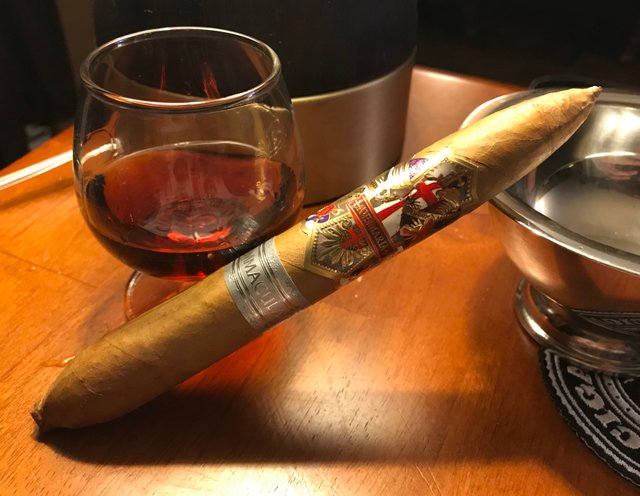 Wrapper: Ecuador Connecticut
Binder: Nicaraguan
Filler: Nicaragua
Vitola: 7.10 x 58 Salomon
Price: $8.50
Although The Imaculatta in the salomon size has a MSRP of $8.50, Ave Maria cigars can almost always be found for $3-$5 a cigar when in a 5 pack and purchased at most large online retailers. My friend bought a 10-pack for $39.99.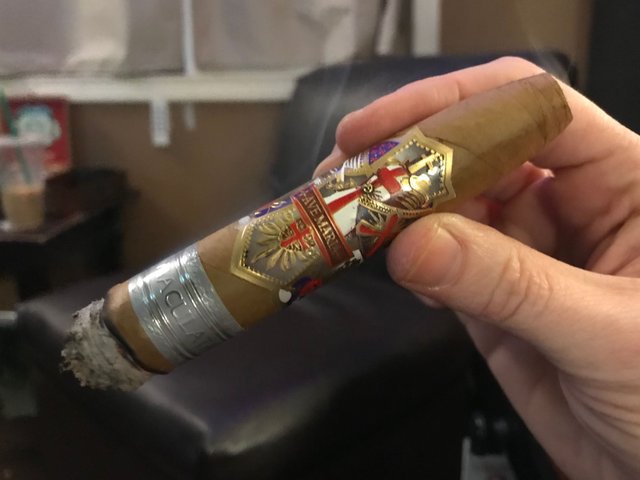 While smoking I have been working on a small project, I have noticed the Ave has been very forgiving to me leaving it often. The cigar has stayed lit without my puffing for 3+ minutes, numerous times. Not that relighting is a big deal, but it is a compliment to the construction.
I notice lovely mellow flavors of nuts, peanut-ish mostly.., a creamy cocoa, salt, and earth. Spice is almost non-existent. The retro-hale is easy even with the full draw, and highly recommended with each puff, as the cigar flavors are so subtle.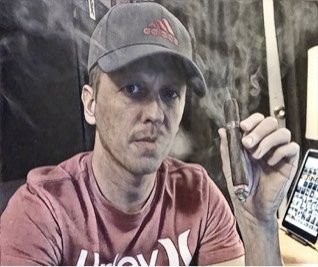 (After, I toasted my go-to cigar, a Padron Churchill which I am currently puffing)
The Ave Maria Imaculatta is a perfect morning or daytime cigar. The nicotine strength is mild, and the flavors, although also mild, are not bland. I wasn't thinking with my pairing of a dark rum, it would go perfect with a latte, or light coffee.
I do prefer the standard Ave Maria line, they have a habano wrapper with a slightly less mellow blend, and are priced the same or less. However the Imaculatta is most definitely worth the money, if you dig a mellow cigar, I highly recommend snatching one of those 5 or 10 pack deals.
My emoji rating 🙂
emoji scale(🤢😖☹️😕😐🙂😀😋🤗😍)
Smoke time: 2 hours
Main tasting notes: Cream, mellow cocoa, peanuts
Strength/Body: mild/mild
Construction 9/10
Cigar paired with: Iced Coffee then Goslings Black Seal Rum
Price opinion: 👍🏻
Cheers Steemians!